Heads up: some of the links in this post are affiliate links and services I use for OMG FOOD.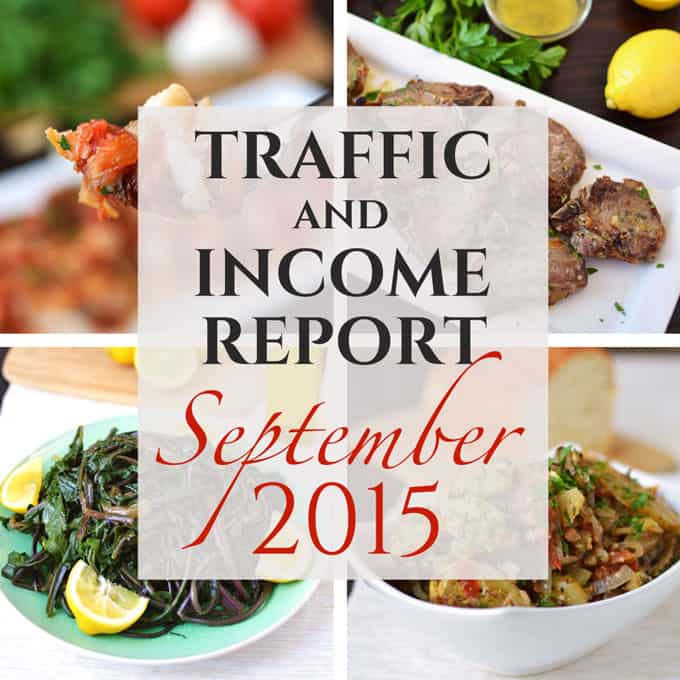 Hello, friends! Welcome back to another traffic and income report for this little blog of mine where I share info about blogging behind the scenes: things that went right, things that went wrong, blog traffic, income, and expenses. My dream is to someday make a living off this blog and I basically have no idea what I'm doing. ¯\_(ツ)_/¯ Every month, I share my experience as I go in a post just like this one!
Per usual, there will be no recipe posted, but if you're curious about the technical side of blogging, stay a while! If not, I understand; I'll have something tasty for you to cook up next time. <3
---
Numbers
Traffic Overview
Total traffic for the month of September, including the amount of users, page views, and sessions.


August was an awesome, record-breaking month for the blog - I reached almost 13,000 page views! Homemade marshmallow sauce was the recipe that took off and brought in a lot more traffic, which also brought in a little more money (still didn't make a profit, though)! The traffic didn't keep up for September, which I'm not surprised about really. Though the traffic dropped quite a bit even from July, which had roughly 8300 page views.
Why the sudden drop? Well, I know for one thing, I didn't post very much in September; I had a total of six posts for the whole month. Four of those were recipes, one was an update from traveling to Seattle, and another was a traffic report for August. July had a total of nine posts, with seven of those being recipes, one was a little BBQ round-up, and the other was a tip on freezing bananas.
More content = more people interested = more traffic. Readers won't be as interested to come back for content that's already been there a while (borrrrring).
Top Ten Traffic Sources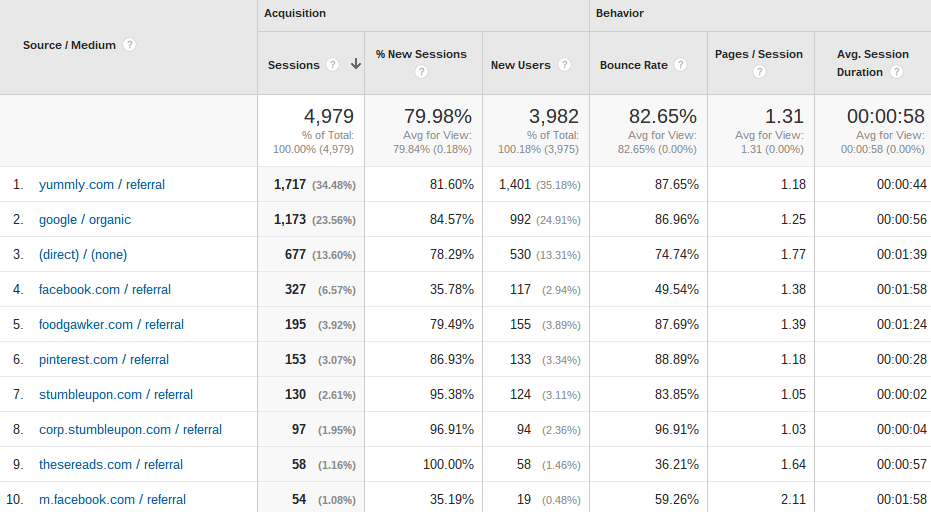 Yummly is back in the number one spot! StumbleUpon took the winning spot in the last report because that's where that tasty marshmallow sauce recipe took off. And now, it's hanging out in spot numbers seven and eight (I'm honestly not sure why there are two StumbleUpons, but I think it has to do with stumbling through their site or using a browser/sharing button on the actual recipe page - just a guess, though).
What's really exciting though is Pinterest is slowly climbing up! I've been using Tailwind to help schedule my pins the last few months and recently added BoardBooster to the mix as well, which I'll talk about later on in this post. Pinterest is a huge traffic driver for lots of blogs out there and for a long time, I wasn't getting it. Then I learned you need to pin a lot, like 50+ times a day, which honestly doesn't appeal to me. I mean, I love coming across new things; pinterest is definitely great for that, but I don't want to sit and pin all day; that's a huge time-sink! Also, when I say 50+ times a day, that is including other bloggers content, too! These two apps help out big time.
Mobile vs Desktop vs Tablet

Desktop user number is down a bit this month, with mobile being the ringer (no surprise there).
Income
Total Income: $15.86
Expenses
Total Expenses: $145.88
Profit: $0
Someday, there will be a number that's not zero. Also, I sometimes include food expenses if I plan to make something specifically for the blog, but I didn't have anything for this month outside of what I was planning to eat anyway, which is why you don't see a food expense this time.
*BoardBooster is a pin scheduling tool that helps manage your account by spreading your pins to new boards gradually. You set up campaigns and pin to one board. BoardBooster does the rest of the work for you. You can also set it to repin your older stuff, which I stupidly haven't set up yet. It's a huge time (and life) saver. I'm a member of a decent amount of group boards, so it's nice to not have to think about pinning a new recipe to each and everyone manually. What's also great about this app is it's inexpensive! It costs exactly one penny per pin. I currently use the cheapest monthly plan for $5, which is 500 pins per month, in case math is difficult for you. It's easily my new, favorite tool.
*Lots of bloggers use this awesome light for food photography and I decided it was finally time to bite the bullet. Winter will be here very soon and the days will be getting shorter, so I'll have to rely on artificial lighting to get by - I've already used it and it's amazing! Because it's a tabletop light, moving it around is so easy and setting up a photo session is a breeze. I was using an umbrella lamp for a while and it was honestly kind of awful. It didn't give off enough light, plus I had to always set it up and adjust it, and bleh. I'm very happy with my light upgrade.
Top Three Posts of September
#1 Broiled Lamb Shoulder Chops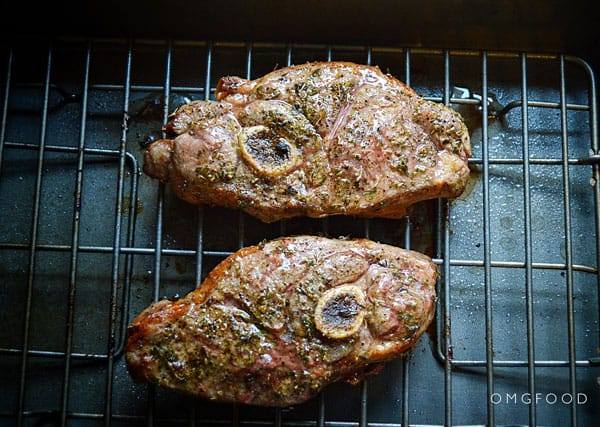 When I first started using Pinterest, this was one of the first recipes I shared, which I posted in May 2014 (over a year ago). One of the group boards I'm a member of is a paleo one and a few times a week, I still get updates saying this is being re-pinned from there. It's definitely one of the more popular recipes of mine on Pinterest and I love that it took the number one spot on the blog for this month.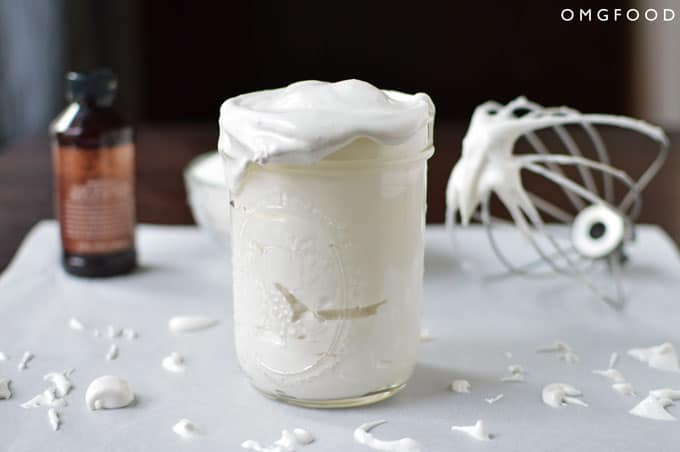 Thanks to this recipe, traffic skyrocketed in August, so it makes sense it was still popular in September. I'm suddenly craving this now and want to make some...
#3 Chili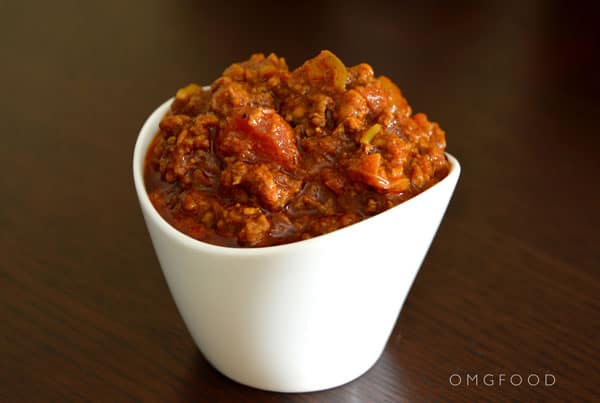 Oh, hey. Another oldie! I posted this chili recipe in March of 2014, just a month after launching the blog. Colder weather is here and people are searching for those warm, comforting meals! It's really cool this made a little comeback. Looking at this photo is making me cringe, though. I'll have to update it next time I make chili because I can't even. i just can't.
---
Takeaways
Blogging is hard, you guys. Writing is easy. Cooking is sometimes easy. Food styling and photographing is a challenge depending on the food and day, but I'll still count that as "easy." But take all of that and multiply it to have more than one post a week and it turns into a lot of work. And that's not even including promoting your content after you publish it, which is just as important. I love blogging, but I get tired sometimes. September started off slow because I had just gotten back from traveling for work and I just needed a little break from everything. It was totally necessary, but I wish I could consistently blog and work my full time job and still have time to breathe and do other things!
That said, I'm loving scheduling apps more and more these days. Tailwind and Boardbooster are a huge help, but I still need to set up that looping schedule to repin those older ones to keep them fresh and bring in more traffic. I imagine it will only take me about thirty minutes to set up and that will be it, but finding the time is tricky when there's so much going on. Also, laziness comes into play.  You can't be lazy if you want success. Le sigh.
That's it for this month. Did you find this post useful? Let me know in the comments below!