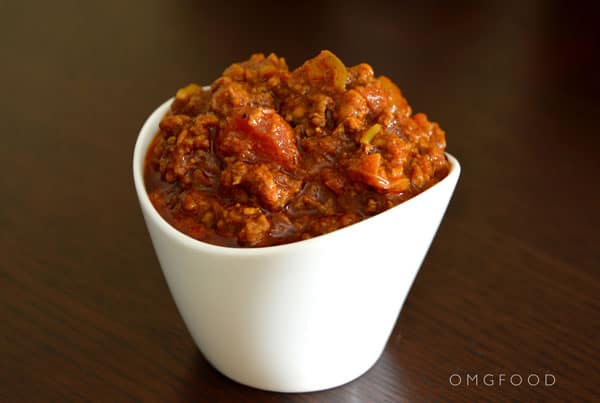 I can't wait for warmer weather to get here. I'm ready to ditch the boots and coats for some lighter clothing. And the beach! I so want to be on the beach.
I'm not a huge fan of cold weather, but one thing that is nice is getting to eat foods that will warm you right up. Like chili!
Up until recently, my chili recipe was pretty standard. Tomatoes, onions, peppers, beans, etc., but it was tasty! I was proud of that recipe because it was one of the first ones I worked on when I first started to experiment with cooking back in the day; which was probably about sixteen or so years ago. Wow.
I worked at my parents' pizza place and it had the best kitchen to practice cooking. Whenever there was any downtime, I spent it trying out new recipes (and failing at them a lot of the time). There were so many ingredients and tons of available space. How could I not take advantage of that?
I miss a lot of things about the pizza place, though I will tell you, working a 12 hour shift is not one of them. Holy crap, was that exhausting. One of the things I do miss is the bond I made with some of the customers; the regulars who came in all the time and would hang out for a bit just to chat. They sometimes brought in gifts.
Like this one time, someone brought me and my brother homegrown hot peppers from their garden. I don't even remember what kind they were, but I was really excited to make chili with them. My brother and I immediately went to make it and decided we wanted it super spicy, so we added about five or six of those peppers. Well, that chili came out HOT. So hot. We ate it, but I think we did just so we wouldn't waste the food. It didn't taste bad, but you couldn't feel your mouth after having a few bites. It was almost like eating a meal at Hell Night, which I've also done a few times.
Since then, I've made my chili a bit less spicy. I love heat, but I want to enjoy what I'm eating, too.
A few weeks back, some awesome friends of mine, Arthur and Naomi, hosted a chili cook-off at their place. I was excited for it, but I had gotten bored of my fifteen year old recipe, plus it was heavy on kidney beans, which I no longer eat (legumes aren't paleo, silly). I was talking to Arthur about it and he suggested I make it Greek themed by adding spices or ingredients used in a lot of Greek cooking. I was immediately sold on that idea and knew exactly what I wanted to do. I was so excited to make it.
The initial plan was to practice making the chili sometime before the party in case it came out a disaster and I could work on it, but my schedule was pretty busy at the time, so I ended up going rogue and made it the morning of. It was a risk, but I took it. I like to live dangerously.
To make this Greek inspired chili, I took the flavors from this amazing dish called macaronia me kima, which is pasta and meat sauce. It's kind of like a bolognese, but made with cinnamon, cloves, and allspice. I love that dish. So much. I suddenly wish I was in Greece at the taverna eating this with a glass of wine.
I also went heavy on the alliums to replace the non-paleo ingredients. I threw in sweet onions, leeks, shallots, and garlic. We like alliums because they add awesome flavor to food and are full of antioxidants that can help prevent cancer. Good stuff!
I debated on trying this with lamb, but I thought it would be too rich. That's an experiment for another day. I decided to do half bison and half beef instead and it's my new favorite combination.
The end result was pretty damn good! I didn't add hot peppers that night because I knew the other chilis were going to have a kick, so I thought I'd provide a mild one. With that said, you can make this mild or hot; it will still taste good.
That night was awesome, by the way. Everyone's chili was so good. Mmm, chili.
Okay, enough chit chat.
📖 Recipe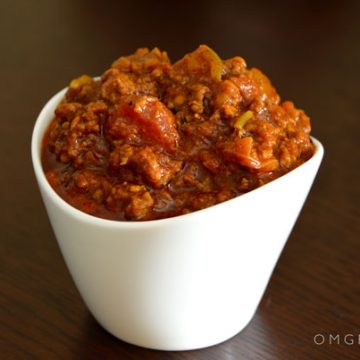 Ingredients
½

large sweet onion

,

chopped

1

large leek

,

washed thoroughly and chopped (white parts only)

1

shallot

,

finely chopped

4

garlic cloves

,

minced

1

tablespoon

olive oil

1

tablespoon

ghee or grass fed butter

1

lb

grass fed ground beef

1

lb

ground bison

¼

cup

tomato paste

,

½ 6 oz can

2

serrano peppers

,

seeded and finely chopped

2 ½

tablespoons

chili powder

1

tablespoon

cumin

2

teaspoons

kosher salt or to taste

¾

teaspoon

oregano

½

teaspoon

ground allspice

¼

teaspoon

ground cloves

1

cinnamon stick

freshly ground black pepper

1 28

oz

can whole peeled tomatoes

,

chopped down in a food processor (or can of crushed tomatoes)
Instructions
In a large pot or dutch oven, heat oil and ghee over medium-high heat. Add in the onions, leeks, and shallots. Cook for 5-7 minutes, until the alliums are soft and translucent.

Add in the garlic and saute for one minute.

Add in the bison and beef. Cook until browned.

Add the tomato paste. Stir for about 2-3 minutes, allowing the paste to cook.

Add in the serranos, spices, salt, pepper, and cinnamon stick. Stir to blend all the ingredients together. Add in the tomatoes.

Let come to a boil, then simmer on low for two hours, uncovered. Stir occasionally.
Notes
1. Add more serranos if you like your chili nice and hot! Adding two gives a little heat.
2. Chili usually tastes best the next day because all the spices have had a chance to settle.
3. Go nuts and add some toppings to the chili before eating. I highly recommend topping it with whole fat Greek yogurt.
4. If you don't have any cinnamon sticks handy, one stick equals to ½ teaspoon cinnamon.