Heads up: some of the links in this post are affiliate links and services I use for OMGfood.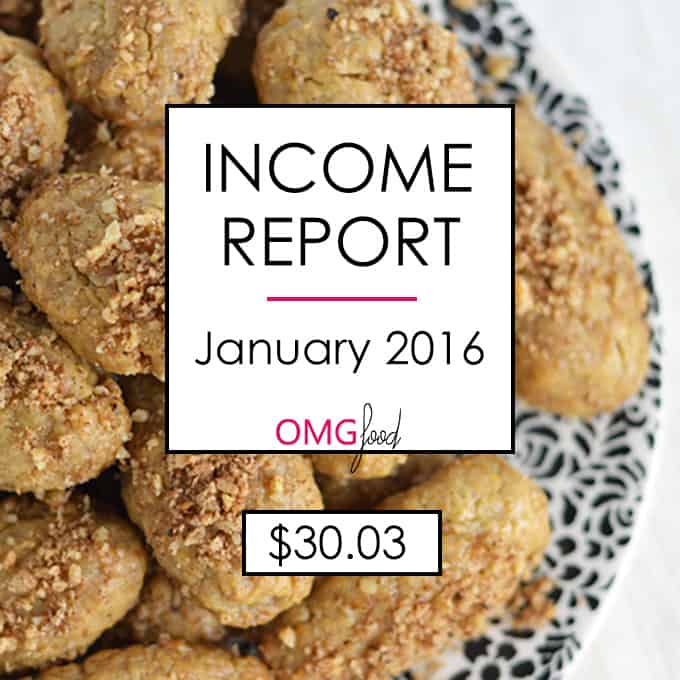 Ahh, a fresh start.
Hello, friends! Welcome back to another (overdue) monthly traffic and income report, where I share some information about blogging behind the scenes. It's been a while; the last post like this one was in September! I got a little lazy with keeping up with these posts, but I'm starting fresh and am glad to be back!
If the technical side of blogging doesn't interest you because you'd rather check out some recipes, I completely understand! I'll have a new recipe for you next time. As for the rest of you nerds, read on!
---
Numbers
Traffic Overview
Total traffic for the month of January, including the amount of users, page views, and sessions:


Comparing to the last report in September, the numbers are definitely better, with an increase of 3,133 users and 4,448 page views. Because this is the first report in a few months, here's a quick recap of page views for the missing months:
October: 6,436
November: 6,674
December: 18,058
September through November shared some similar numbers, with an average of 6500 page views, but hot damn, check out December! That's no typo, friends.
Someone made my jalapeño garlic beef recipe and loved it so much, they shared it on reddit and the thread took off. It brought in tons of traffic, which trickled into January as well. I was so thrilled. It's one of my favorite recipes on the blog and I get so giddy when others love it too (p.s. if you haven't made it yet and you're into beef, get on it).
From what I hear in the food blogging world, before/around the holidays is usually a slower time for blogs, so it makes sense that October and November didn't do amazingly number-wise. I'm also terrible at planning recipes to be posted closer to the holidays. I posted this sexy and delicious mille-feuille dessert just the day before Thanksgiving. Better late than never? It's something I need to work on in 2016 for sure.
Top Ten Traffic Sources
Google has taken the number one spot! In September, the number one source of traffic was yummly, which is now at number two. If you're curious, Yummly had the number one spot in October and November as well. December had different results because of the reddit explosion, with the number one source of traffic being direct. Yummly actually moved down to number four that month, as reddit took number two and google took number three.
If you kept up with my reports before taking a break, you might remember I was trying to work pinterest up the list. Pinterest is a top source of traffic for tons of bloggers. I'll be honest, pinterest is not really my thing. I have to be in a very specific mood to look through and "pin" things. If you want to be serious about being a blogger and getting more traffic in, you can't really do that! It's important to promote your content and other bloggers' content too. That can be really time consuming. I use two tools to help me with this. Boardbooster and Tailwind. I talked about these in September, but I'll give a recap on why I love them in case you're not familiar with the tools.
Boardbooster is great because you create campaigns to pin content to. A secret board for each campaign is created, allowing you to pin your new content to that board just once and it will repin to all your pinterest boards for you. Depending how you schedule it and how many boards you pin to, the re-pinning can go on for days. I have several campaigns for different categories: breakfast, vegetarian, paleo, etc. This is due to group boards I participate in with a specific niche. You can also set up boardbooster to refresh older pins for you. I haven't done that yet because I'm the queen of procrastination, but it's on the list of things to take care of in March! You can read more on boardbooster on this super awesome post on Food Bloggers Central.
Tailwind is my other favorite pinterest tool because it will schedule any pin on pinterest. When you link it to your account, you'll see a tailwind icon on each pin when on pinterest, which will allow you to schedule that pin to however many boards you desire. You can also use it to pin stuff from another site! I use this tool for pinning other bloggers' content. It's great.
Do you need both? Probably not. That is up to you. Neither are free. I pay $5 a month for boardbooster, which allows 500 pins. I believe Tailwind is $15 a month, or you can opt for a yearly plan and save some money (that is the option I went with). There are other plans for both, but the ones I use are the cheapest. That said, I love having both for the time being. Pinterest used to hover in spots seven/eight and has slowly climbed its way up to number four over the last few months. These tools definitely helped, all while saving me tons of time in the process.
Mobile vs Desktop vs Tablet

And here is where we see a quick comparison of the number of sessions happening on each platform. Poor little tablet.
Income
Total Income: $30.03
Expenses
Total Expenses: $40
Profit: $0
So close, yet so far away! I'm not sure what was up with only earning 95 cents on Switch Ads for the whole month of January; I guess it was just a really slow month for advertisers to buy some space on the ads. If anything, it made me laugh. ¯\_(ツ)_/¯
Top Three Posts of January
#1 Slow Cooker Jalapeño Garlic Beef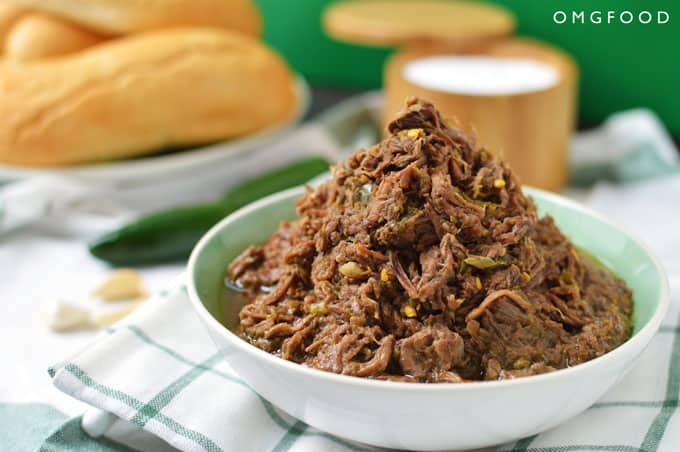 The recipe that made it to reddit in December was naturally the number one recipe in January as well. No surprise there what-so-ever.
#2 Broiled Lamb Shoulder Chops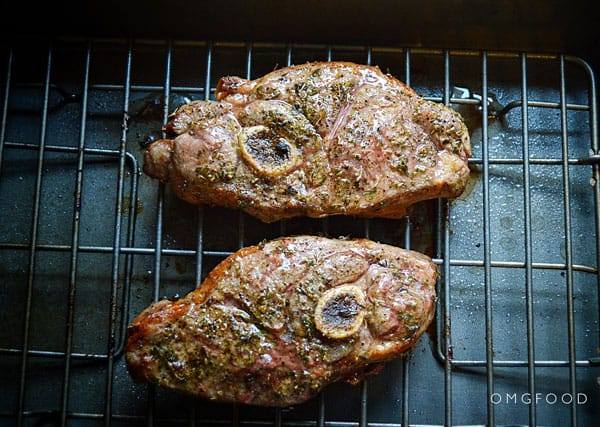 I love this. And here's why. This is one of my very popular recipes floating around pinterest. I first posted this in May 2014 without any photos. I added the photos some months later and it became a hit ever since. At first, the repins were slow, but steady. I noticed over the last few months the number of repins was increasing. I find it interesting because I don't think this photo looks spectacular compared to others I've taken since improving my photography. It's my second most repinned recipe of all time.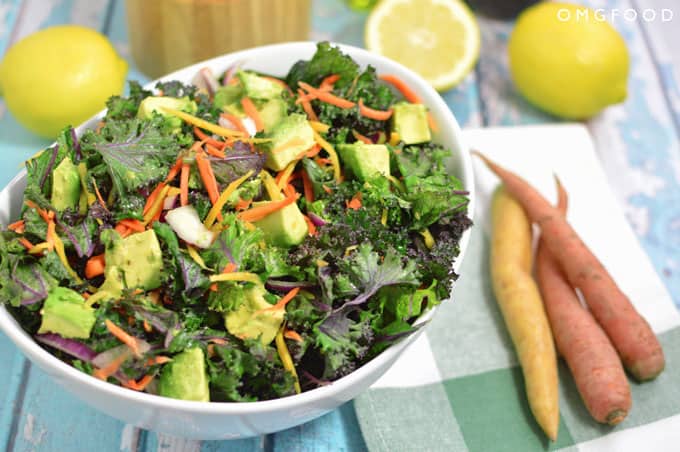 I love this recipe! And I'm so glad it's getting some love. Though I admit, looking at this photo for the first time in a while is making me cringe. The colors seem off, probably from editing in Photoshop. I may have to revisit this one to put up better photos at some point.
---
Takeaways
I've got a lot of work to do this year. I started blogging for various reasons, with my main one keeping self-employment in mind. I wasn't as aggressive in my pursuit because I had a full-time job in games I also loved, but I got laid off in January. While I'm currently looking for a new job, I'd really like the blog to at least help pay for some bills sooner than later. This will obviously not happen overnight. I'm aiming to finally start sponsored posts on the blog, probably once a month. It will be tricky because I want to work with brands I know and love, so I don't know if I'll be able to do that once a month. At least, not until I have more traffic to impress my favorite brands!
Also, the power of the internet is pretty amazing, you guys. All it took was one rad person to share a link to a recipe on reddit to bring in record-breaking traffic for the blog. And while what goes up must come down is true, especially when it comes to numbers and blogging, it means I possibly got some new, frequent readers out of it and that's the most awesome.
That's all for this month. Did you find this information helpful? Do you have any questions or tips? Let's start a conversation in the comments below! You know I'd love to hear from you. <3