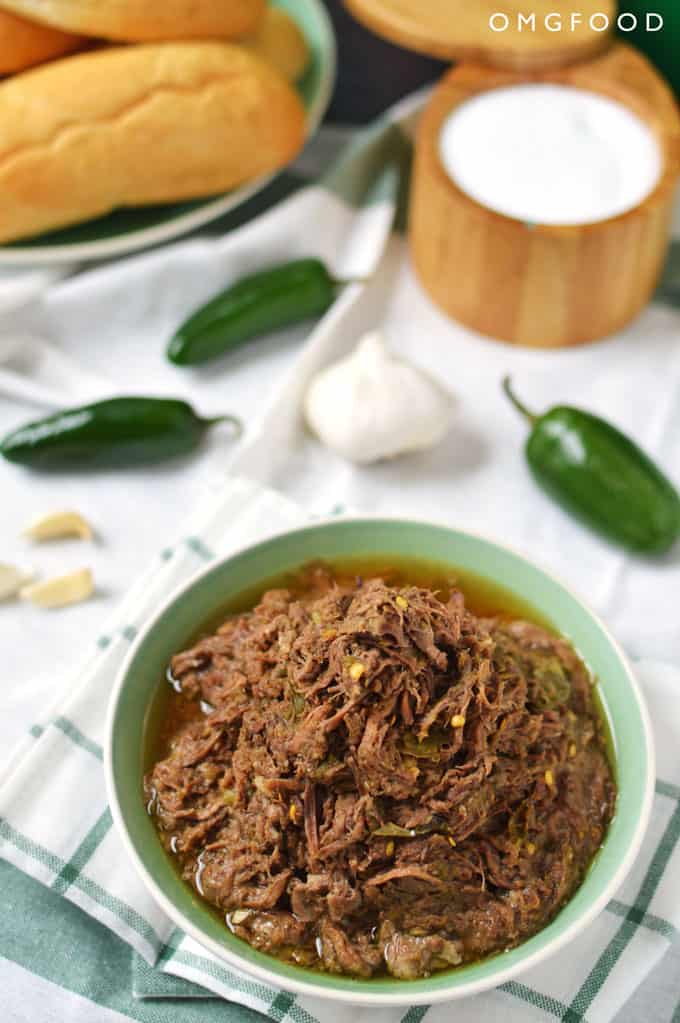 Updated on June 30th, 2015:  Jalapeños can be tricky peppers. Sometimes, they're pretty hot and sometimes, they're pretty mild! I've updated the recipe to include more peppers at your discretion. I've made this a few times since originally posting the recipe and each time, the heat has varied for me (but the taste has still been delicious). You can always use different peppers to test different levels of heat and flavor! Just don't hurt yourself. 😉
Originally published on April 27th, 2015.
---
Tell me you love me.
Because I've got something real good for you today. Unless you're not a fan of spicy, then I'm afraid this delicious recipe isn't for you. For the rest of you who love the heat, though? I'm about to make your day.
One of my favorite slow cooker recipes is pepperoncini beef, which consists of 3 ingredients: a 2-4lb chuck roast, a jar of sliced pepperoncinis, and garlic.
I had a chuck roast defrosting in my fridge from last month's Walden Local Meat delivery and I was trying to think of what I wanted to do with it that didn't scream "winter" now that it's been warmer out. I started craving that spicy beef, but I didn't have a jar of pepperoncinis on hand. Plus, I was doing a Whole30 at the time and finding a compliant jar of those peppers is nearly impossible because of the preservatives. Though I had jalapeños in the fridge (they're kind of a staple in this household), so I decided to experiment in the test-kitchen.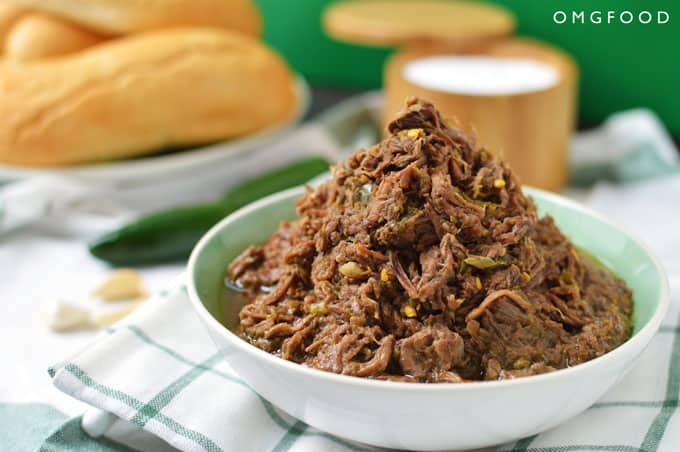 And so I made this jalapeño garlic beef in the slow cooker. And it was glorious.
Let me tell you how this went down.
I had a 2.5lb roast. I seasoned it all over with some kosher salt and threw it in the crockpot. I then sliced up four large jalapeños and threw those in with garlic (I included the seeds in the peppers because I love heat). Then I mixed together some homemade chicken stock and vinegar and threw that in. Then I covered the slow cooker and cooked it on low for 6-8 hours; until the beef practically melted at the touch of the fork. The prep time to get all the ingredients into the slow cooker? Like, five minutes? Maybe less?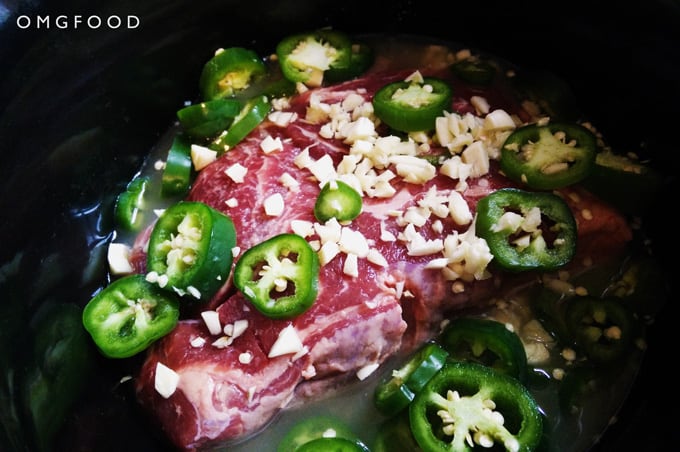 It's worth noting I only had champagne vinegar available the first time I made this, but I've used apple cider vinegar every other time. I never noticed a difference in taste between the two, but I recommend you save the champagne vinegar for dressings and such if you have it on hand - and go for the apple cider vinegar for the cooking! Your wallet will thank you.
I didn't actually plan for this to be a blog post. My plan was to test out the recipe to see how similar it would be to the pepperoncini beef and to fix my craving. I had actually put all my photo gear away by the time this was ready. Then I ate a few bites and I was like, "Welp!" So I set everything up all over again. I was so excited about how good this came out, I had to tell you ASAP! I brought it to work the next day for some friends to try. They devoured it. I didn't go home with leftovers, but seeing their reactions to the taste was so worth it.
Also, the vinegar is going to smell pretty strong at first, but remember, it's going to cook for HOURS. That smell will cook off and it will give the beef a delicious tang. Trust.
I ate this as is with a side of veggies, but my absolute favorite way to have spicy beef is in a sandwich with creamy horseradish sauce and melted cheese; preferably provolone or mozzarella. Seriously, it's a fantastic combination.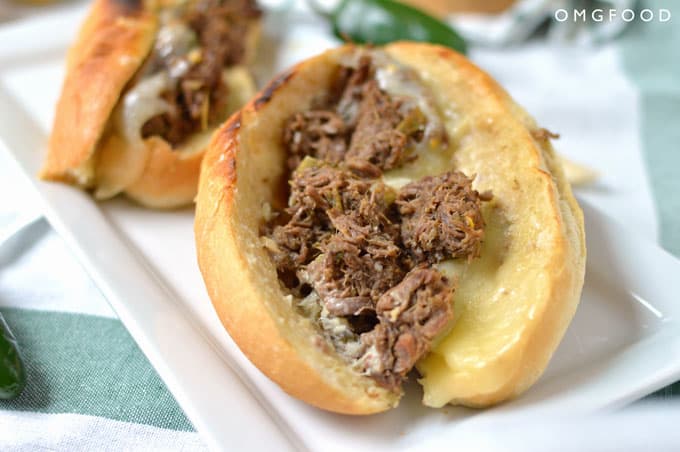 📖 Recipe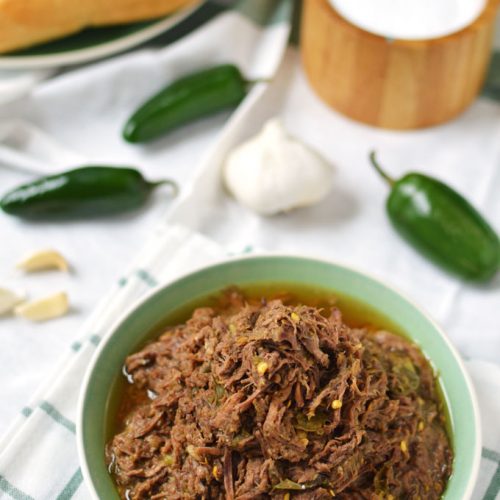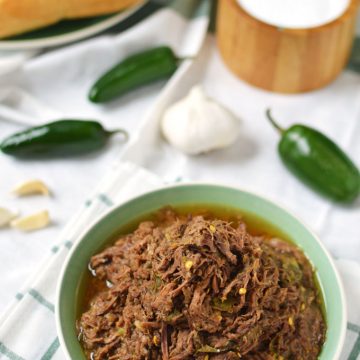 Ingredients
2

teaspoons

kosher salt*

2 ½

pound

chuck roast

4-7

large fresh jalapeños

,

sliced*

6-7

garlic cloves

,

finely chopped

½

cup

apple cider vinegar

½

cup

chicken stock
Instructions
In a cup or bowl, add in the vinegar and chicken stock. Stir to combine and set aside.

Season the roast all over with salt and place in slow cooker.*

Throw in the jalapeños and garlic.

Pour the vinegar mixture over everything.

Cover and cook on low for 6-8 hours, until the beef comes apart easily using a fork.

Using two forks, shred the beef.

Keep warm until ready to devour.
Notes
Note 1: I use homemade chicken stock for this recipe, which doesn't have salt in it. If you are using store-bought stock, use half the amount of salt measured for this recipe.
Note 2: Jalapeños can be tricky when it comes to heat. Sometimes, they are really hot and other times, they're on the milder side! If you want more heat, use more peppers. Alternately, you can play around with different peppers for various levels of heat and flavor.