Raise your hand if you love giveaways! *raises both hands*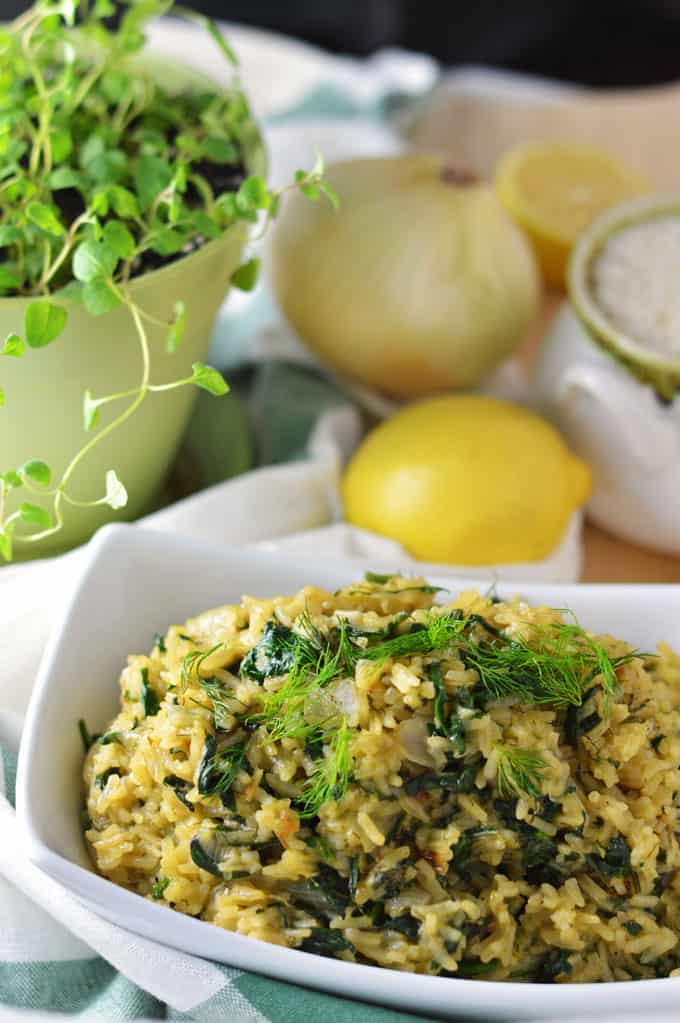 This giveaway has ended. Congrats to Michelle K!
I'm really excited, you guys. Like, SUPER excited. Because of giveaways! I love them. I teamed up with some bloggers a while back for the first giveaway on the blog and this time, I teamed up with even more bloggers to give away an even awesomer prize. How does a $650 Amazon gift card sound?
The holidays are coming up; there's no denying it. This giveaway will be running up until the day before Thanksgiving, which means one of you lucky people will get to shop in your pajamas while stuffing your face with Thanksgiving leftovers. You animal.
If celebrating the holidays isn't your thing, that's cool. Cause you could still use this gift card to buy things for others if you're feeling nice. Or you can just treat yo self.
To celebrate this awesome giveaway, I'm sharing a classic one pot Greek dish called spanakorizo (spah-nah-KOH-ree-zoh), which is a tasty dish made of rice, spinach, onions, dill, and lemon. I like to include leeks in mine because leeks are the best. Some variants call for some tomato sauce, which is also good, but I admit this way is my favorite and how I grew up eating this classic Greek dish.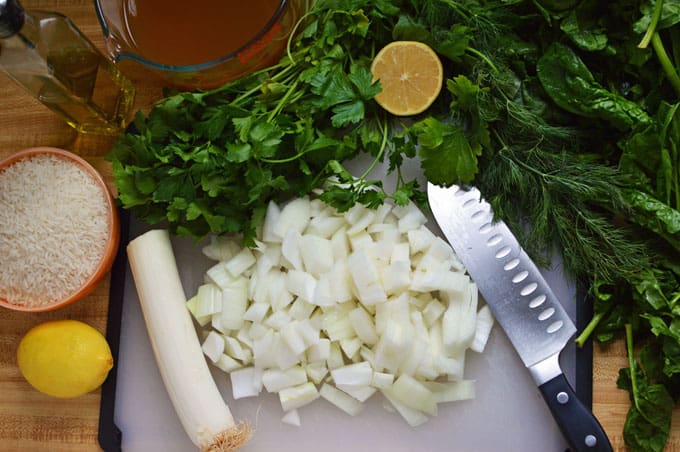 I remember when growing up, I used to think this dish was so complicated to make because I considered fresh spinach to be a pain to clean. So when my dad would make it, I'd think it was one of the most magical things. Now, I look back and think, "WTF was wrong with me?" This dish is far from complicated and cleaning spinach is not a pain at all. In fact, I recommend this as a weeknight dish!
If you're a fan of one pot foods because of simplicity, convenience, easy clean-up, and deliciousness, then spanakorizo is for you! This can be served as a main for four or side for five to six. I tend to eat it as a main a lot. All of the noms.
If using vegetable stock, this dish is vegetarian and vegan friendly, but I personally use chicken stock myself and always go for the homemade stuff when I can. I recommend you do too (if you're not a vegetarian or vegan, that is)!
Now you have this tasty spanakorizo recipe to make and a giveaway to win. The giveaway ends on November 25th, so be sure to enter before then!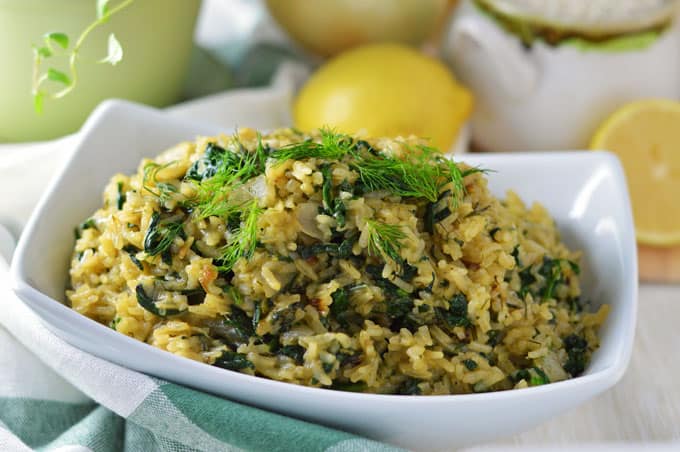 Kitchen Tools Used:
📖 Recipe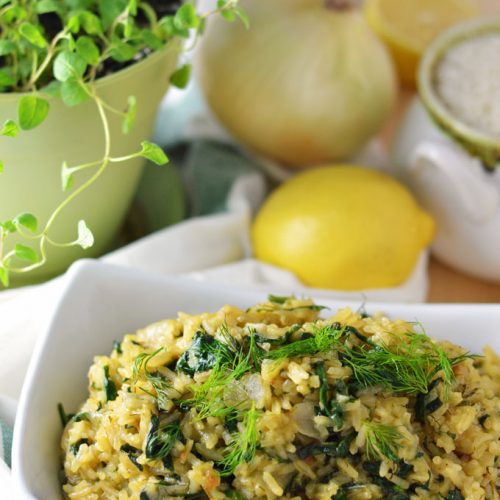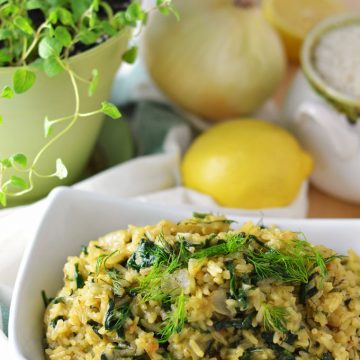 Ingredients
⅓

cup

olive oil

1

medium sweet onion

,

chopped

1

leek

,

rinsed and chopped

1

pound

spinach

,

rinsed, course stems removed, and chopped

1

cup

long grain rice

⅓

cup

fresh dill

,

chopped

2 ½

cups

chicken or vegetable stock

2

teaspoons

kosher salt

,

divided

black pepper

4

lemon wedges

,

optional
Instructions
Preheat a six quart dutch oven or pot over medium-high heat and add olive oil.

Add onions and leeks and saute for five minutes, until soft and edges are slightly browned.

Add the rice, dill, one teaspoon salt, and pepper and stir for one minute.

Stir in stock and let come to a boil.

Cover and simmer on low for fifteen minutes.

Remove lid, add in the spinach, cover and let steam for five minutes.

Remove the lid and you should notice the spinach has softened and wilted slightly. Stir spinach into the rice and add in the last teaspoon of salt. Stir until well combined.

Cover with lid and simmer another five minutes.

Remove from heat, taste and adjust seasoning if necessary, and serve with lemon wedges.


---
Disclaimer: This post may contain Amazon affiliate links, which means I make a small commission if you make a purchase through them. By purchasing through these links, you are helping support this site! I only recommend items I personally own and love.