Inspired by the classic gyros and souvlaki wrap, this grilled zucchini and tinkerbell pepper wrap is a great summer meal.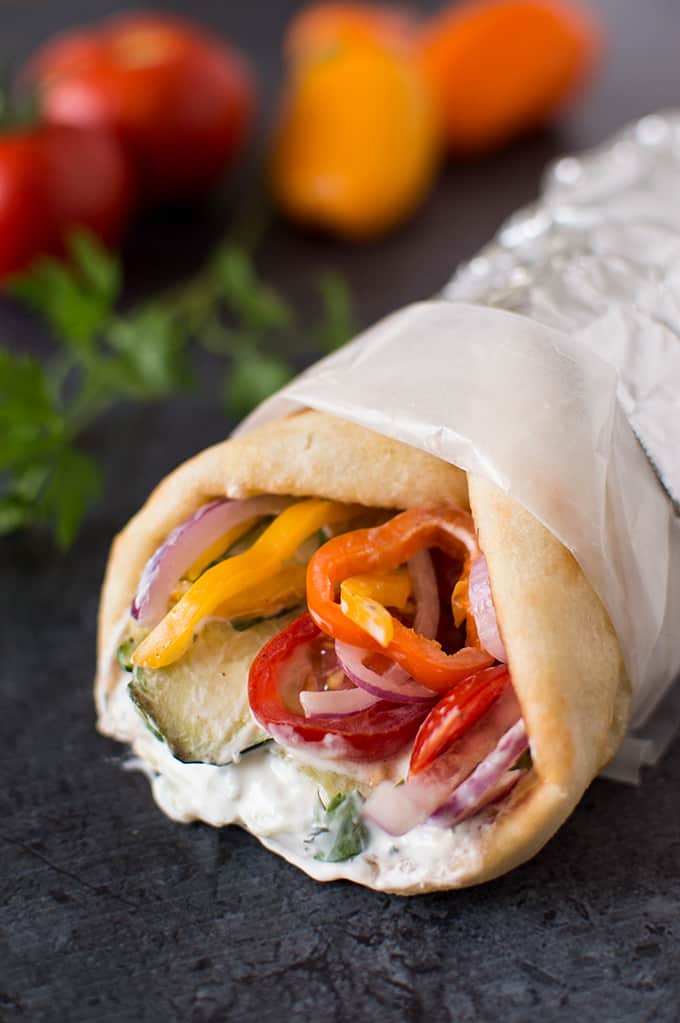 Καλό Mήνα σε όλους!
And in the off-chance you don't speak or read Greek, here's your mini lesson for the day:
kαλό (kah-LOH) means "good"
μήνα (MEE-nah) means "month"
σε όλους (seh OH-loose) means "to all"
Among many pleasantries Greeks will use to greet others, on the first of every month, the one you will hear the most is "Kalo Mina!" It's a way of wishing others a good month ahead of them and it's one of my favorites.
I find it especially fitting today because this is my first blog post in one whole month. I last shared a recipe for garides souvlakia on July 1st! It's nice to be back, though the little break was necessary. I had to shift my focus to things outside of blogging for a bit and when I wasn't doing all of that, I opted for relaxation. And when relaxation lines up with summer, that means hitting up the beach!
So here's to a fresh start and a good month! Kalo Mina to all of us!
For today's post, I wanted to share a recipe for something simple. The last few weeks in Boston were full of 90+ degree weather, which is rather brutal when the only room in your apartment with AC is in the bedroom (which could easily be remedied if we also installed the main AC in the living room, but that's a story for another day). So we've been cooking light and easy! Add fresh produce from the garden and farmers' market to the list and it's a huge win.
We keep tzatziki prepared in the house on a semi-regular basis, which means we tend to have souvlakia and gyros on a semi-regular basis! Sometimes, I like to go rogue and replace the tasty meats with tasty vegetables instead; and in this case, we're going with zucchini and tinkerbell peppers. Because summer.
I know I've mentioned many times I do a lot of my shopping at a local Greek food store to get my fix (seriously, Sophia's is the best and I love it). My last visit there, I picked up a package of my favorite pita bread for gyros (which you can see on my instagram post here). It's pita bread, but not the same kind of pita bread you would typically find at the grocery store. You know what I'm talking about, right? The pocket style pita? That bread has no place here, friends. You want hand-pulled or hand-stretched style pita. Pocketless pita! If that's something you aren't able to find easily near you, flatbread or naan would make a better replacement than the pocket pita. Alternately, there are tons of pita bread recipes on the internet if making bread from scratch is your thing (I'll get a recipe myself on here one of these days). Just don't use the pocket pita, okay? Trust.
Okay, let's get to the good stuff, shall we?
How to Make Grilled Zucchini and Tinkerbell Pepper Wraps
The first thing you need is to make sure you have tzatziki ready to go. Preparing it is simple, but it tastes best when made in advance to allow the flavors to meld. Make it the day before. It will keep in your fridge up to a week.
Start by rinsing your zucchini, peppers, tomatoes, and parsley and pat them all dry. Slice your zucchini lengthwise into thin strips. Remove the seeds from the tinkerbell peppers and slice them crosswise. Remove the pulp and seeds from the tomatoes and chop them up. Grab some red onion and slice that up. Roughly chop the parsley.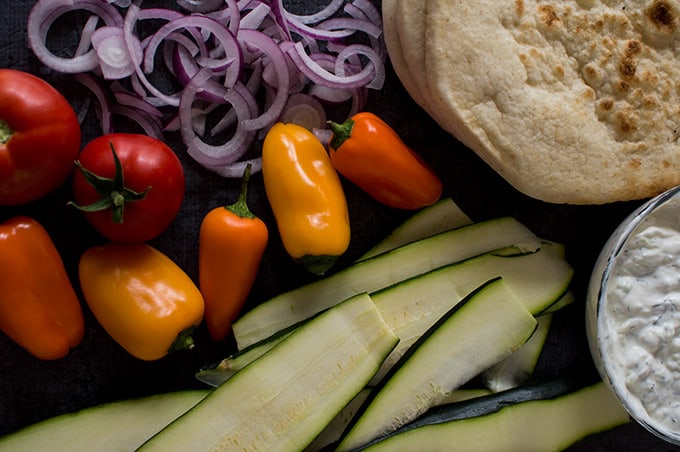 Then, add the zucchini slices to a large bowl with a tablespoon of olive oil. Stir it up well to coat evenly. Season with salt and pepper.
The next step is to get the pita bread ready. You want to evenly coat each piece of pita with a little bit of olive oil and cook it either in a skillet or over a grill for one to two minutes per side, enough to make it crisp and golden.
If using a skillet, you'll have to cook the pita bread one at a time. When it's done, set it aside and cook up the zucchini. Again, you can go with the skillet or grill! Cook about three minutes per side, until browned. Alternately, you can do some dual wielding action and prepare the pita bread and zucchini simultaneously.
Now? Assemble! Spread 2-3 tablespoons of the tzatziki on the pita bread and top with the zucchini, tomatoes, peppers, onions, and parsley. Wrap it up and eat it.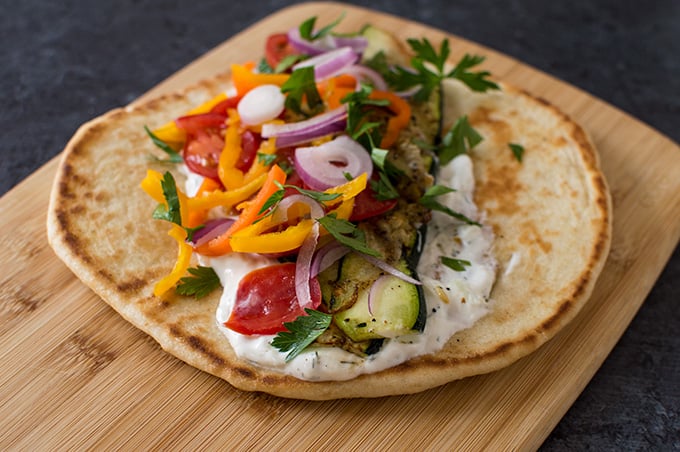 And that's it! Easy and delicious. Happy Monday to you, friends. And Kalo Mina! <3
Kitchen Tools Used:
OXO cutting board (though a bamboo board is pictured for aesthetics)
Chef's knife
Pairing knife
📖 Recipe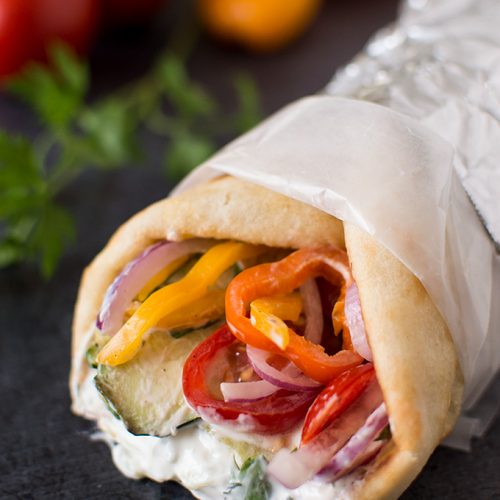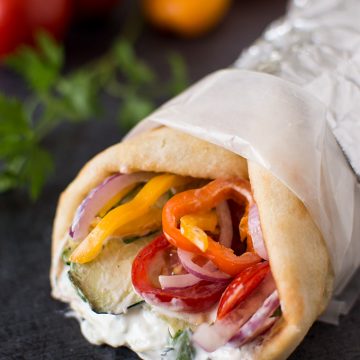 Ingredients
For the wraps
1

medium zucchini

4-6

tinkerbell peppers

2

vine-ripened tomatoes

½

of a small red onion

,

peeled

¼

cup

parsley

pinch

of kosher salt

freshly ground black pepper

1

tablespoon

olive oil

¾

cup

tzatziki*
For the pita bread
4

teaspoons

olive oil

4

pita breads
Instructions
Slice the zucchini, lengthwise, into thin strips. Set aside.

Remove and discard the seeds from the peppers and slice them crosswise. Set aside.

Remove the seeds and pulp from the tomatoes and discard. Chop up the tomatoes and set aside.

Slice the onion and set aside.

Roughly chop the parley and set aside (so much setting aside!)

Add the zucchini strips to a large bowl and add a tablespoon of olive oil. Mix to coat the zucchini evenly with the oil. Season with salt and pepper. Set aside.

Brush each piece of pita bread with 1 teaspoon of olive oil.

In a skillet or grill over medium-high heat, cook the pita bread until golden and crisp, about 1 to 2 minutes per side (if using a skillet, cook the pita one at a time). Set aside.

Grill the zucchini over medium-high heat for three minutes per side, until browned (this can also be done in a skillet). Remove from heat.

Assemble your wrap! Add 2-3 tablespoons of tzatziki per pita bread and top with grilled zucchini, peppers, tomatoes, onions, and parsley.

Wrap and enjoy!
Notes
Tzatziki tastes best when made at least a few hours in advance. Make it the day before! Tzatziki will keep in the fridge up to a week.
Disclaimer: This post may contain affiliate links, which means I make a small commission if you make a purchase through them. By purchasing through these links, you are helping support this site at no extra cost to you! I only recommend items and services I personally use and love.