Get your breakfast on with OXO! Using a few awesome kitchen tools, you can have a quick and tasty breakfast in just a few minutes, allowing you to have more time in the mornings to get things done.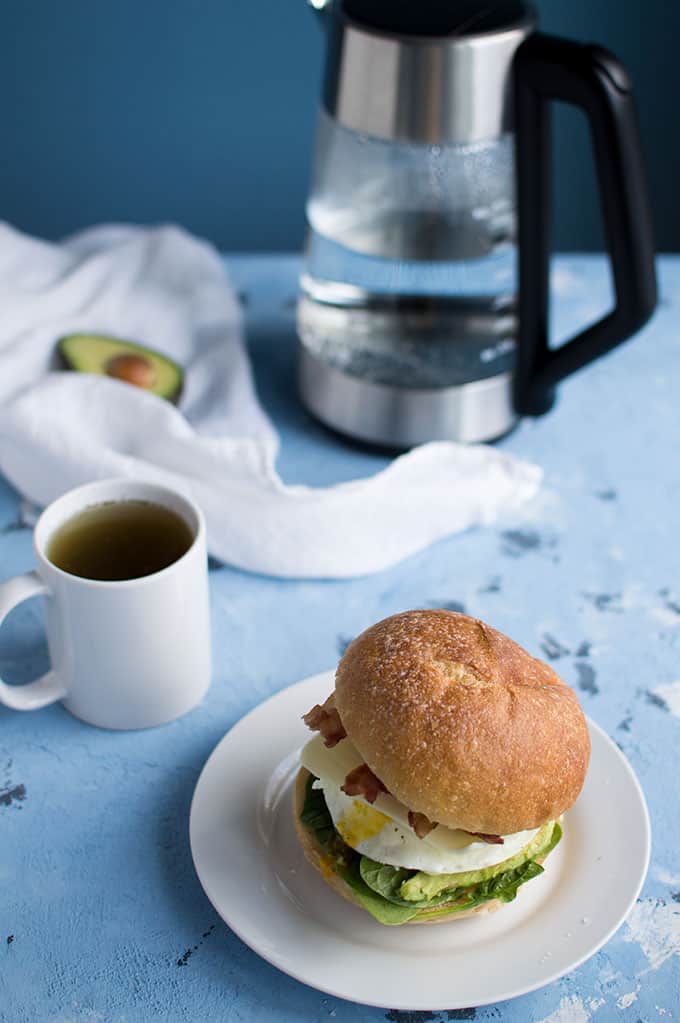 I love when things are easy, especially when it comes to food and having a pretty busy schedule. You feel me?
I've been falling in and out of waves of motivation these last few months. I blame a lot of it on winter because the sun is nearly non-existent and it's cold and sometimes snowy. I am missing my beach weather like whoa, you guys. I miss the warmth. I miss the sun!
Whenever I do fall off the motivation wagon, I push myself to go back to the drawing board to get things moving again. I admit it takes me a bit of pushing! It's so easy to stay in pajamas and plant myself on the couch to binge on games or TV all day. The struggle is real, as they say.
But once I get back into blog and life planning, I start to feel really good about things again. I also start to think of new ways to incorporate food in my daily routines, especially my morning routine! We all know how much of a morning person I'm not, right? I know I've mentioned this many, many times in the past. Weekday morning food for me needs to be fast, easy, and delicious. These terms are non-negotiable.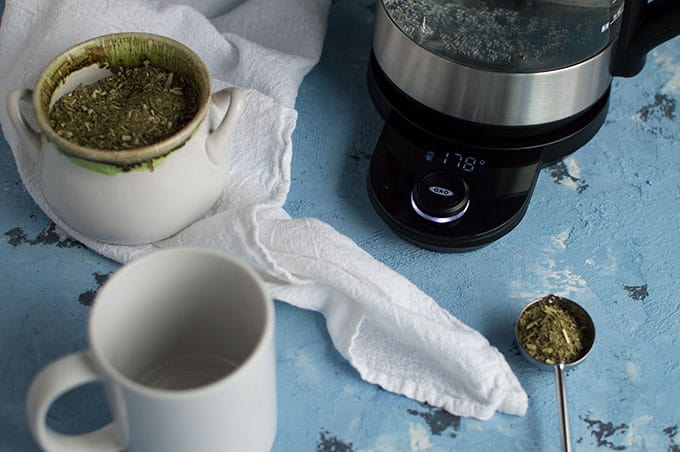 I have this thing where I can drink cold beverages any time of the year, even if it's 18 degrees outside, but I only prefer hot beverages during the cold time of the year. That said, I drink lots of tea during the winter months and have a variety to choose from depending on the time of day. I usually start my morning with a strong cup of tea or coffee to go with my breakfast and switch up the teas throughout the day; something with lighter caffeine to give me a little boost in the afternoon and herbal at night to help with all of the relaxation.
To help me with my tea game, I rely on my Adjustable Temperature Kettle. This kettle = love and I'll tell you why. In the off-chance you don't know this: different teas should be brewed at different temperatures. I have eight types of tea in my pantry right now. Caffeinated, non-caffeinated, loose leaf, and some in tea bags. Temperature is an important thing in the tea steeping game; true story! Teas like white and green should be brewed below boiling between 170-180 degrees Fahrenheit and teas like herbal or black are best brewed between 200-212 degrees. If delicate tea leaves, like white or green, are steeped at too high of a temperature, they will likely burn and taste a little bitter. If you're serious about your tea, you should steep it at the right temperature. You'll also need the Twisting Tea Ball for that loose leaf goodness. You can use it to easily scoop up your tea and can twist the handle to close it up into a ball, ensuring the tea leaves stay inside while you steep them.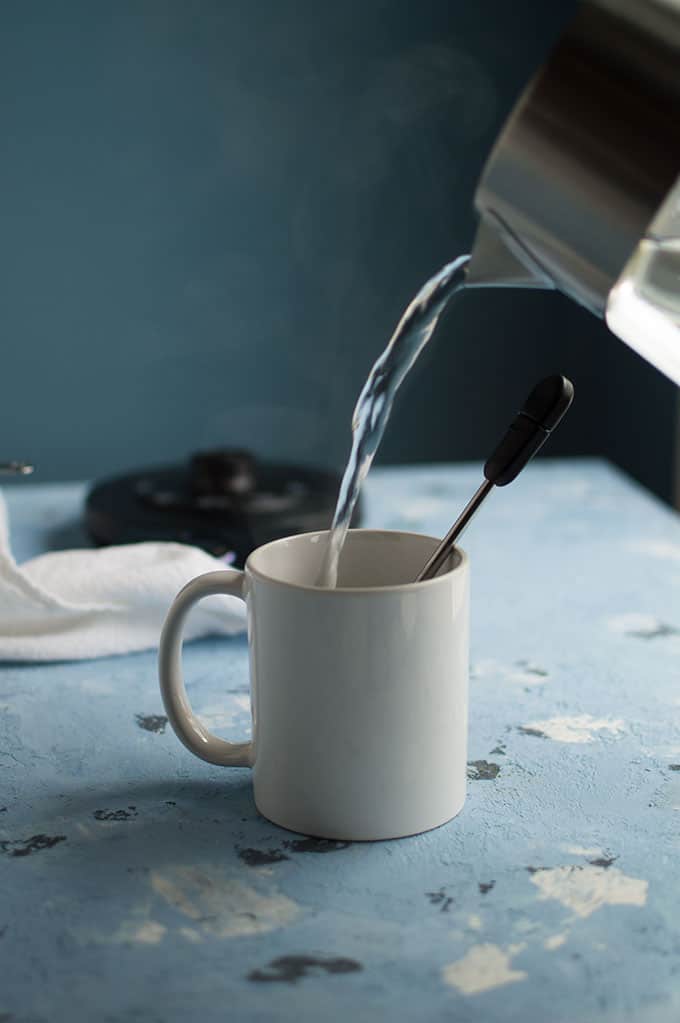 Because this kettle has an adjustable temperature knob, it makes it really easy for you to drink your tea (or coffee if you're into pour-over!) the correct way. You can choose any temperature between 170 and 212 degrees Fahrenheit by simply turning a knob and the water will stay heated at that temperature for up to 30 minutes on the base. The kettle itself is cordless and has a silicone bottom, so you could remove it from the base and place it on any surface without worrying about damaging anything. Also, it heats up the water nice and fast!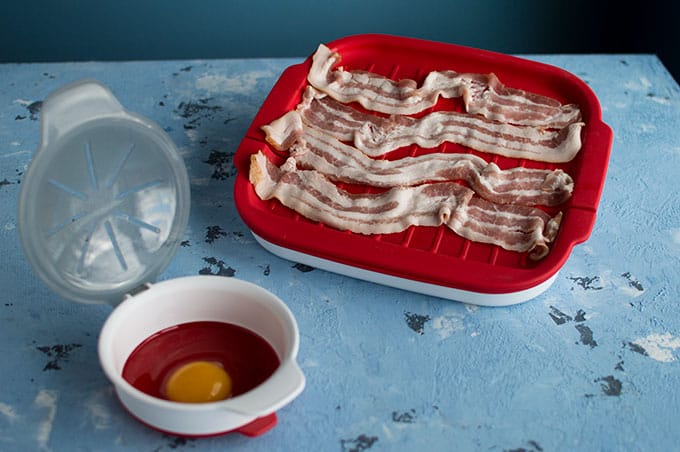 And then there's the best part. The food part! It's all about the noms, friends. If you're a "bacon and eggs" kind of person and want breakfast made in about five minutes, plus have super easy clean-up, the Microwave Bacon Crisper and Microwave Egg Cooker are your new best friends forever.
The crisper makes bacon safely and quickly; cooking it for 30-60 seconds per slice. It has a an adjustable kickstand which allows all the bacon grease to drain into a built-in reservoir while it cooks and if you're cooking with leaner bacon (like turkey bacon) the kickstand can lie down flat. The cooking surface and drain lid are both made of silicone and are easily removable for clean-up.
I had four slices of bacon cooked up in less than three minutes. They were really tasty and not at all greasy (because the grease drained into the reservoir, yay)! You can easily discard the grease by pouring it into a container to dispose or you can pop it in the fridge for cooking grease fun (I always recommend the latter, especially if you're cooking with pastured bacon). Also, you can check out more tips on how to use the crisper here on OXO's site.
As for the egg cooker, you can make them scrambled or "fried" in a minute or less. I love me some runny yolks, so I cooked mine for 30-35 seconds. The cooker has a curved bottom to help center the yolk for fried eggs and it has a wide opening to whisk your scrambled eggs right inside, making clean-up even easier because you don't have to worry about getting another bowl dirty. The handles are easy to grab and stay cool for grabbing right out of the microwave and the base is removable to allow an easy transfer from cooker to bread/plate. Don't forget to season with salt and pepper!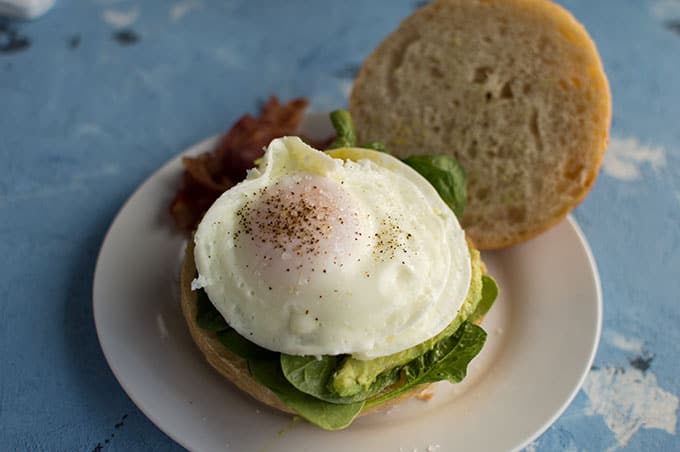 Now, a quick recap:
You got the Adjustable Temperature Kettle that will brew your water at whichever temperature you choose between 170 and 212 degrees and the water will brew nice and fast because yay electricity!
The Twisting Tea Ball is great for loose leaf teas because it can easily scoop the tea up. The handle twists to close and voila: you have a ball of tea ready for steeping.
The Microwave Bacon Crisper cooks your bacon safely and quickly at roughly 45 second per slice of bacon and it comes out crispy, delicious, and not full of grease.
The Microwave Egg Cooker can be used to cook "fried" eggs or scrambled in a minute or less, depending on preference.
In less than ten minutes, you got yourself a quick and easy breakfast made.  If you're content with a simple plate or sandwich of eggs and bacon, then keep on doing you! If you'd like to dress it up a bit, check out my quick tips to up your breakfast game.
6 Quick and Easy Ways to Get Your Breakfast On
Make it a classic. Bacon, fried double-egg, and cheddar or American cheese on a toasted and buttered bread of your choice. I recommend a bagel, English muffin, or croissant. Season with salt and pepper.
Go Greek, baby. Scramble the eggs, crumble up some feta and mix it in. Cook it up and season with with salt, pepper, and a pinch of Greek oregano. Serve with a side of bacon, wilted baby spinach, and buttered toast. Don't forget that lemon wedge.
B.L.T. Breakfast Club. Make it with toasted white or wheat sandwich bread and a fried runny egg. Brush each slice of toast with mayo. Assemble with red leaf or butter lettuce, sliced heirloom tomatoes, bacon, and egg.
Some like it hot. Toast up an English muffin. Make the eggs fried or scrambled and season with salt and pepper. Combine a teaspoon of sriracha with a couple tablespoons of mayo and brush onto both sides of the muffin. Assemble with bacon, egg, chopped scallions, and a good sharp cheddar. For a little extra heat, season the eggs with cayenne pepper or hot paprika.
 Avocado or bust. Cook the eggs scrambled or fried. Slice up half of an avocado. Layer a fresh bulky roll with baby spinach or kale, the avocado slices, egg, bacon, and cheese. Brush the top roll with mayo or garlic aioli.
Don't forget your leftovers and condiments! Have leftover steak from last night's dinner? You got yourself a steak and egg sandwich (and if you had a sauce for that steak, like chimichurri? You know where I'm going with this). Leftover pancakes or waffles from weekend brunch? Use them as a sandwich bun. Got salsa in the fridge? Put that on your eggs!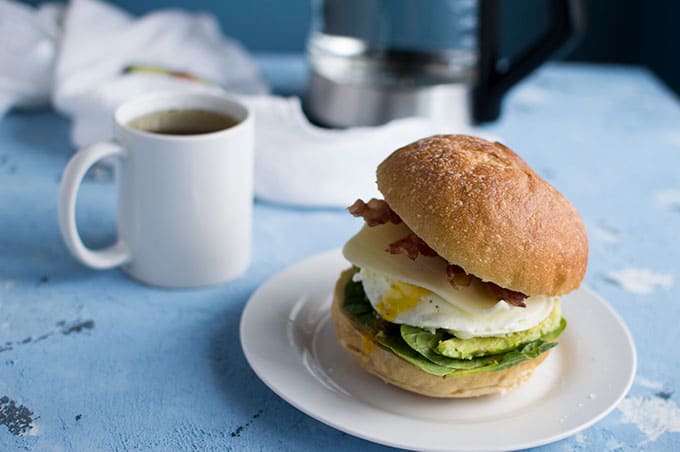 Reader Interactions