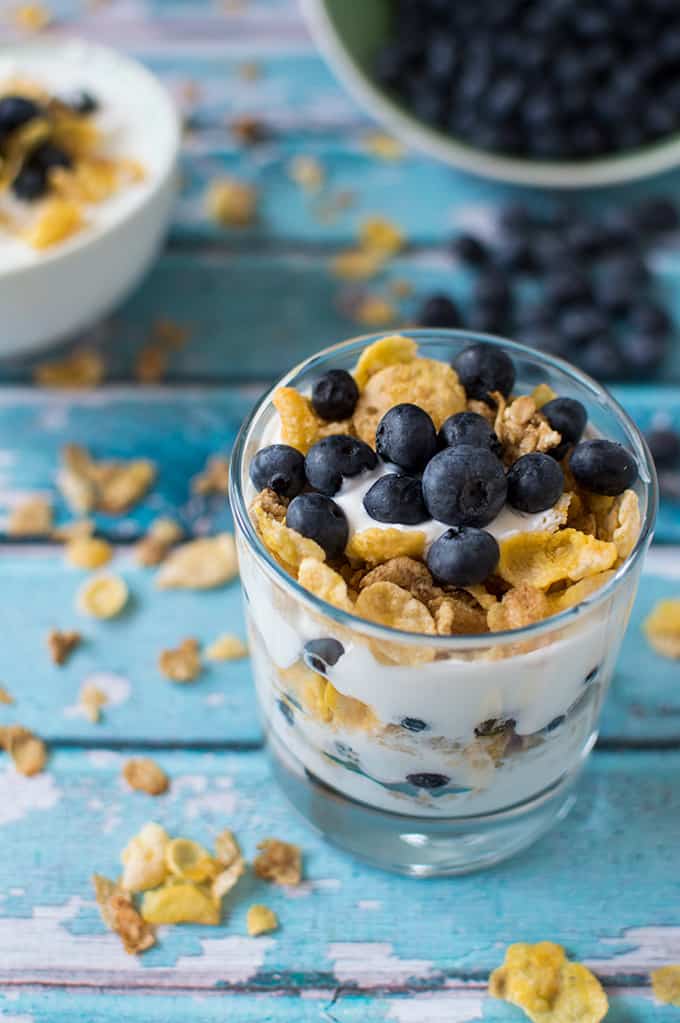 Happy September, friends!
I almost can't believe that summer is almost over. Yes, I said almost. Many people will say summer is over the moment Labor Day has passed and that is just silly to me. The first day of fall isn't until September 22nd, so you better believe I'm going to ride the summer train until then! Also, it's supposed to be 90 degrees this Friday in the Boston area. I'm already planning on camping out at the beach that day.
I have to admit, I'm a little bummed I didn't get to share more recipes with you over the last couple of months. My schedule got a little hectic as I've been putting more focus on things outside of blogging; the main thing being "find a job!"
Finding a job is basically a job in itself. It's tiring. It's stressful. I mean, nobody loves the process of searching for a job, do they? I get super anxious just thinking about it.
That said, it's necessary. These bills won't pay themselves! Aside from getting paid, I miss working with others on projects that get me excited, which makes my job search particularly extensive. It's important to me to work on something meaningful and that involves a bit of additional homework on my part in my daily job-hunting grind.
And because I put in this extra time, I like to start my days somewhat early to maintain a normal routine. It can be so easy for me to fall down a Netflix/video game binging hole, especially while being unemployed (I learned this about myself when I first got laid off from my job back in January), so I think of job hunting as a real job I need to be at by a specific time, which is 9:30am.
However, I'm not usually a morning person. My morning routine before going to work always involved getting out of bed, showering, getting dressed, putting on make-up, sometimes grabbing a quick breakfast (to have on the road or at work), and heading out the door. That routine has changed a little for me since leaving my job. Some differences now include:
Not wearing make-up.
Wearing yoga pants instead of jeans (even if I'm not practicing yoga that day because they're so comfortable).
Always remembering breakfast.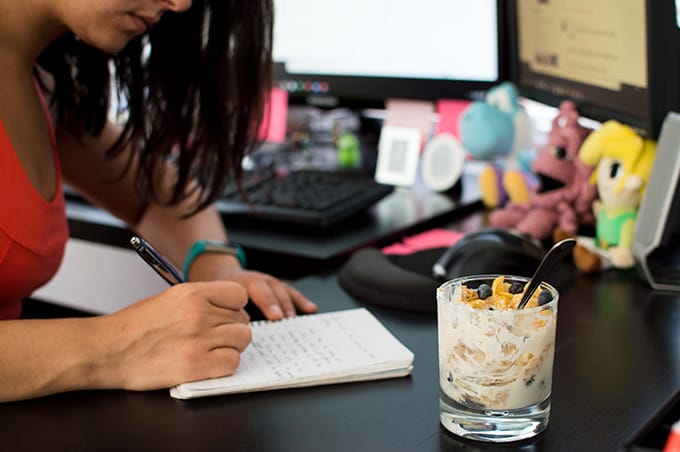 Because I'm at home every day, I've been guilty of  jumping right into the job hunt after showering, thinking that I'd get something to eat soon because "the kitchen is right there." Before I know it, hours have passed and I'm suddenly hangry.
It's something I knew needed to change, so I now make it a point to have something ready to eat before I start diving into my day. Make no mistake though; I want something tasty and easy in the mornings, whether it's a good cereal, granola bar, a quick smoothie, or something that takes me less than five minutes to make. Anything longer than that has no business in my weekday morning routine. 😉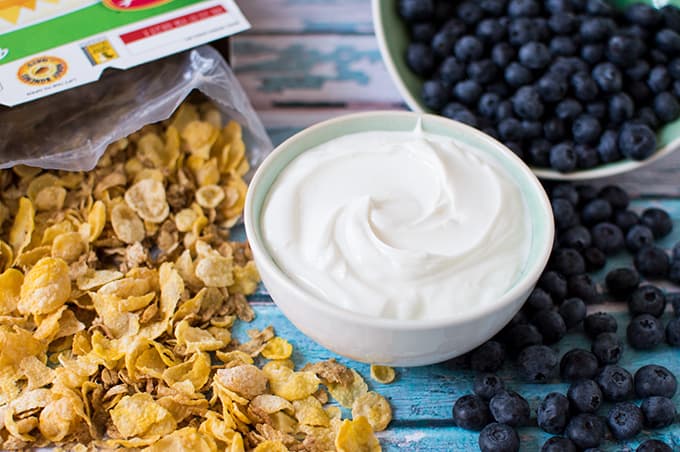 And that brings me to talk a little about Honey Bunches of Oats®! I have loved this cereal for as long as I can remember. There are a handful of cereals I'll still eat in my adult life and this is one of them. Eating it reminds me a bit of when I was a kid and struggling with my mornings before going to school. Some things never change, I guess!
I usually go the classic route and make a bowl of cereal for the quickest option, but sometimes I like to mix it up and replace the milk with berries and Greek yogurt instead. Honey Bunches of Oats® makes an awesome and unique parfait ingredient because it's not overly sweet and has a tasty combination of oat clusters, flakes, and honey. I especially love how this cereal pairs with the tanginess from the Greek yogurt.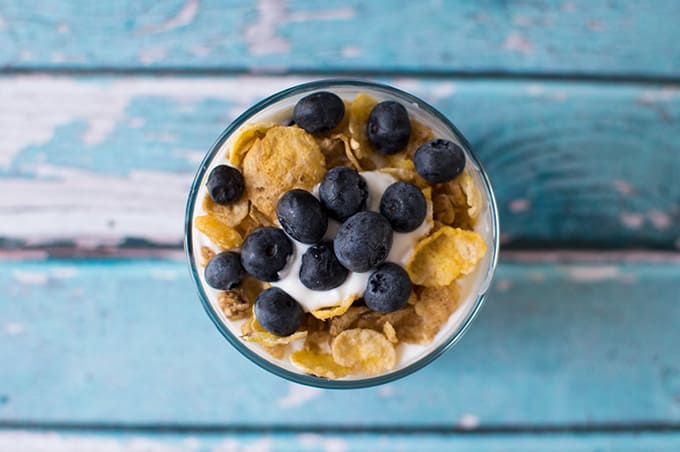 Any berries would be great with this, but I have been on a huge blueberry kick (especially because they were just in season). Blueberries make me swoon.
This blueberry yogurt parfait can be made with any Honey Bunches of Oats® flavor you'd like. Your options are honey roasted, almond, or strawberry. Honey roasted has been my personal favorite since I was maybe six years old. So many noms.
If you haven't had a chance to try Honey Bunches of Oats® just yet, you can grab yourself a coupon and bring it with you on your next trip to the grocery store! Download the coupon here.
If you have had Honey Bunches of Oats®, you should grab the coupon anyway. Because saving money is the best (especially when you're unemployed like me)!
Also, don't forget to pick up some Greek yogurt and blueberries, so you can make yourself a quick yogurt parfait too.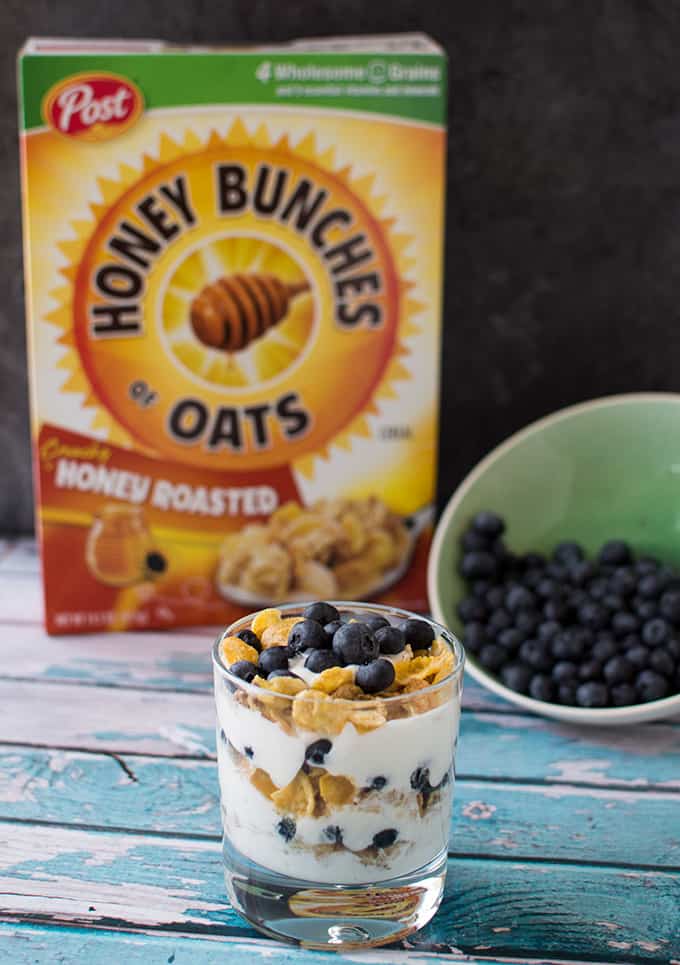 📖 Recipe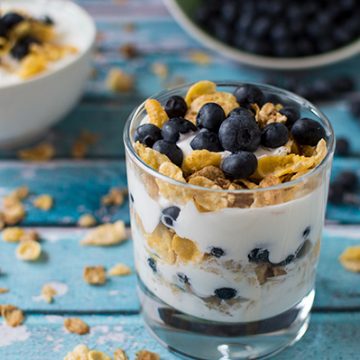 Ingredients
¾

cup

Greek yogurt

½

cup

Honey Bunches of Oats®

½

cup

fresh blueberries
Instructions
In an eight ounce glass or small bowl, add a third of the yogurt in an even layer.

Then add a third of the blueberries.

Alternate layers of the yogurt, cereal, and blueberries until there are three layers of each.

Serve immediately.