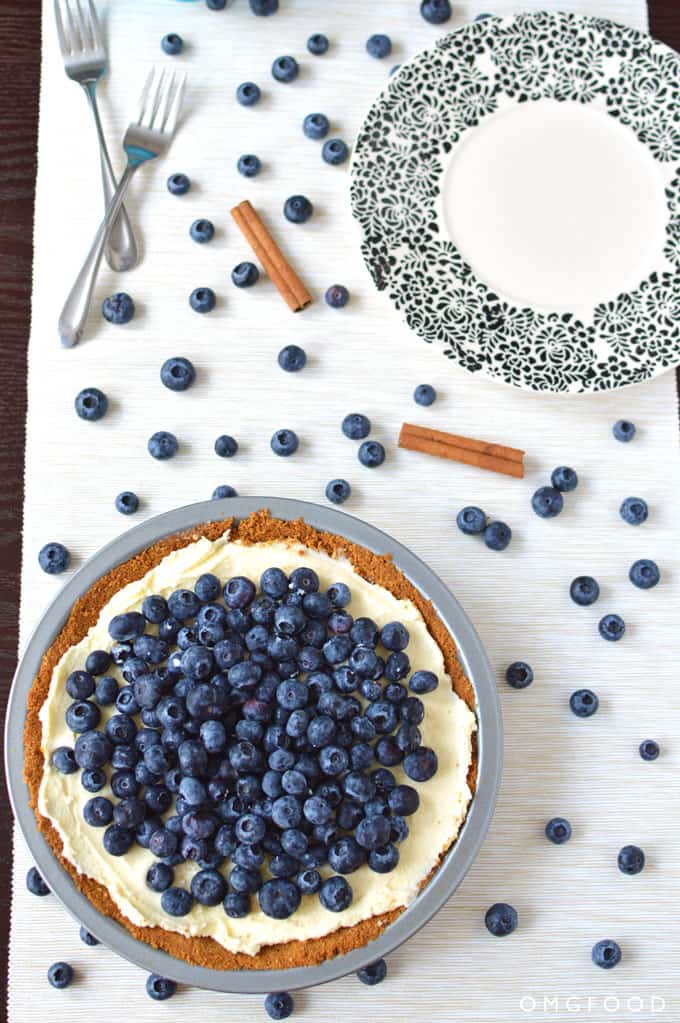 Hell mother f*ckin' yeah. It's blueberry mascarpone pie! This pie is my new favorite thing and I'm super excited to be sharing it with you today. Like, SO EXCITED.
I made this pie last weekend. I was craving a dessert with a delicious mascarpone filling, so I went to the store and I picked some up some mascarpone! I also picked up blueberries, which at the time, I was not thinking of combining with the mascarpone. I wanted them for pancakes, smoothies, and salads.
Then, I did some good old fashioned google searching for mascarpone inspiration because I had no clue what I even wanted to make with it and it wasn't until I pulled up google that the light bulb in my head turned on. I had just made a blueberry oatmeal smoothie and was drinking it while doing my research. Immediately, I said to myself, "Blueberries. Mascarpone. YES. But what? Pie? PIE."
This is a great story so far, right? All I could think about at that point was a delicious combination of blueberry and a light, airy mascarpone cream, so I googled "blueberry cream pie," and in the image search, this blueberry ice cream pie caught my eye. I was loving the idea of a dessert that had both blueberry jam and fresh blueberries in it - and ice cream! I was still set on my blueberry mascarpone adventure, but I will be making this ice cream pie at some point, I'm pretty sure.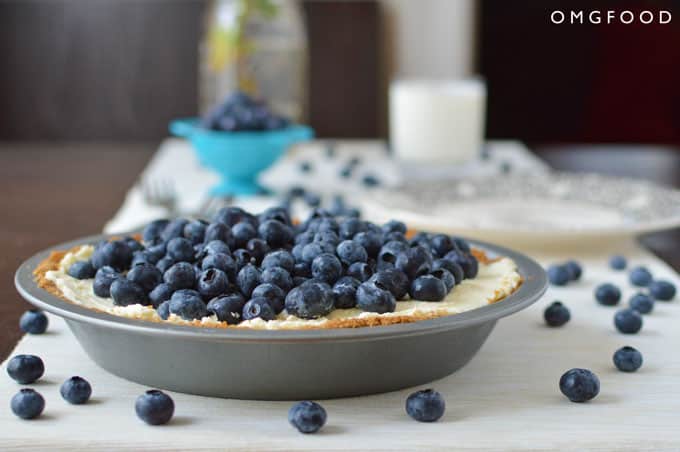 I'll be honest. I'm not great at regular pie crusts. They come out tasting great, but usually fall apart when I'm making them, so they don't look all that appealing. I've only had a couple pie crusts from scratch that actually looked good. It's something I still need practice on and I almost practiced on this pie, but while I was browsing through the kitchen to find ingredients to play with for the dessert, I remembered I had graham crackers and I decided that was a much better idea.
I've also been a bit obsessed with crusts made from nuts recently, like what I use in my chocolate espresso pie bar recipe, so I figured trying out a combination of nuts and graham crackers to form a tasty pie crust would be...well, tasty! I only had walnuts in the pantry, so that's what I used. I think it worked out really well, though. Graham cracker crusts can sometimes be tricky too, but I found the walnuts really helped to keep the crust together.
My idea for this pie was that it'd be light to better fit a summer theme. I wanted just the right amount of sweetness for it, so I didn't go overboard on the sugar. I used some maple syrup for the jam, but the jam itself is a little on the tart side and some sugar can be found in the crust as well as the mascarpone cream. I think the balance of sweetness is just right (taste-testers agree!), but if you make this at home, you can taste the cream as you're making it and add more sugar if you please.
I was so excited when the pie came out the way I wanted it to, but it was my first time making it and I wasn't sure how well I trusted myself on this before posting it (and Jason didn't eat any right away cause he wasn't feeling great at the time), so I brought it to work earlier this week for my co-workers to try and asked them for honest feedback. Everyone loved it! Though I did get 2 out of 9 people tell me they weren't personally crazy about walnuts, so they would omit them if they made it. That said, they enjoyed the dessert anyway and loved that it wasn't overly sweet, so I'd say it's still a win!
Jason did end up having the pie as well and he inhaled it.
This recipe is really easy. Making the blueberry jam requires very little work on your part. You basically throw all the ingredients in a pot and let it cook on medium heat for about a half hour, stirring every so often and you want it to cool completely before adding to the pie crust (which you also want to be cooled completely before you add anything to it).
I used my trusty food processor for the crust and a Kitchen Aid stand mixer for the mascarpone cream. Have I told you the story behind my Kitchen Aid?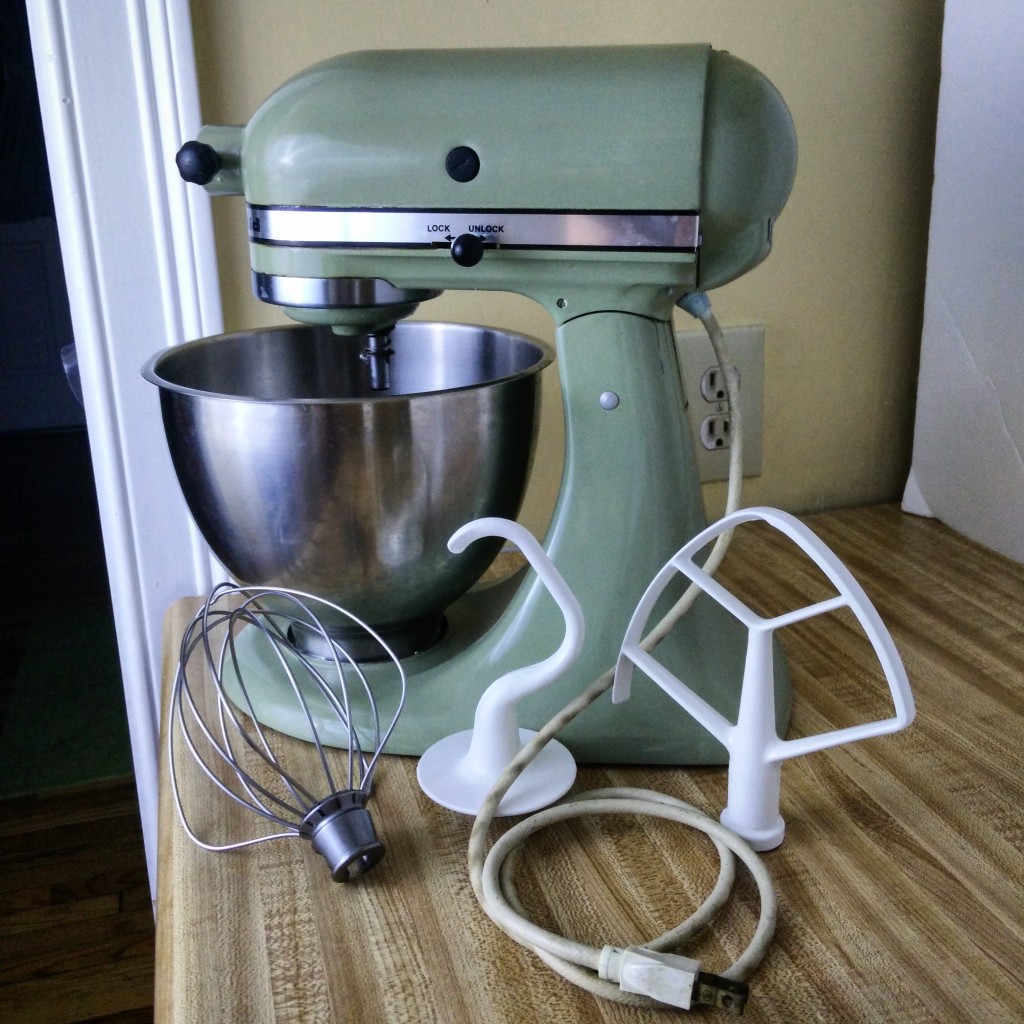 It's old. It's awesome. It belonged to my yiayia before she passed and my mom gifted that to her back in the 70s. The 1970s! And it's still going strong!  I actually called my mom while writing this to see if she remembered the year she bought it (her memory is incredible like that) and she recalls it being in or around 1974, but not sooner than that because she knows she was married when she made the purchase.
This mixer is pretty incredible and clearly really built to last considering it's 40+ years old. I'll be sad if it ever dies! I used to do a lot of baking with my yiayia as a child, so having this now means so much to me. It makes my heart smile. We used to bake so many Greek goods together and I have some of her cookie recipes that I make every Christmas, with kourabiedes being one of them and my faaaavorite (I'll share the recipe someday). I can never seem to make them as well as she could, though, but she was a rock star when it came to baked goods. <3
Okay, there you have a very long post about a pie. I hope I didn't bore you with all that reading, or maybe you jumped ahead to the recipe anyway and if you did, then...well, why am I still writing? 😉
Do you have any fond memories of cooking or baking with a loved one?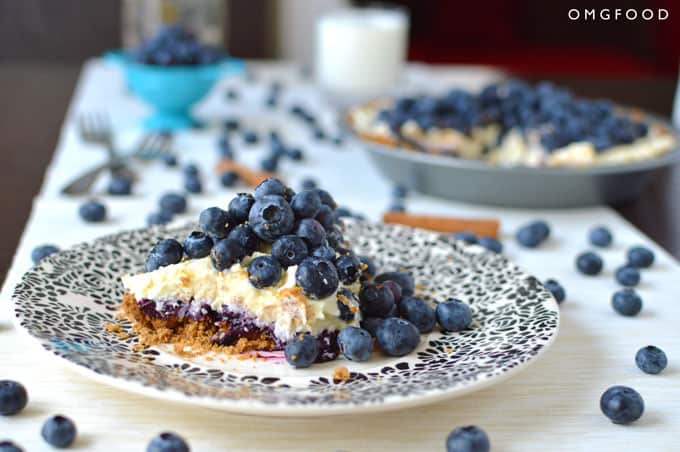 📖 Recipe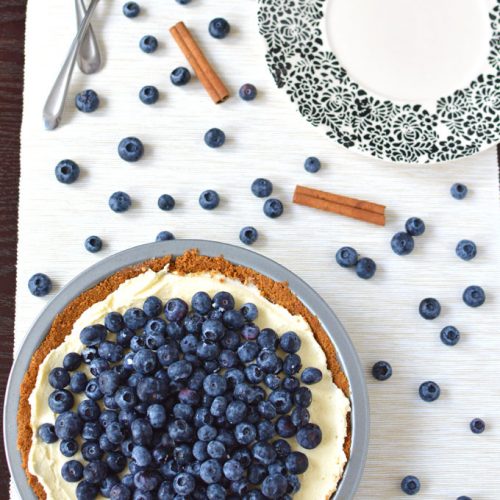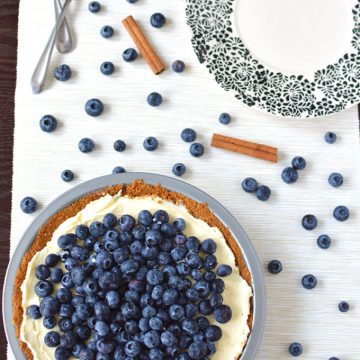 Ingredients
Graham Cracker and Walnut Crust
11

graham crackers or 1 cup graham cracker crumbs

1

cup

chopped walnuts

¼

teaspoon

kosher salt

½

teaspoon

ground cinnamon

½

tablespoon

granulated sugar

3

tablespoons

unsalted butter

,

melted (I use grass-fed)
Blueberry Jam Filling
2

cups

fresh blueberries

,

rinsed

¼

cup

maple syrup

juice and zest from half a lemon

,

I use this microplane for zesting the citrus

¼

cup

water
Mascarpone Cream Filling
½

cup

heavy whipping cream

1

teaspoon

vanilla extract

¼

cup

+ 1 tablespoon powdered sugar

8

ounces

mascarpone cheese
Topping
2

cups

fresh blueberries

,

rinsed
Instructions
Preheat the oven to 350 degrees Fahrenheit. Take the mixing bowl and whipping attachment for the stand mixer and stick them in the freezer.

Start by making the blueberry filling.

In a wide saute pan or pot, add in the blueberries, maple syrup, lemon juice, lemon zest, and water over medium heat. Let cook for 25-30 minutes, stirring occasionally, until the mixture has thickened and the liquid doesn't easily drip off a metal spoon. Set aside to cool completely.

While the jam is cooking, start on the crust!

In a food processor, pulse the graham crackers until crumbs are formed, then add in the walnuts, salt, cinnamon, and sugar. Continue to process until the crumbs are finely ground. Add in the melted butter and pulse another 30 seconds, stopping to scrape the sides if necessary (if using pre-crushed graham cracker crumbs, add them in with the walnuts and continue from there).

Add the mixture to an 8-inch pie plate and using your fingers, press the mixture into the plate and up the sides to form a crust. Bake in the oven for 8-12 minutes, until golden brown. Be careful not to burn it!

Take the crust out of the oven and set aside to cool.

Once the crust and the jam are both cooled down, start on the mascarpone cream.

Take the bowl and whipping attachment out of the freezer and place them on the stand mixer. Do this right before you're ready to make the mascarpone cream. The colder everything is, the better!

Add the heavy cream to the mixing bowl and whip at medium speed until the cream starts forming into a thickened, whipped deliciousness. Add in the vanilla extract and let it blend in. Sprinkle in the powdered sugar and continue to whip until stiff peaks are formed.

Turn off the mixer and switch out the whipping attachment with a flat beater, scraping all the cream from the ship attachment back into the mixing bowl.

On low speed, slowly add in the mascarone cheese 1-2 tablespoons at a time. Turn off mixer and scrape the paddle.

Phew, lots of steps! Almost done. Time to assemble the delicious pie!

Add the blueberry jam to the pie crust and spread it out evenly (do this carefully as the crust might still be a little crumbly; it will soften once it settles in the fridge).

Top with the mascarpone cream and spread evenly.

Top with the fresh blueberries and place the pie in the fridge for at least 3 hours.

Devour!