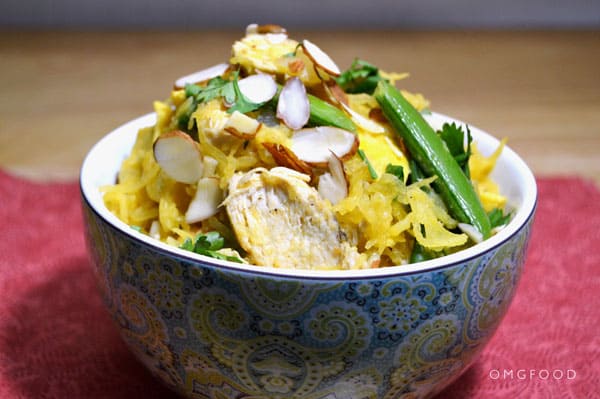 Okay, so it's been a few months (like 6 or 7 months, but who's counting?), and let me just say how great it feels to be back!
So great! It's the greatest!
Cool. Now that's out of the way, I can fill you in on what I've been up to all this time and why I disappeared to begin with.
If you were keeping up before I stopped updating the blog, I was doing a Whole30 back in May and was writing daily about it. The plan was to provide a recipe each day and I talked about my frustrations doing the challenge (sugar withdrawals, headaches, etc) as well as talking a little about what I ate each day. But about halfway through, I was having technical issues with writing and updating blog posts. I'd try to publish anything I wrote and it would just time out instead; all my posts savings as drafts, but unable to make it into to the real world. I contacted my host for some help because I know jack about how to work on this stuff behind the scenes, and the person who helped me the first time spent a couple hours looking into it and in the end, he was stumped. How lovely that was.
Around the same time this was happening, work got super hectic. We were in the midst of crunch (working a lot of overtime) and the company unfortunately got hit with some layoffs, so things only got more intense. It made for quite a busy summer, during which Jason and I also went out to Portland, Oregon for a wedding, moved to a new apartment, and I had surgery on my elbow! We also had a few more weddings in the fall.
All of this caused me to keep fixing the blog on the back burner. I'll go into a little detail with everything, starting with the move!
Last year, Jason and I moved in together. We both lived by ourselves beforehand and were having a difficult time finding an apartment we liked that was available and affordable. Add pet friendly to the equation and it was quite the adventure; especially looking in the Boston area. Most places we attempted to look at wouldn't even consider pets. Jason has a cat named Nermal and I have a dog (Lily) who lives with my parents full time, but I'm hoping to have her live with me eventually. When we finally found a place that would allow the cat and occasional visits with the dog, we decided to just go for it. It was a big apartment at an affordable price. I think we were blinded by the amount of space we got that we didn't really look at the apartment well enough to see if there were any issues. There were a few things going on; the main issue being the heat. It never worked well and it was costing us lots of money during the winter months only to keep us cold at the end of the day. Though what really got us looking to get out was our landlord; he was very shady. He didn't care for fixing things and would sneak into our apartment when we weren't home without telling us. When we became suspicious and talked with our neighbor about it, he said he caught the landlord stealing a drink from his fridge. Nice, huh?
So now we are in a new, warmer apartment that's slightly smaller, but it also got us to get rid of a bunch of stuff and that's always great. We also have a nice landlord who cares about his property and doesn't come into our home without asking us first. So yay for all of that!
We moved back in July and a month later, I had surgery on my elbow! "What's up with that?," you might be asking. Well, a little over a year ago, I started waking up with numb, tingly fingers in both of my hands. I went to my primary care about the issue and without running any tests, she assumed it was carpal tunnel and advised me to wear splints on my wrists while I slept. It did the trick on my right hand, but the tingling never really went away in my left hand. Now, if my long break from working on the blog didn't hint it to you, I'm really good at procrastination. I didn't go back to my doctor to tell her I was still waking up in the mornings with my left hand (ring finger and pinky finger specifically) still numb. I had decided I was going to see a specialist instead, but even that I put off for a good couple of months. Why? Good question. I have no good answer.
The tingling in my fingers started waking me up in the middle of the night and began to cause pain in my hand, which was when I said to myself, "Okay, dumbass - time to go see the doctor before it gets even worse!" So I made an appointment with a hand surgeon and he did some tests to see if my fingers would get numb - and they did! He said it was my ulnar nerve trapped behind my elbow, but in order to confirm that, I had to see a neurologist and have a nerve velocity test done. And let me tell you, that was not fun. It wasn't painful per se, but I found it to be pretty uncomfortable. Thankfully, the test was relatively quick; probably about 20 minutes. The neurologist confirmed the issue was at the elbow, which led my hand doctor to recommend surgery. To give more backstory, he didn't quickly jump to surgery. When I had my first appointment, he gave me an elbow pad to sleep with to prevent me from bending my elbow in my sleep (which is what caused the numbness in my fingers as the ulnar nerve connects to those fingers). He said at the time, there was only a small chance the elbow pad would cure the problem and he was right. I wasn't excited about having surgery, but I was extremely symptomatic and it got more and more painful by the day. You know that feeling of hitting your funny bone? Think that, but amplified x20. Even if I hadn't been lazy and gone to see him a couple months prior, the surgery would have been inevitable (that's not me saying it's okay to put things off when you're not feeling well. Don't be like me, go see your doctor if something is up!)
I had surgery on August 7th and was in and out of the hospital the same day. Following that, I was on some powerful pain meds for a week and recovery took weeks. Three and a half months later and I'm just now (mostly) back to normal. My scar tissue still hurts here and there, but that's the only issue left at this point. I'm able to do some heavy lifting again which I couldn't do for quite a while, but it's still progress. The best part about all of this is I don't have any tingling or pain anymore (except for a separate issue due to a pinched nerve in my neck, but that's a story for another day).
Here's a cool shot of my battle scar one month after surgery!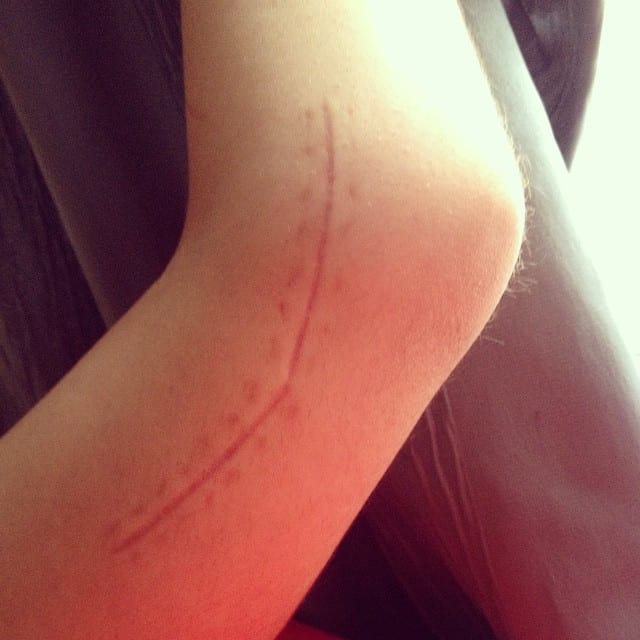 Pretty cool, huh? They went in there and basically moved the nerve out from behind my elbow; no longer trapped and no more pain! You might be wondering what caused this to begin with - that's something I'm still wondering about too. My doctor said it's actually common for this to happen to people and the exact cause is unknown. It could maybe happen if you tend to lean on a hard surface with your elbow for a long period of time; that could put pressure on the nerve. Or a direct hit to the elbow could maybe cause it too (i.e. hitting your funny bone). I'm pretty clumsy and tend to injure myself accidentally a lot, so for me, it was probably banging my elbow around, but we'll never really know.
You still with me? This is a pretty long post. I'm pretty sure I'll never write one this long again. Moving on! Reason number 256 of why I haven't worked on the blog in a while: all the weddings.
So I mentioned earlier that we traveled to Portland, Oregon for a wedding. A good friend of Jason's lives out there now; someone he went to college with. We treated it as a vacation and spent a week out there in June so we could do our own thing instead of just going for a wedding. It was such a fun time. And beautiful! The wedding took place an hour outside of Portland at Skamania, Washington and we were surrounded by gorgeous rivers and mountains. It was amazing. Here's a snapshot that doesn't really do the view justice, but it's still a great example of what we were seeing and experiencing. Not pictured: the awesome waterfalls we saw at the Columbia River Gorge.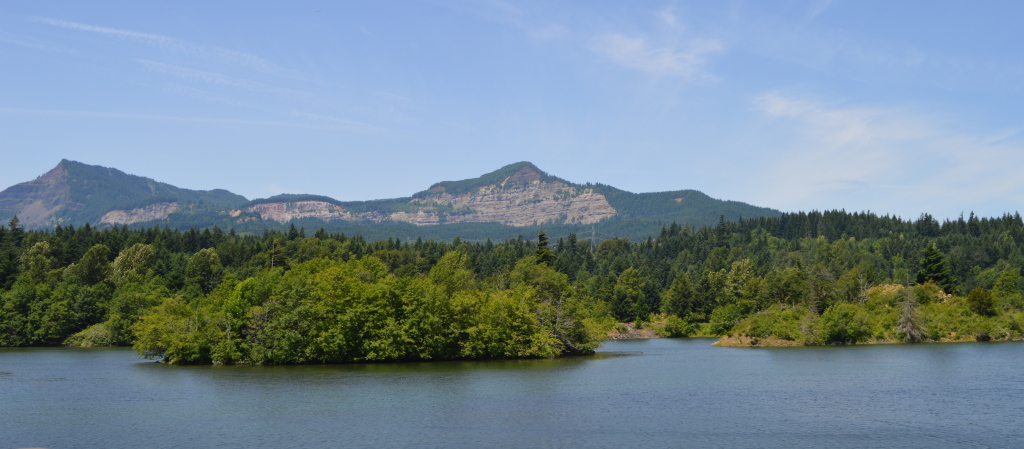 I'd love to go back to Portland again, especially for the food! Everything we ate was super delicious. I'll have to going into more of that another time. I actually have a salad recipe I plan to post sometime that was inspired by one I had in Portland.
That was one of four weddings we had to go to this year. The other three happened in September and October. I love weddings. I love any excuse to dress up, eat delicious food, and party! I also love celebrating those couples deciding to take that next step; especially when they happen to be close friends. That said, I'm relieved we don't have any other weddings lined up anytime soon. Having four in a year is a lot, but having three in six weeks is something else! That's a lot of dresses and shoes...and wedding gifts. Actually, I wore one outfit twice, because really, buying a new outfit for every single event? Totally not my style.
Here's a photo from one of the weddings we went to. This really captures what our relationship is all about.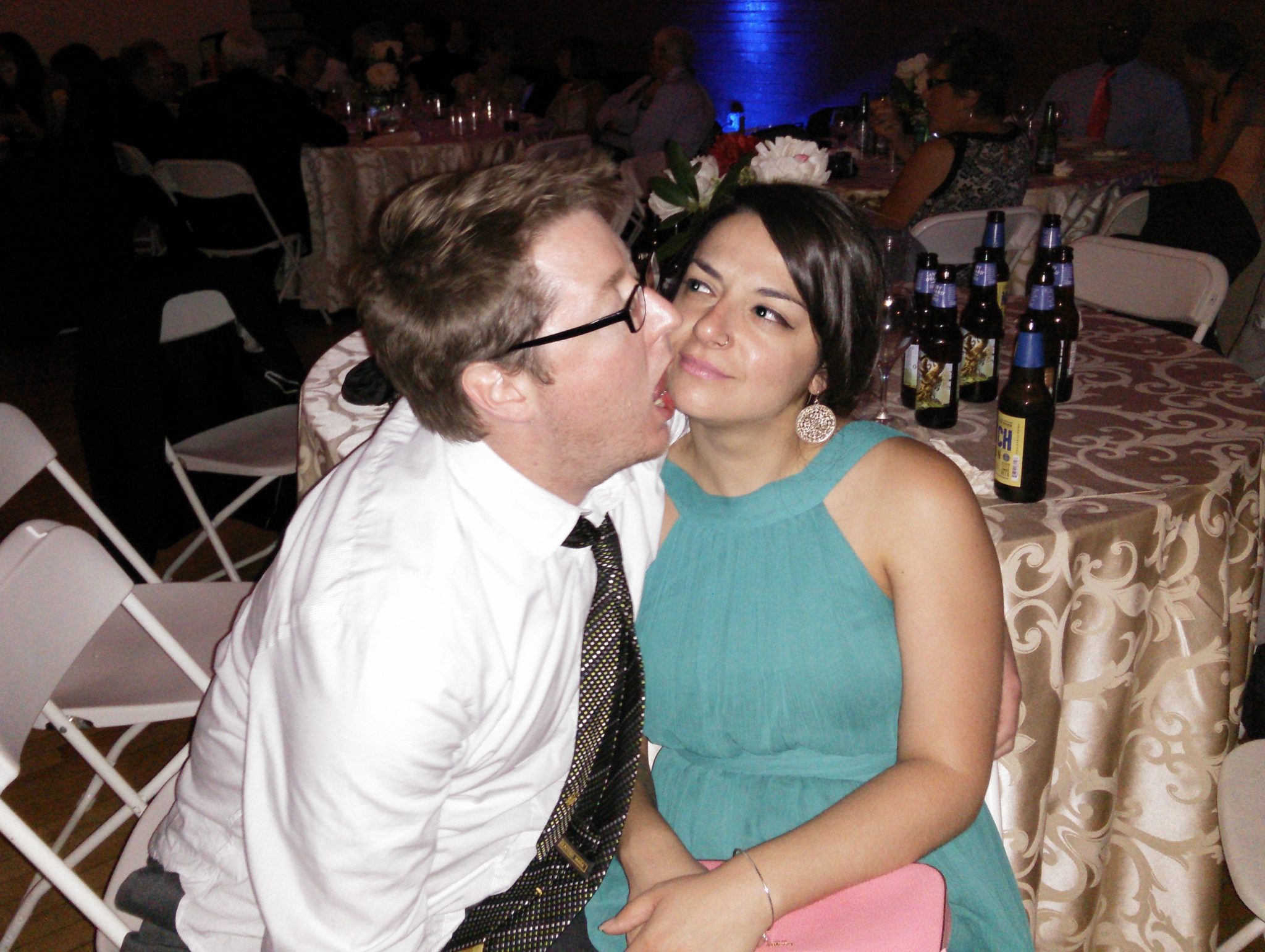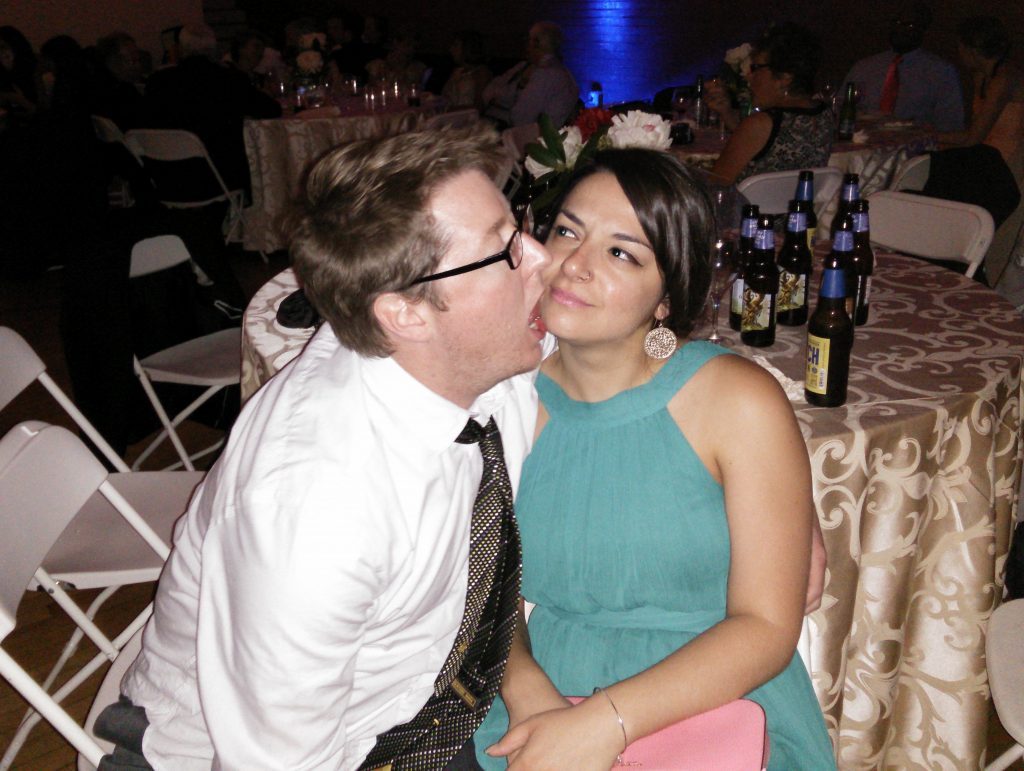 Okay, so we've covered work being busy, moving out of a shady apartment, superpowers gained in my arm, and 500 weddings. Which brings me to the final reason I haven't looked into fixing the blog issues sooner.
Laziness. Straight up laziness.
There was certainly a lot going on that made it harder for me to focus on the blog for a while, but after all that was done, I had no other excuse. I had to push myself a bit to get things started again. I'm not sure why it was becoming an issue because I love writing and I love anything that has to do with food! I don't plan on taking that long of a break again.
And now that I'm back, I've decided to change what omgfood is all about! I'll go into detail on the changes in the next post, but to put it simply, it won't be gluten-free anymore. That doesn't mean every post will have gluten - the recipe for this post is a paleo one! I'm removing the "paleo-ish" label from the blog itself, but I definitely plan to continue cooking and eating this way; the only difference is I'm welcoming more foods and recipes to the blog.
Okay, if you've read all of that, you deserve a cookie. I can't give you a cookie unfortunately, but I can give you a super tasty recipe that's also healthy and that's paleo chicken pad thai! I hope you'll accept this in place of a cookie, though I wish I had a cookie now.
To celebrate my relaunch, I wanted to share a recipe that was heavily inspired by Well Fed's paleo pad thai. When I first looked into the paleo diet, there were two blogs I immediately fell in love with: Nom Nom Paleo and The Clothes Make The Girl (author of Well Fed). There are tons of amazing blogs out there, but these two were my top faves and my frequent go-tos when I did my first Whole30. They also inspired me to start my own blog, which was an idea I was toying around with for quite some time (remember me talking about procrastination earlier?). Which brings me back to that pad thai. It was one of the first recipes I tried with spaghetti squash that I really fell in love with. I had cooked with spaghetti squash before, but I usually either topped it with tomato sauce or would make a quick olive oil sauce with some sauteed veggies and parmesan, which are both good, but I never thought to experiment outside of that. Though anytime I wanted any type of noodle dish, I always had it with regular noodles back then. These days, I love experimenting with different veggie noodles and sauces (along with other gluten-free cooking) and it's thanks to these blogs!
Okay, let's get to the good stuff!
📖 Recipe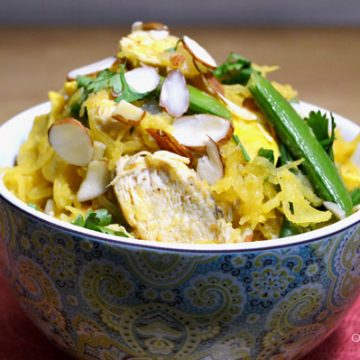 Ingredients
1

small spaghetti squash

1

tablespoon

+ 2 tablespoons extra light olive oil

1

teaspoon

toasted sesame oil

2

boneless chicken breasts

,

pounded and butterflied

salt

freshly ground black pepper

ground ginger

⅓

cup

sweet onion

,

chopped

2

cups

snap peas

3

garlic cloves

,

minced

2

eggs

,

lightly beaten

1

tablespoon

coconut aminos

½

teaspoon

fish sauce

1

tablespoon

rice vinegar

½

teaspoon

red pepper flakes

1

tablespoon

chicken stock

1

tablespoon

cashew butter

½

inch

fresh ginger root

,

peeled and grated

1

tablespoon

freshly squeezed lime juice

sliced almonds

½

tablespoon

chopped cilantro

,

optional
Instructions
Preheat the oven to 375 degrees.

Cut the spaghetti squash in half lengthwise. Scoop out the pulp and seeds with a spoon. Rinse the flesh side with a little cold water and place on a baking sheet, cut-side down.

Roast in the oven until the squash is tender; about 25-40 minutes, depending on the size of the squash. We're using a small one for this recipe, so the time should be closer to the 25 minute mark. Be careful not to overcook it! You don't want it to be mushy.

Remove the squash from the oven and use an oven mitt to turn it cut-side up and let it sit until it's cool enough to handle, about 20 minutes.

While the squash is cooling, make the sauce.

In a small bowl, whisk together the coconut aminos, fish sauce, rice vinegar, red pepper flakes, chicken stock, cashew butter, grated ginger, and lime juice. Whisk until well blended and set aside.

Use a fork to scrape the squash to make long strands. Set aside.

In a large wok, heat 1 tablespoon olive oil and sesame oil over medium-high heat.

Season the chicken with salt, pepper and ground ginger. Add to the wok and cook thoroughly, about 4-6 minutes per side. Remove the chicken from the wok and set aside.

Add 2 tablespoons olive oil to the wok and add in the onions and snap peas. Cook for 5 minutes.

While the veggies are sautéing, slice the chicken into bite-size pieces and set aside.

Add in the minced garlic and saute until fragrant, 30 seconds to a minute. Push the veggies to the side and add in the eggs. Scramble the eggs until cooked; about one minute. Mix together with the onions and snap peas.

Toss in the spaghetti squash and chicken, continue to mix together.

Lastly, add in the sauce and mix well. Salt to taste.

Serve the pad thai topped with almond slices and chopped cilantro.

Enjoy!
Notes
- To save on time, prep the other ingredients while the squash is roasting in the oven. Make the sauce, cook and slice the chicken, chop the onions, garlic, etc.
- If you don't have chicken stock, you can substitute with another stock or water.
- A small spaghetti squash could yield 3~4 cups. More than 4 cups would be too much for the amount of sauce in this recipe, so adjust if necessary.