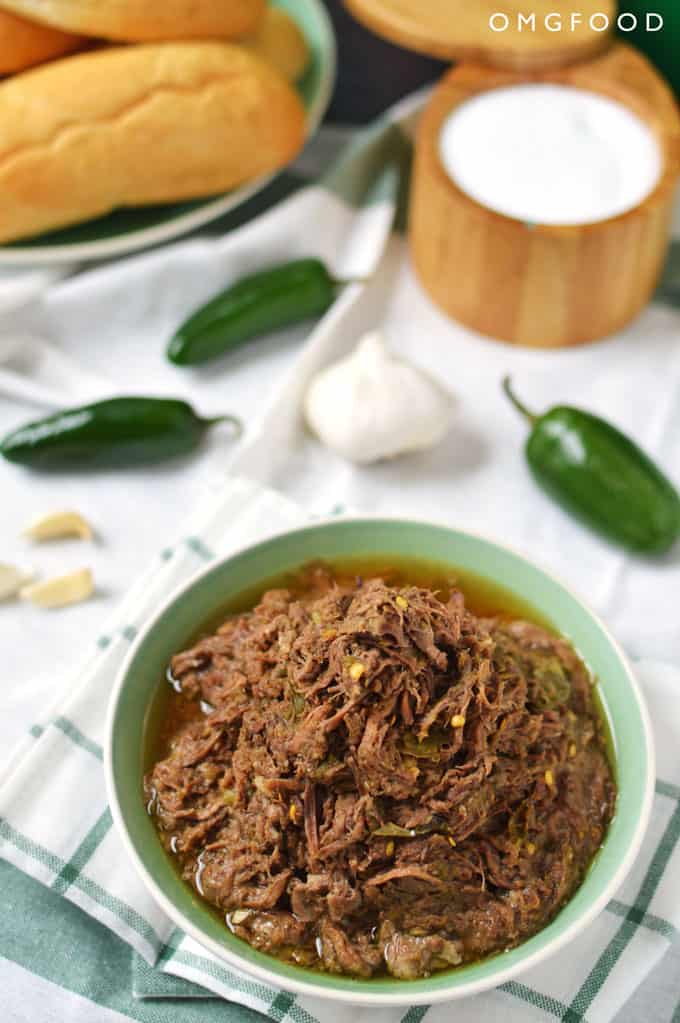 Updated on June 30th, 2015:  Jalapeños can be tricky peppers. Sometimes, they're pretty hot and sometimes, they're pretty mild! I've updated the recipe to include more peppers at your discretion. I've made this a few times since originally posting the recipe and each time, the heat has varied for me (but the taste has still been delicious). You can always use different peppers to test different levels of heat and flavor! Just don't hurt yourself. 😉
Originally published on April 27th, 2015.
---
Tell me you love me.
Because I've got something real good for you today. Unless you're not a fan of spicy, then I'm afraid this delicious recipe isn't for you. For the rest of you who love the heat, though? I'm about to make your day.
One of my favorite slow cooker recipes is pepperoncini beef, which consists of 3 ingredients: a 2-4lb chuck roast, a jar of sliced pepperoncinis, and garlic.
I had a chuck roast defrosting in my fridge from last month's Walden Local Meat delivery and I was trying to think of what I wanted to do with it that didn't scream "winter" now that it's been warmer out. I started craving that spicy beef, but I didn't have a jar of pepperoncinis on hand. Plus, I was doing a Whole30 at the time and finding a compliant jar of those peppers is nearly impossible because of the preservatives. Though I had jalapeños in the fridge (they're kind of a staple in this household), so I decided to experiment in the test-kitchen….