Skordalia is a traditional Greek dip made with a potato base, lots of garlic, extra-virgin olive oil, red wine vinegar, and salt. It pairs really well with fried fish and/or vegetables.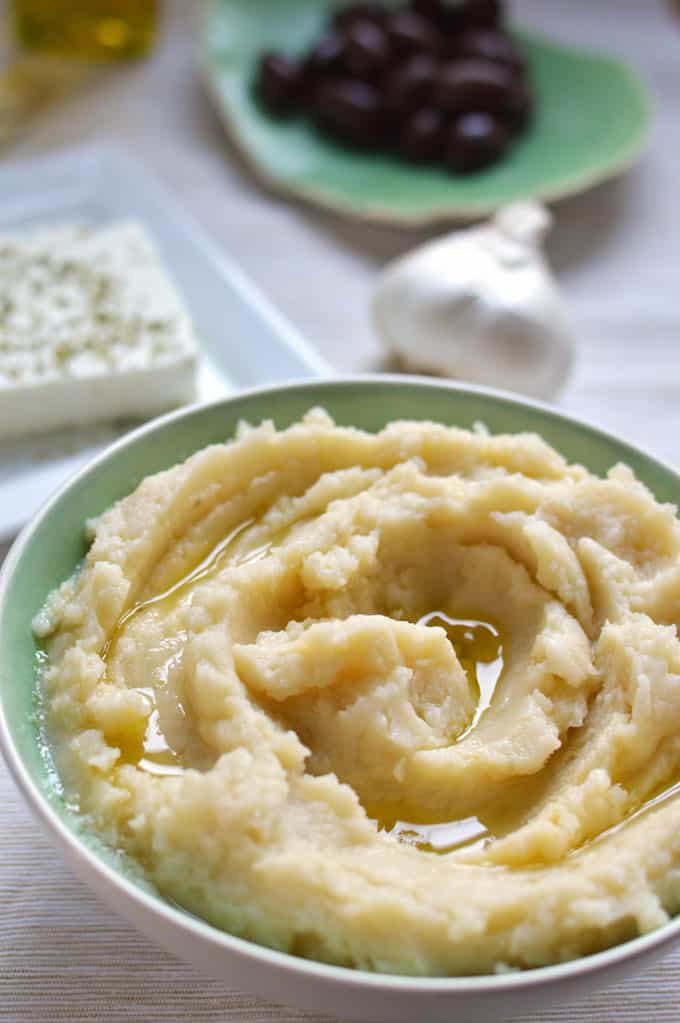 Opa!
Are you planning on kissing anyone today? I'm asking because I got a delicious, garlicky treat for you and I just want to make sure you plan accordingly. I got your back.
Today, we are talking about skordalia (skor-thal-YAH)! When pronouncing it, you want to make a hard "th" sound, as if you are saying "the," but with the letter L at the end of it. Now, you try it. See? Greek is easy.
Skordalia is a Greek dip that has a few variations when it comes to the base of the dish. Some are made with potatoes (which is the recipe I'm sharing with you today), others are made with bread, almonds, or walnuts. And some variants call for a combination of the ingredients. You might be asking how a dip with a bread-base works: it's made with stale bread that has been soaked in water. I plan to explore different variations in the future, but I'm happy to share the potato one with you today!
Whether the recipe is made with potatoes, bread, nuts, or a combination, the remaining ingredients don't differ all that much. It's made with raw garlic, extra-virgin olive oil, wine vinegar, and salt; a combination that marries together so well.
I've had both the bread variant and potato; my yiayia always made it with potatoes growing up, so that is the flavor and texture I remember and enjoy the most. When I first tried skordalia, I was probably about six or seven years old and I didn't love it. I remember my dad had some as a side with some fish and I wanted to try it. It's made with a decent amount of raw, crushed garlic; maybe not a young kid's favorite….