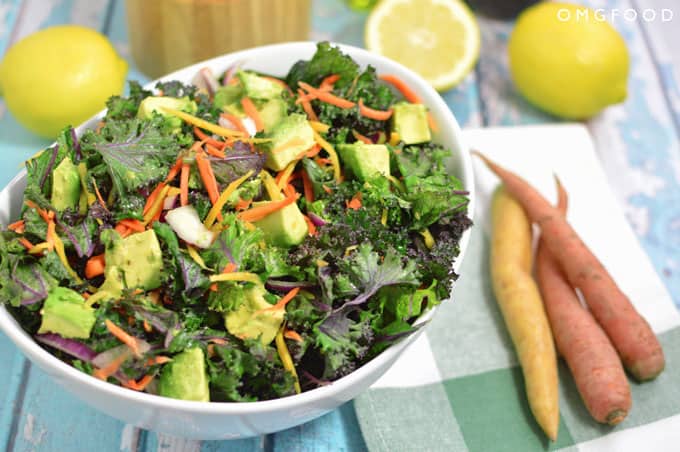 Updated on July 10th, 2015:  Simple Kale Salad was the fourth post on OMG FOOD, back when I also purchased a DSLR for the first time and I had no idea what I was doing (I still don't know, really)! I've updated this post with a new photo, new title: Kale and Avocado Salad, and a "new" recipe with instructions that make better sense.
Originally published on February 26th, 2014.
---
Kale has become a staple in our kitchen the last few months. If you were to look in my fridge each week, you are almost guaranteed to find some in there. I can't guarantee that 100% because there's always the chance it will all have been eaten before the next trip to the grocery store.
Anyway, I'm trying to tell you here that I'm really into kale and one of my favorite things to make with kale is this kale and avocado salad. Moving on.
Sound boring? Only if you make it so! Whenever I cook with kale or make salads, I make sure to dress it include properly. Because, yeah. Kale as is? It is kind of boring in my opinion! It can also be a tough and bitter to eat raw without preparing it the right way. How do you prepare it for raw foods such as salads? You massage it!…