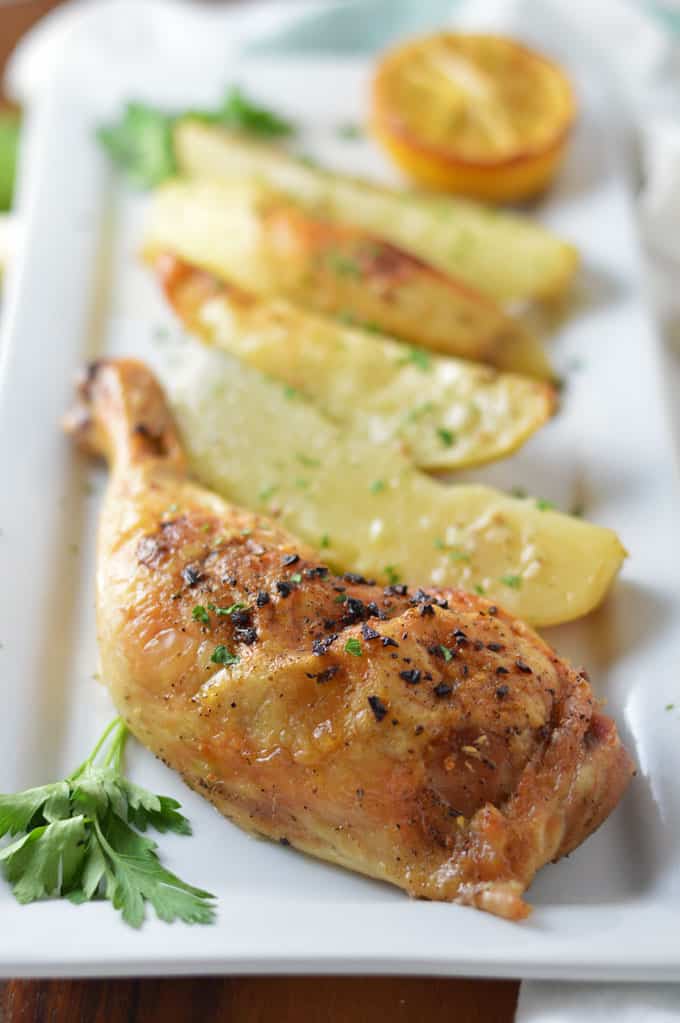 Updated on February 22nd, 2016:  I first shared this recipe in March 2014, one month after I launched the blog. What's new in this post? New photos, updated content, and updated recipe instructions! When this was originally published, I titled it "Mom's Greek Roasted Chicken and Potatoes," because this was a spin on my mother's recipe for the lemony and garlicky dish. I decided to update the name, so readers like you know what to expect before reading the recipe and thus came the not-so-new-but-very-appropriate-name, Greek lemon chicken and potatoes.
Originally published on March 31st, 2014.
---
Happy Monday to you, friends! Can you believe February is almost over? Time sure does fly, especially when you're unemployed!
This is a very exciting week for the blog! Why? Well, for starters, having updated content of this Greek lemon chicken and potatoes recipe with new, tasty photos and recipe instructions that make more sense. Also, OMGfood is two years old! I first launched the blog on February 21st, 2014. To celebrate the birthday of my little internet home, I've been working on a little face-lift for the blog, which will (hopefully) be launched this week.
I've also been planning a tiny schedule to fix-up older posts (i.e. this one you're reading right now) to make sure the recipes make sense, the content itself isn't a snoozefest, and that the photos look appealing! It's amazing how much I've learned about photography the last couple of years and continue to learn as times goes on. Of course, that can be applied to anything you practice with. It's all part of the process of becoming better versions of ourselves, yeah? I love it….