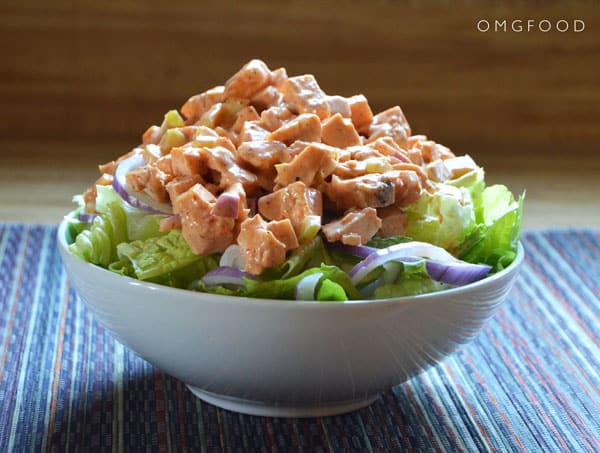 Updated 11-26-14: This post was originally written for a Whole30 program I was unable to complete on the blog due to technical issues that prevented me from making new posts. 
Holy crap, am I sore tonight.
I did a lot of squats and push-ups at my training session yesterday and all day today, it hurt to move. Feels good, though! I think.
Today was a bit of a blah day. Still waiting for the super energy to hit and feeling the fatigue from yesterday's workout is making me even more tired than I already am. Other than that, there isn't very much to report! I surprisingly haven't had any cravings to fight off and I hope it stays that way!
Here's What I Ate Today:
Breakfast
Nothing! I totally failed at having breakfast this morning. But I did drink some coffee. That counts, right? (No, the answer is no. Don't do what I did.)

Lunch
- More eggplant strata (there's still a lot leftover, too!)
Snacks
- A simple roasted chicken thigh
- Coconut cream pie lara bar (Yes, I'm obsessed with lara bars)
Dinner
- Steak and brussels sprouts
Recipe Time!
I looooove chicken salad. Whether it's on a sandwich, salad, rolled up in lettuce leaves, or even by itself, I could eat the stuff all the time. My usual way to make it is with red onion, almond slices, curry powder, and either dried cranberries, raisins, or dates (it all depends what I have in the house at the time).
But sometimes, I like to mix it up a bit and do it buffalo style. It's super easy and if you're a fan of hot sauce, this is the chicken salad for you! If I'm not eating chicken salad in a sandwich or over a salad, I like scooping it with endive leaves or red bell peppers!
When I want a quick, healthy meal and I have no time to cook (or I just don't feel like cooking), I run to Whole Foods to pick up a rotisserie chicken. Leftover meat gets made into chicken salad every time. And of course, I save the carcass and bones for my homemade chicken stock. 🙂
And onto the good stuff!
📖 Recipe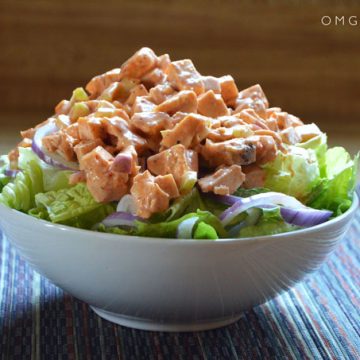 Ingredients
2

cups

cooked chicken breast

,

shredded or chopped

½

cup

mayo

2

tablespoons

hot sauce

1

celery stalk

,

diced small

¼

cup

red onion

,

finely chopped

½

teaspoon

kosher salt or more to taste
Instructions
Add all the ingredients to a medium size bowl and mix to combine.