A simple Mediterranean salad made with buffalo mozzarella and salami and topped with an easy vinaigrette. It makes a perfect lunch or light dinner.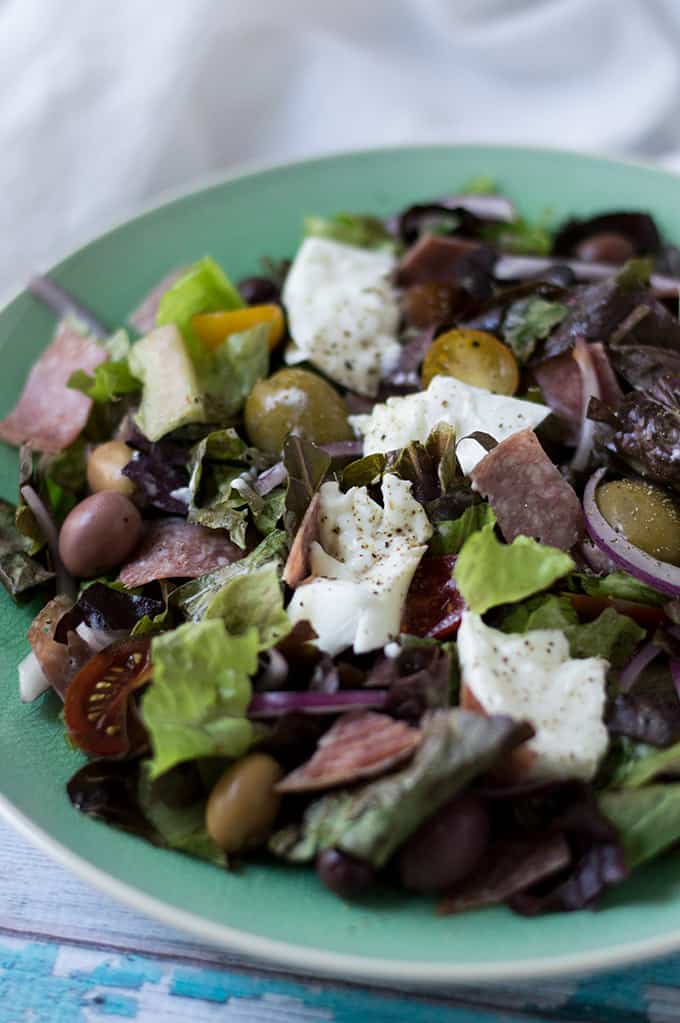 Hello, friends!
I hope you had an awesome weekend! I spent mine doing some holiday shopping, decorating, blog planning, and hanging with friends. I give it an A+.
It's no secret at this point that Winter isn't my favorite season, but I love me some Christmas! It's my favorite holiday. Every year when Jason and I go tree shopping and fill our apartment with holiday decor, it makes me really excited. I never get tired of it. I especially love our twinkling tree lights! Because they twinkle.
Setting everything up for Christmas this past weekend reminded me that we are already in December and I almost can't believe it. Jason's birthday is next week and as soon as that's over, the holiday insanity begins!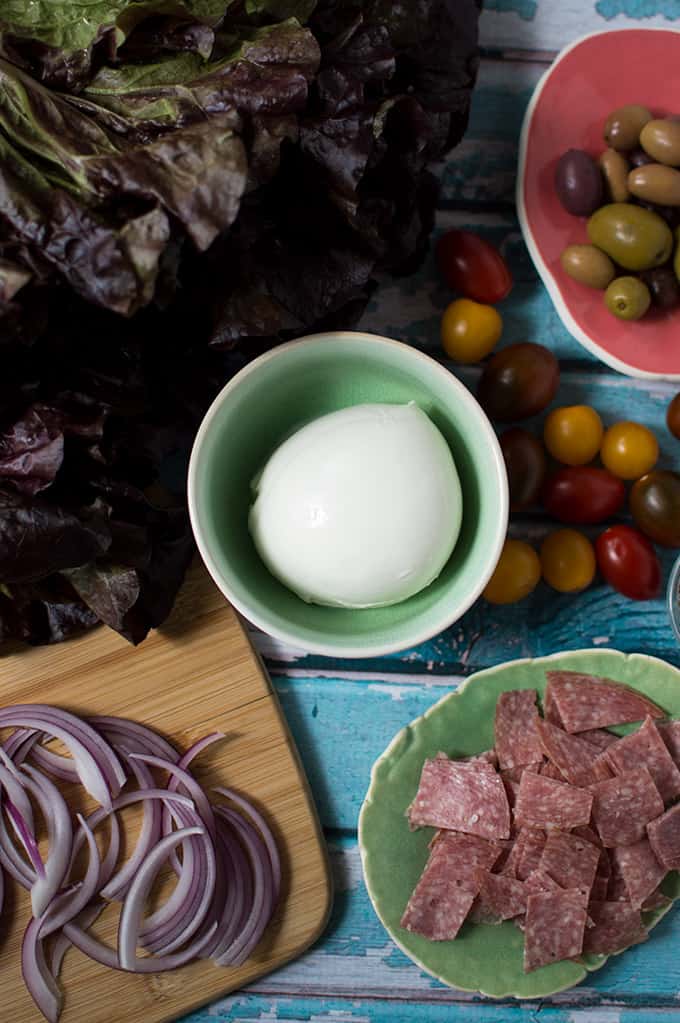 With hectic holiday planning coming up, I'm making sure to keep my cool on the food front. I know I will go crazy on the sweets; it's inevitable every year. Plus, there's everything else that's super delicious and savory and cheesy and buttery. I want to make sure I at least try to maintain a healthy balance because 2016 has been a year of "getting back to healthy" and I don't want to mess any of that up if I can help it.
In order to make sure I don't eff it all up and just eat pizza every day until Christmas, I'm working on bringing back meal planning. I go through phases with planning out meals because I admit, I get lazy at times. But it's definitely easier for me to eat healthy if I know what I plan to make ahead of time. It's a huge help.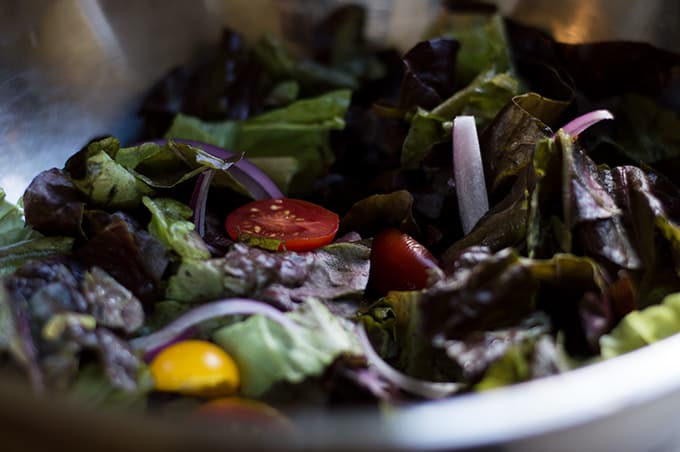 I've been all about making easy lunches for work lately and I'm especially on a salad kick. Working with various cheeses has me bringing home a bit of them too and I'm currently obsessing over buffalo mozzarella. It makes me swoon. I've been pairing buffalo mozzarella and salami together in a salad with red leaf lettuce, olives, red onion, and a medley of grape tomatoes and it's possibly my favorite salad right now. Simple Mediterranean ingredients = a  tasty salad that is not boring. True story.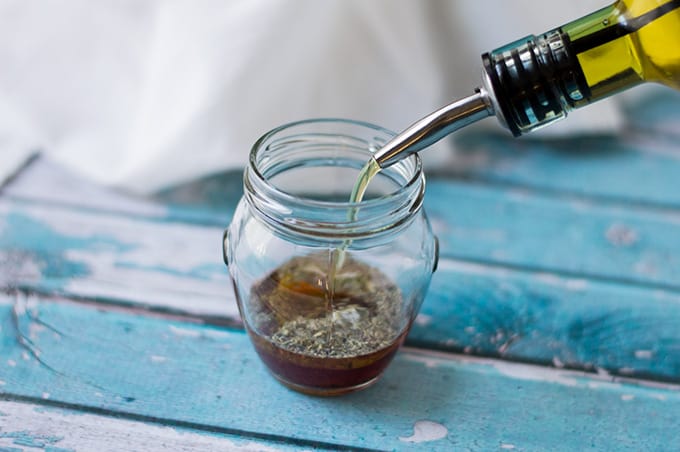 The vinaigrette is my usual go-to of extra virgin olive oil, red wine vinegar, salt, pepper, and oregano. I almost always use Greek oregano in my vinaigrette, but I've been mixing it up lately using Italian oregano too. Italian oregano is milder compared to Greek (the Greek variety is more earthy in flavor), but both are good stuff.
Okay, you guys. It's almost 1:30am and I'm realizing I'm both tired and hungry. A part of me is thinking I should go make myself this salad before going to sleep because talking about it is making me crave it. Do I do it? Do I not do it? Maybe I'll just nom on some buffalo mozzarella and salami because that would be a quicker late night snack?
No, no. No. I'm going to bed. But I am making this salad for lunch tomorrow. I mean, later today. Whatever. 😉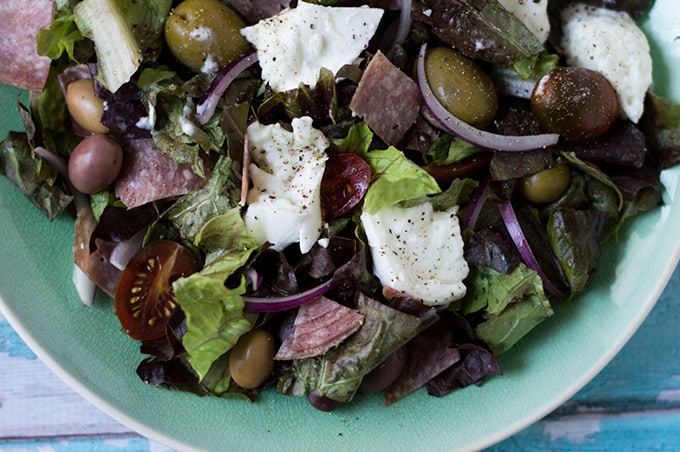 📖 Recipe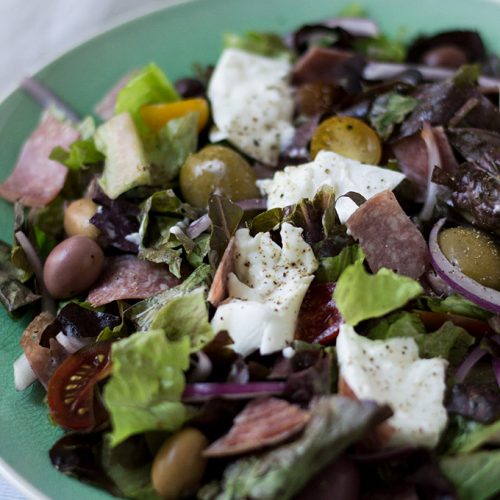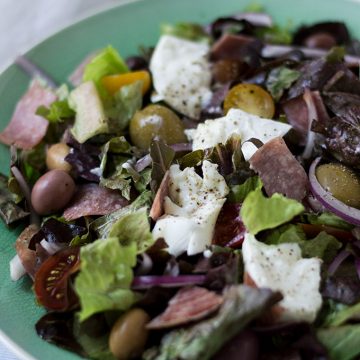 Ingredients
Salad
1

head red leaf lettuce

¼

small red onion

,

sliced

⅔

cup

grape tomato medley

,

halved

⅓

cup

olives

,

I used a mix of marinated olives

4

ounces

salami

,

chopped

5-6

ounces

buffalo mozzarella
Vinaigrette
¼

cup

extra virgin olive oil

1 ½

tablespoons

red wine vinegar

¼

teaspoon

Greek or Italian oregano

pinch

of sea salt

freshly ground black pepper
Instructions
Wash and dry the lettuce leaves (I use this

salad spinner

). Cut into bite-sized pieces and move to a large bowl.

Add the red onion, grape tomatoes, olives, and salami to the bowl. Mix to combine and set aside.

Add the olive oil, vinegar, oregano, sea salt, and black pepper to taste into a small bottle or jar. Cover with a lid and shake to combine (or use a fork to whisk together). Add to the salad and toss to combine. Set aside.

Cut the buffalo mozzarella into bite size pieces.

Plate the salad and top with the buffalo mozzarella. Season with salt and pepper to taste, if desired, and serve.

Enjoy!
Disclaimer: This post may contain affiliate links, which means I make a small commission if you make a purchase through them. By purchasing through these links, you are helping support this site at no extra cost to you! I only recommend items and services I personally use and love.