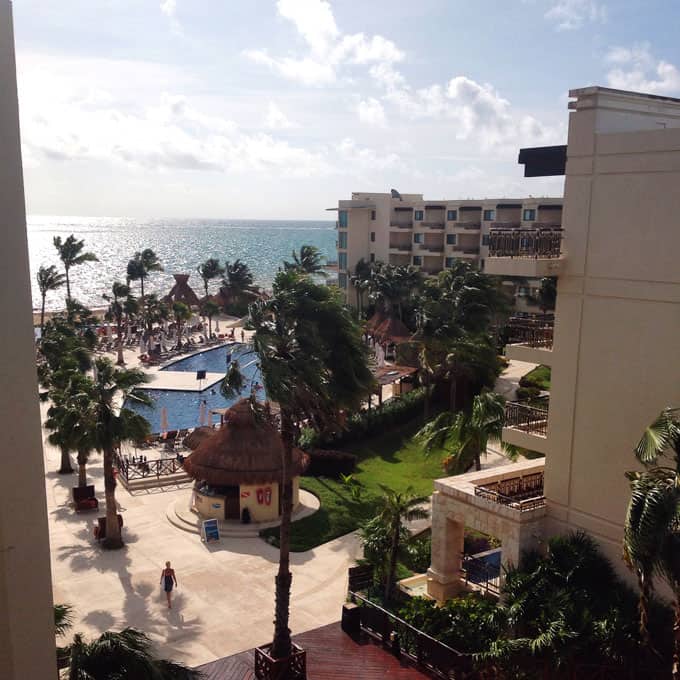 Some of you know by now that I recently went to Cancun for a food blogger conference and had a mini vacation with Jason. Well, I'm finally talking about my trip and how it all went!
I didn't get to take nearly as many photos as I wanted to. I broke my phone at Logan airport an hour before take-off! That was fun (okay, not really). I brought my DSLR, but only for conference purposes; I didn't bring it around with me at the resort, though I do wish I had because the views were just gorgeous. Some of the photos below were taken with my iPad or Jason's phone when the fancy-cam was unavailable.
Let me just say: the whole trip was amazing. UH. MAYYYY. ZING. I went to Food Blog University, a conference founded by Melissa Llado of Serendipity and Spice and Diana Johnson of Eating Richly Even When You're Broke. They formed FBU earlier this year and I got to be one of the lucky few who attended the first conference at Dreams Riviera Cancun, an all-inclusive resort. I admit, because FBU was in its first year, I wasn't sure what to expect, but Melissa and Diana nailed it. I've been to many conferences in the past; most of them video game related and one other food blogger conference. This was the best of them all and for a few good reasons:
It's a smaller, more intimate conference than most, allowing attendees to not only spend quality time with other bloggers there to learn, but to also spend time with the bloggers they're there to learn from. FBU was formed to teach others about taking their blog from hobby to business and how working with your spouse or partner can be effective, so that you can work smarter instead of harder and enjoy your family and life without working the typical 9-5 every day.
Um, did I mention it was at an all-inclusive resort? IN CANCUN?
I learned so much more than I expected. Sure, I've learned things at other conferences, but it's different when you are spending solo time with the speakers. It's also a huge bonus when all of the speakers are actually good at teaching and don't talk out of their butts. That has not always been the case at other conferences I've been to.
It was a family-friendly event. Everyone was encouraged to bring their families to have a fun, relaxing, working vacation.
FBU completely exceeded my expectations and I plan to go back next year.
We arrived at Dreams Riviera a night before the start of the conference, which allowed us a full day of total relaxation before the welcoming party. We were greeted by an attendant, sat at a desk to go over our reservation and map of the resort, and as if it were choreographed, he ended by welcoming us to Cancun and raised his hand up to have us turn around and see a server walking towards us with two glasses of champagne. It was pretty rad.
We were really tired from traveling; we arrived around 11:30 at night, so we went straight to our room, got in our pajamas, and ordered room service (also, 24 hour room service, whaaaaat). We were surprised with a platter of tiny cakes waiting for us in our room and they were SO. GOOD.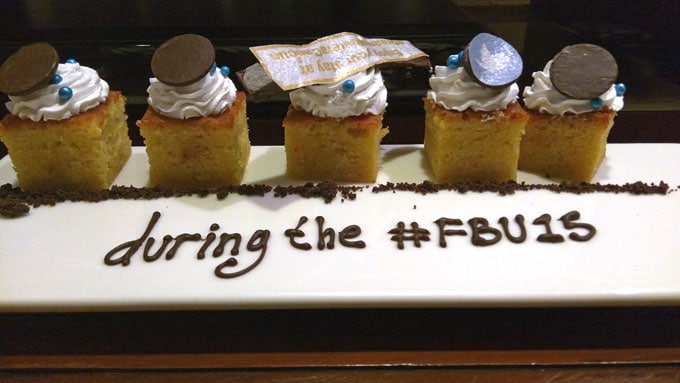 The paper was upside down and I didn't think to fix it or take a better picture of it (I used my iPad; was too tired and hungry to think about setting up the fancy camera), but it said "Enjoy your stay at #DreamsRivieraCancun" Throughout the trip, we used that hashtag and #FBU15 for any social media shares.
The next day, we ate breakfast and immediately went to the beach to lounge with our books and were served margaritas. Then we went for lunch and I drank this delicious rum punch. I then drank a few of them after that, poolside.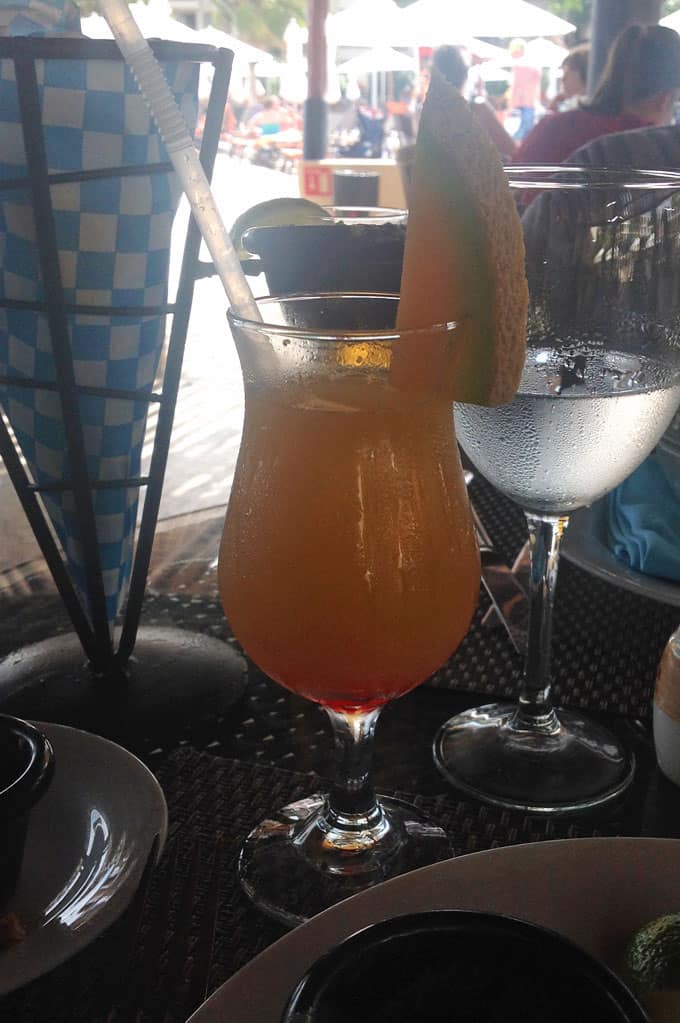 After lounging for hours, we decided to head back up to our room to get ready for dinner and came to find a goodie bag waiting inside with our badges, conference schedule, tasty chocolate from Seattle Chocolates, and some tabasco sauce!
Even though there was a badge for Jason, he skipped out on the conference itself and hung out at the social events, which is okay. This blog baby is mine and I'm happy to continue working on it myself. He does help with chopping onions, giving an extra hand with my photo sessions, and eating the food I cook though, and if he ever wants to do more, I'll happily let him. <3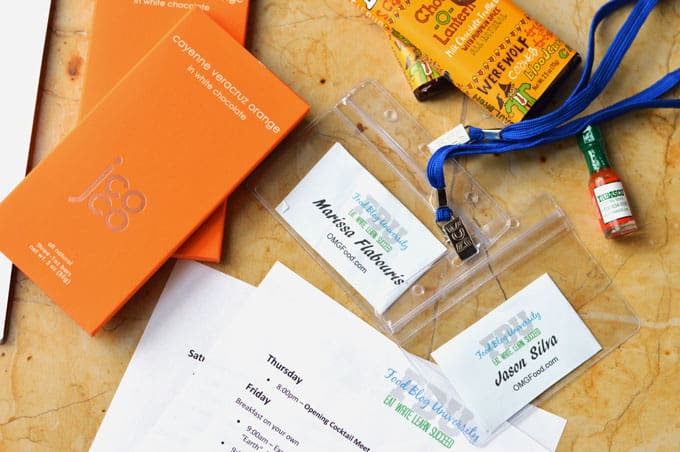 We headed out to dinner to one of the many restaurants at the resort where I had delicious seafood with an endless glass of chardonnay (did I mention drinks were included in the all-inclusive greatness?) and was feeling pretty nice by the time the opening party was starting, where I was going to meet other bloggers attending for the very first time.
I felt super awkward at first (I tend to be shy sometimes), but everyone was so sweet and friendly, I quickly warmed up and didn't feel as weird about it. The tasty cocktails being served definitely helped. I introduced myself to most of the bloggers that night and ended up meeting the rest of the gang as the conference went on. There were a total of 12 bloggers, including speakers! With significant others and family members, there were about 30 of us.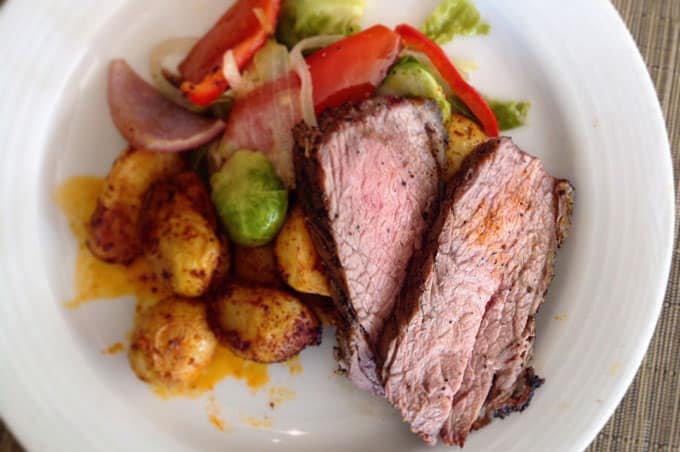 A tasty lunch I had from the buffet.
Why I Decided To Go To Cancun: The Line-Up
Aside from wanting to hang out in Cancun with my boo and learn/connect with other bloggers, there was another big reason that pushed me to bite the bullet on going to this conference: the line-up of speakers.
Once I learned the speakers at FBU were some of my favorite bloggers, I knew I had to go! Lindsay and Bjork of Food Blogger Pro and Pinch of Yum and Jaden and Scott of Steamy Kitchen and Kitchen Table Mastery really, and I mean really, know their stuff. When I first thought about starting my own blog, I had no idea it was something I could possibly turn into a living someday. They've proven it's possible. I knew I'd regret not going to Cancun to meet them and learn from them.
I'm not sure I told them all I was a fan of their blogs; I did have shy moments when hanging out with them at times, but I got to have some one-on-one time with Jaden to ask questions and get constructive criticism on my blog. I'm slowly working on some suggested changes and am really happy with the feedback I got.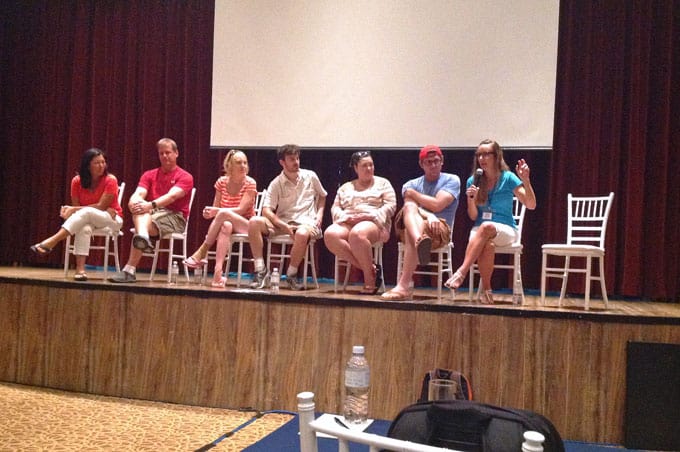 Pictured left to right: Jaden and Scott Hair of Steamy Kitchen and Kitchen Table Mastery, Diana and Eric Johnson of Eating Richly, Melissa Llado of Serendipity and Spice, and Bjork and Lindsay Ostrom of Pinch of Yum and Food Blogger Pro.
Here are some snippets of what I learned at the conference:
Give value to your readers and don't sell out when you monetize.
Use tools to help simplify your life (i.e. social media scheduling apps, task management, etc).
Know that your business must solve pain points.
Have good quality content. Quality is greater than quantity.
Setting goals for your blog will help you achieve them.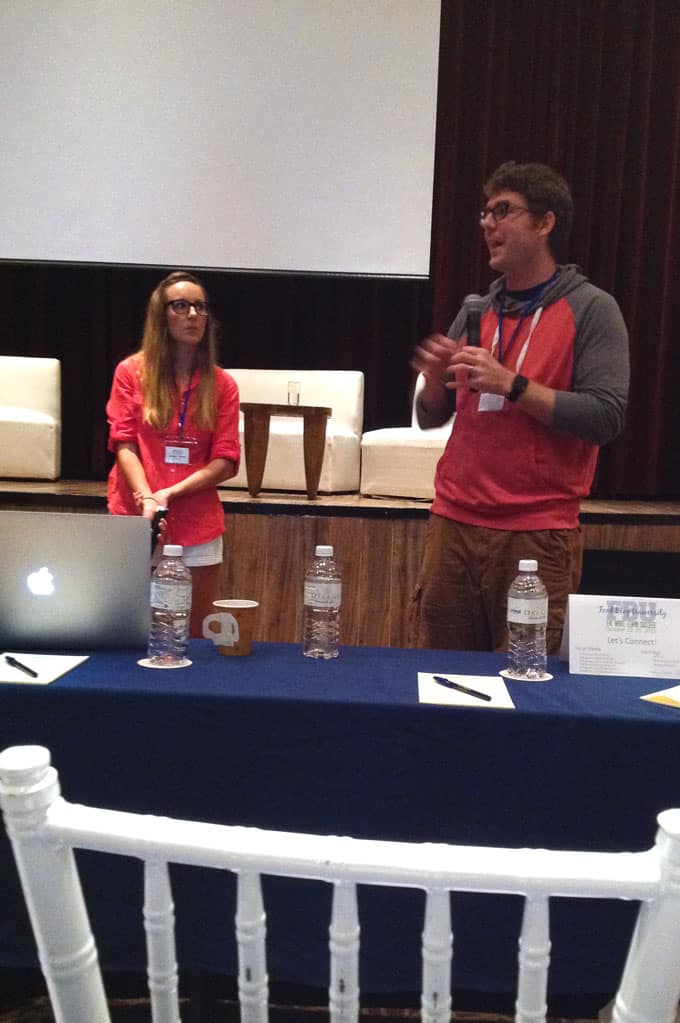 Lindsay and Bjork on monetization: products and services used for Pinch of Yum.
Jaden on building a profitable business.
We finished the conference by having an amazing goal setting session. Scott Hair taught us a great way to brainstorm and do goal setting and it involved getting out of our comfort zones. He'd put on music, do a countdown and we'd all have to jump out of our seats screaming and jumping to reach a "peak state," then we'd quickly pick up our pens and paper and from there had to write down all of the ideas that came to our head. One important rule, though, was we couldn't think about it and if we found ourselves thinking, we had to get ourselves to a peak state again. I wrote down so many things and set myself a really important goal to accomplish by the end of 2016. It was really awesome.
My favorite part though, might have been the photography workshop with Lindsay. The chefs at the resort prepared some food for us to take photos of and while we waited for the food to come out, I took a couple photos of some bouquets that just happened to be on the table nearby, a rad iguana hanging out just outside, and the tables reserved for the food for our hands-on session.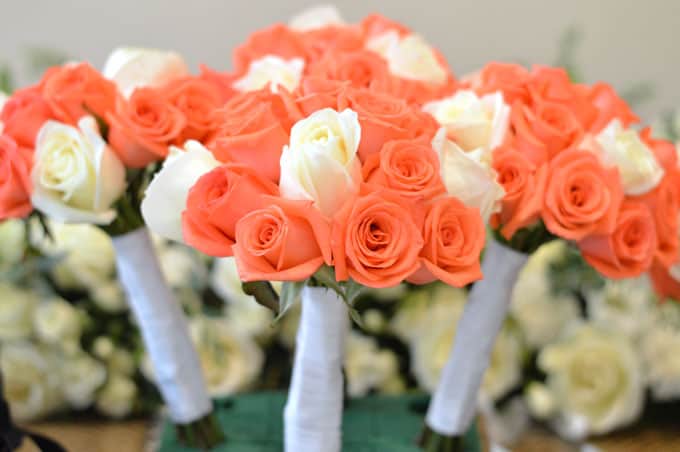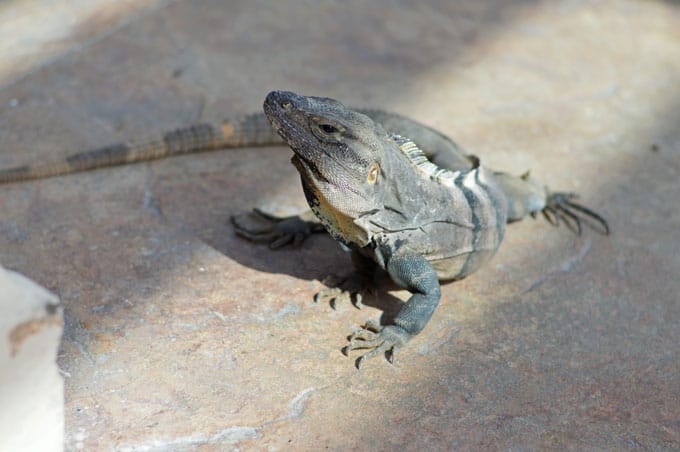 "Sup?"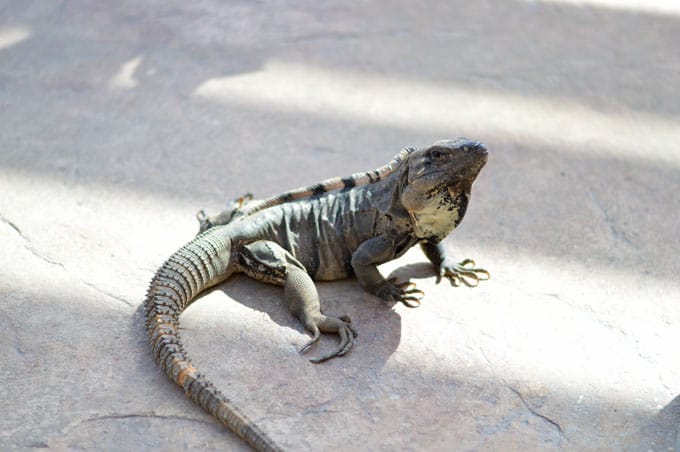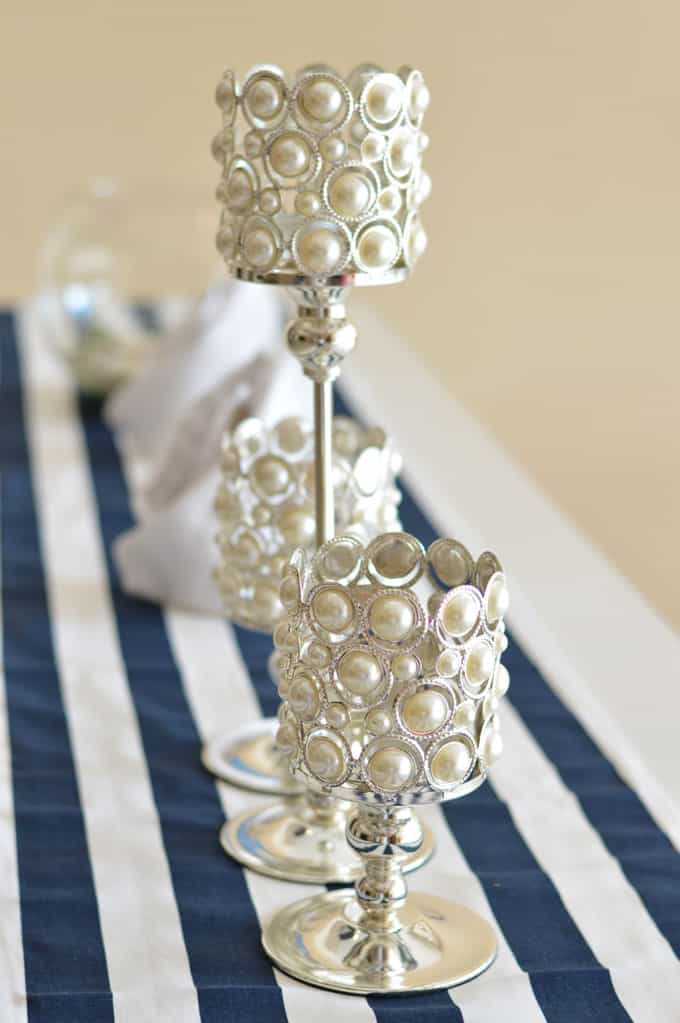 After that, the food started to come out! And one of the chefs carefully presented it on the table (I quickly took this photo not realizing the reflector was blocking the food).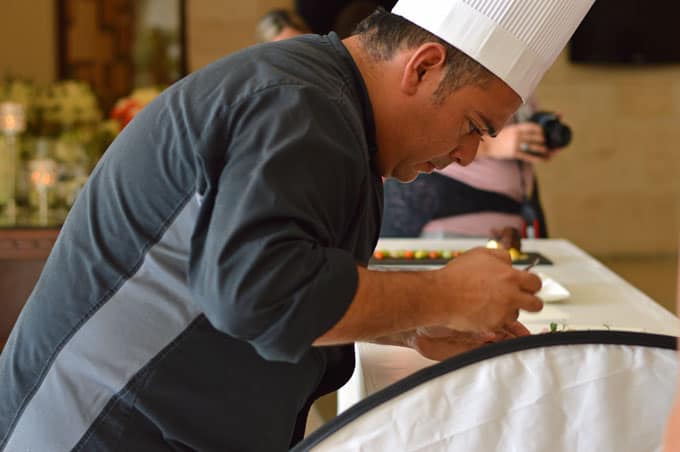 Then, the food was just about ready for us to photograph! But not before Lindsay was going to give us tips and tricks to take amazing photographs of food.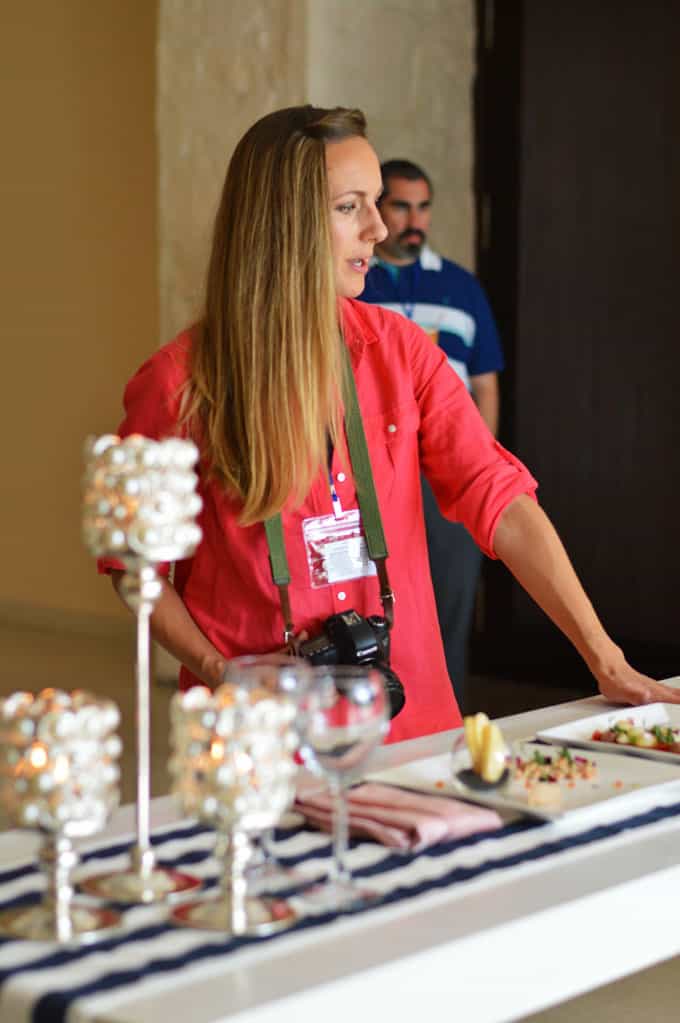 She had Bjork hold some flowers and took a picture of his hands holding onto them. Having a picture of something being held (in most cases for us at the conference: food) has a stronger story to tell. She also went over the different angles of lighting and showed examples of side lighting vs back lighting and how they can set the mood for your photos.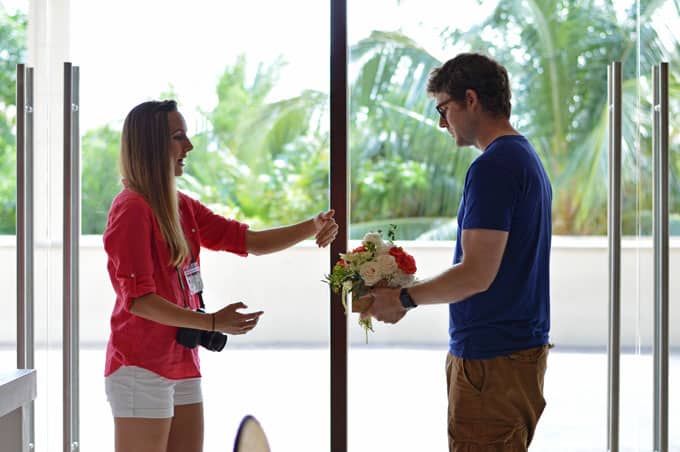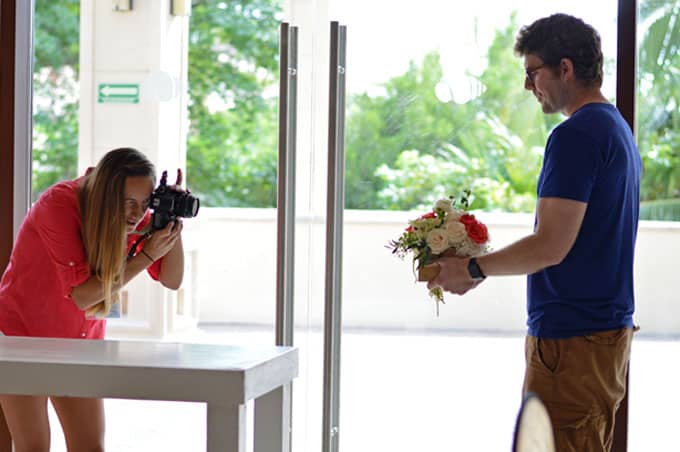 Then, we all dove in with our cameras and practiced taking our own photos of all this awesome food.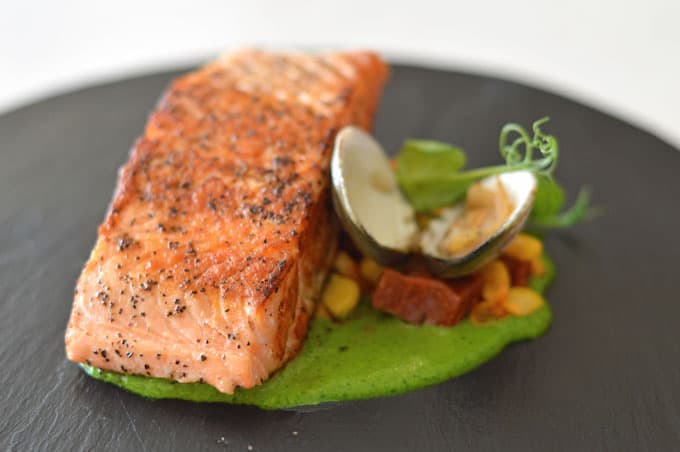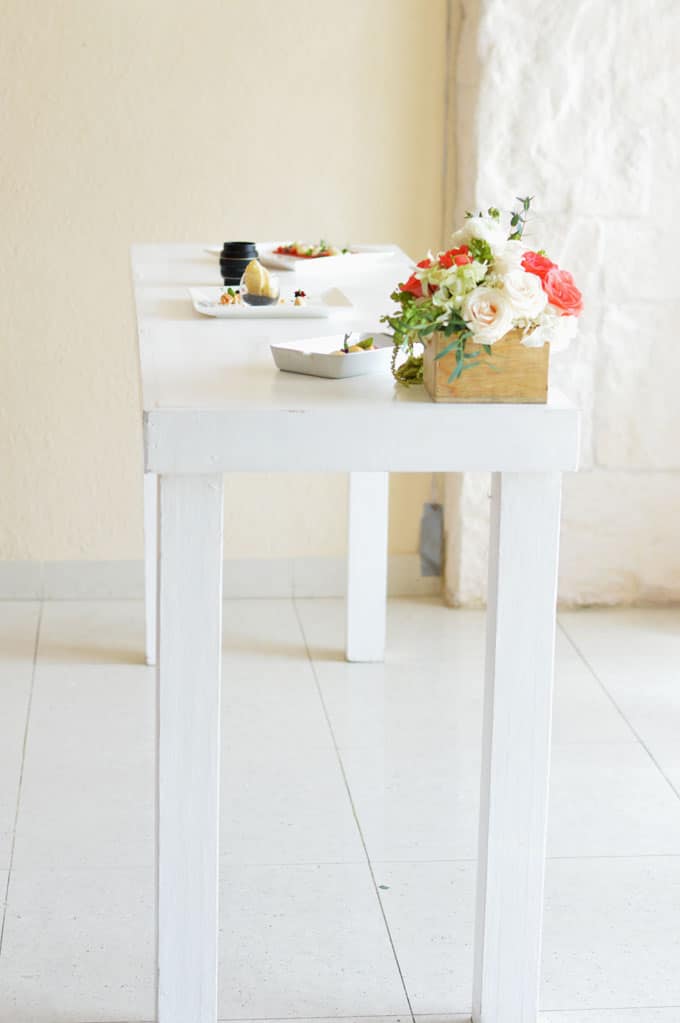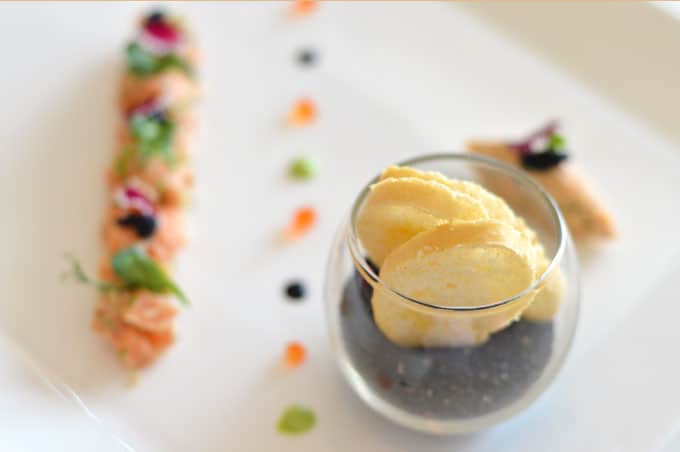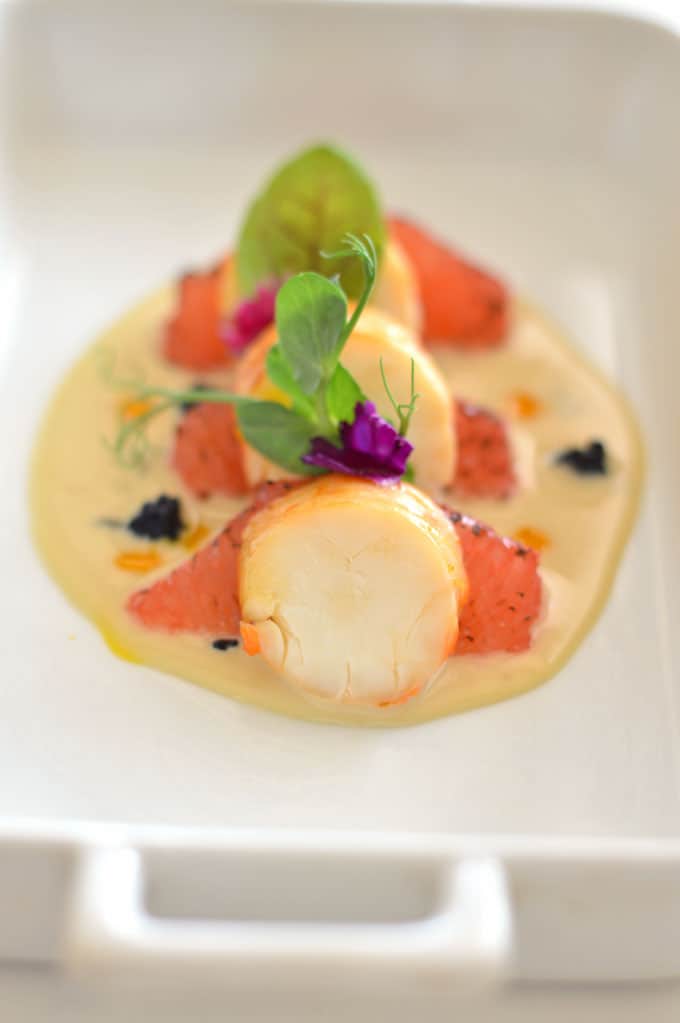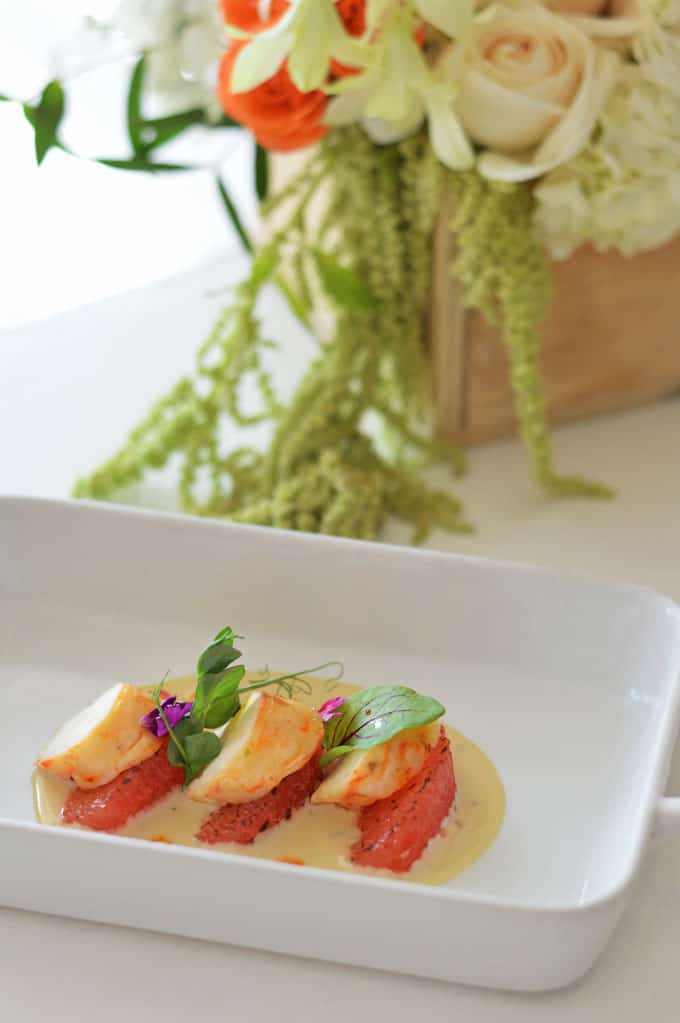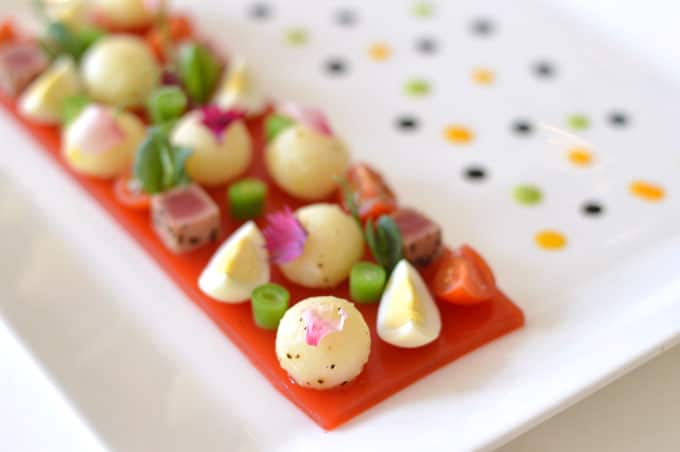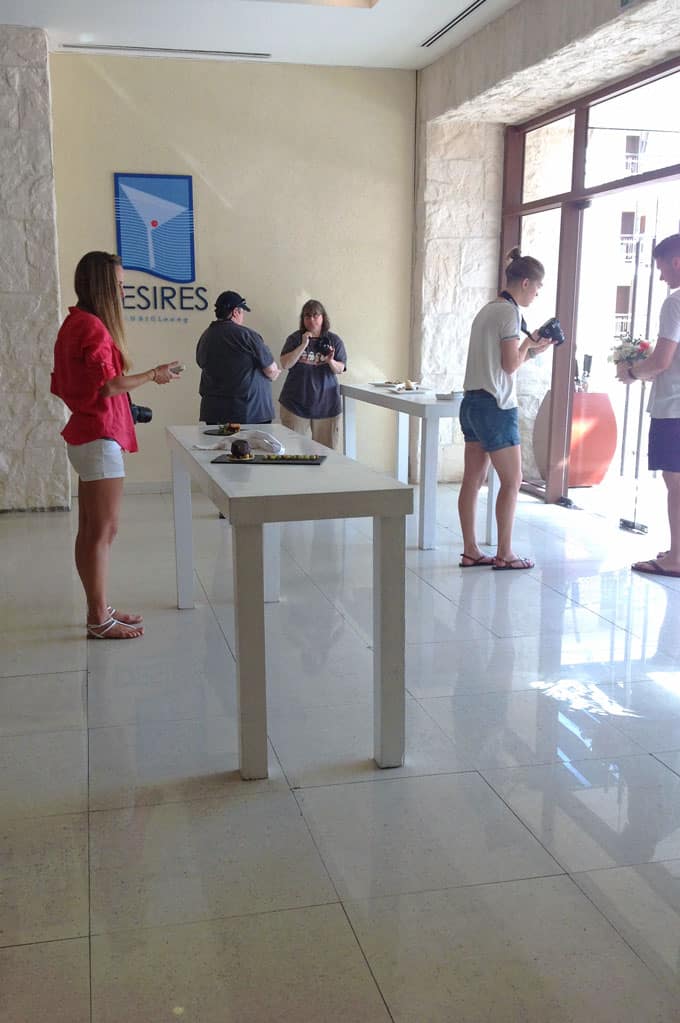 We also went to Playa del Carmen on Saturday morning, but I sadly didn't take any photos there. I didn't want to take my iPad or camera along and didn't really think to bug Jason for his phone, but we walked around 5th Avenue and did a little bit of shopping (I picked up some tequila!) and also ate a very tasty lunch. I had nachos because nacho lunches are the best and I'm an adult.
Another thing we did with no photos to prove it, was an awesome progressive dinner on the second day of the conference with all of the bloggers. We split up into groups of three and sampled different cuisines at some of the restaurants the resort had to offer. We ate our way through many courses at different restaurants and all met up at a wine bar for dessert and wine and mingling.
Once the actual conference was over, the next and final part was to go to the closing party down by the beach. It was also our last night in Cancun. I really wish we could have stayed longer, but because we're going to Disney World for New Year's Eve, we had to watch the budget. Silly budgets and responsibilities!
I went back to my room to meet with Jason and was surprised with another platter of tasty treats waiting for me and this one was more personalized!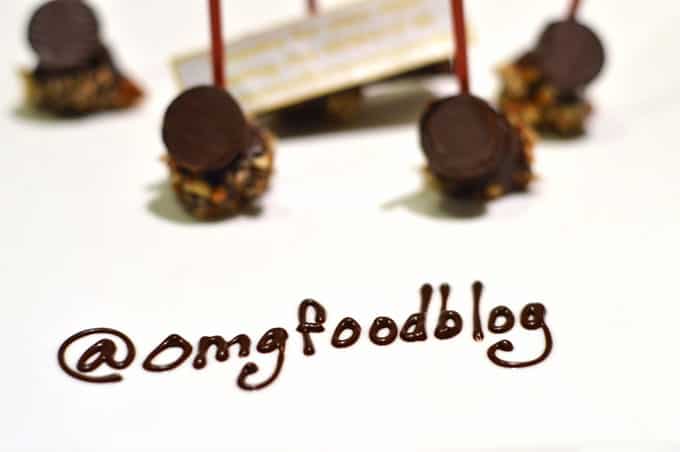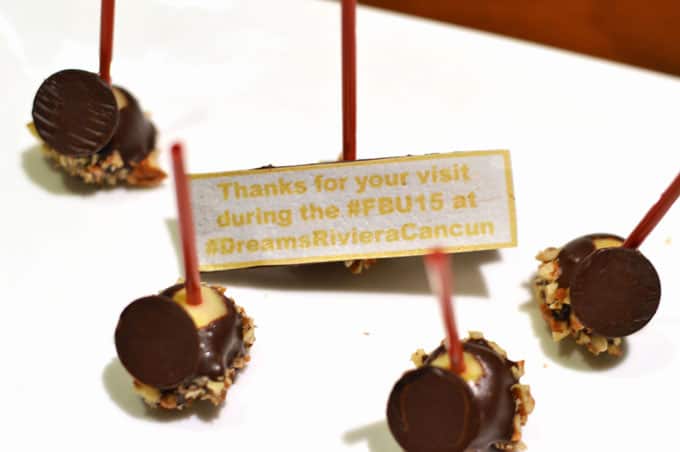 We then got ready for the closing party and headed down to the beach. I really wish I could have had photos of the food spread that was waiting for us because it was insane. Also, dining on the beach at night with amazing people is my new favorite thing and I want to go back and do that right now. Can we go? Let's all go back to Cancun.
Seriously, FBU was just amazing. Diana and Melissa organized something so wonderful and friggen nailed it so hard with this conference being in its first year. And I know, based on the experience I had, it's only going to get better, which is why I plan to go back next year. I have no idea if they plan to do it in Cancun again or not, but unless something super important comes up, I plan to be back, regardless of location. Aside from learning so much from everyone at the conference, I made some great friends and I'm so, so happy I did.
Here are the rest of the awesome bloggers I got to connect with:
I loved getting to know everyone and expect to keep in touch! We had this group photo taken and a physical copy in a pretty picture frame was waiting for me when I went back to my room (they are really good at giving surprises). The experience all-around was simply amazing. And I can't wait to do it again next year.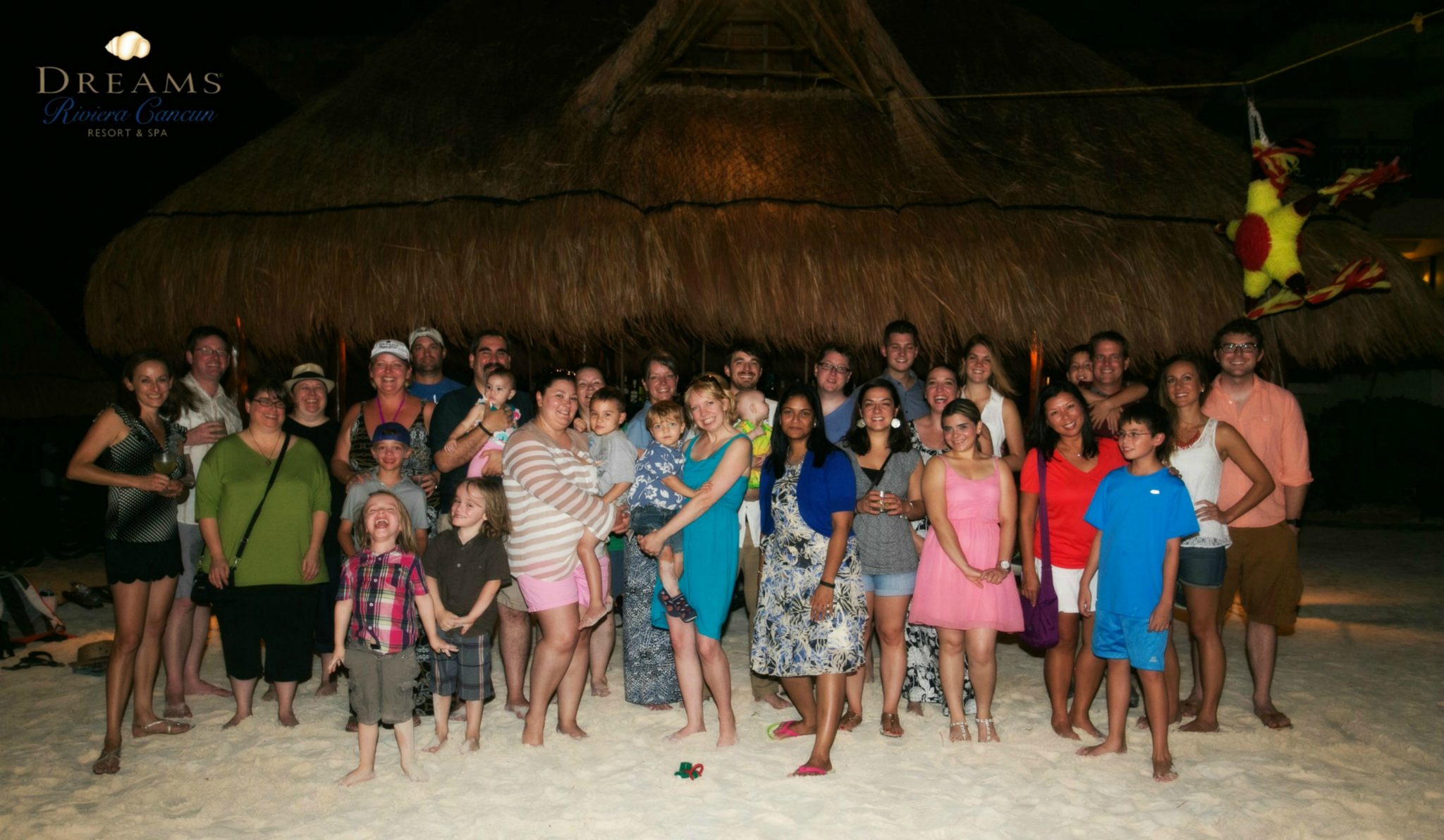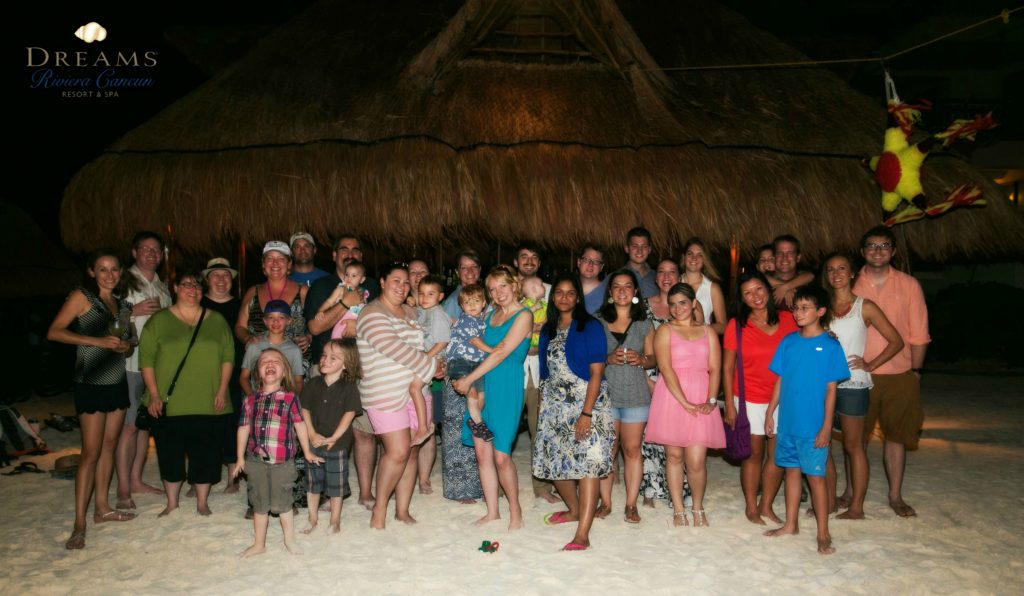 ---
For more information on Food Blog University, check out their website!
Thinking of vacationing at an all-inclusive resort? Dreams Riviera really delivered. The staff was super friendly and professional, the food was really good, and it's in Cancun! Check out their website for more info.
Check out these posts on FBU by my new blogging friends!
Brita Britnell took gorgeous photos and has an awesome video recap. Check it out here.
Melissa Sevigny of I Breathe I'm Hungry gives ten reasons why you should go to FBU in 2016 if you're a blogger and shares an amazing recipe for Mexican coffee. Check out that post here.
Mary Cressler of Vindulge talks about how FBU isn't just for food bloggers (spoiler alert: she primarily writes about delicious wine) and how great it was she could come to this conference with her family. Check that out here.
Melissa Llado of Serendipity & Spice is one of the organizers of FBU and recaps what organizing the conference was like, including working with the staff at Dreams Riviera! Check it out here.
---