In March, Jay and I hopped on a plane and met up with some friends down in Trinidad and Tobago for some solid beaching, eating, and liming.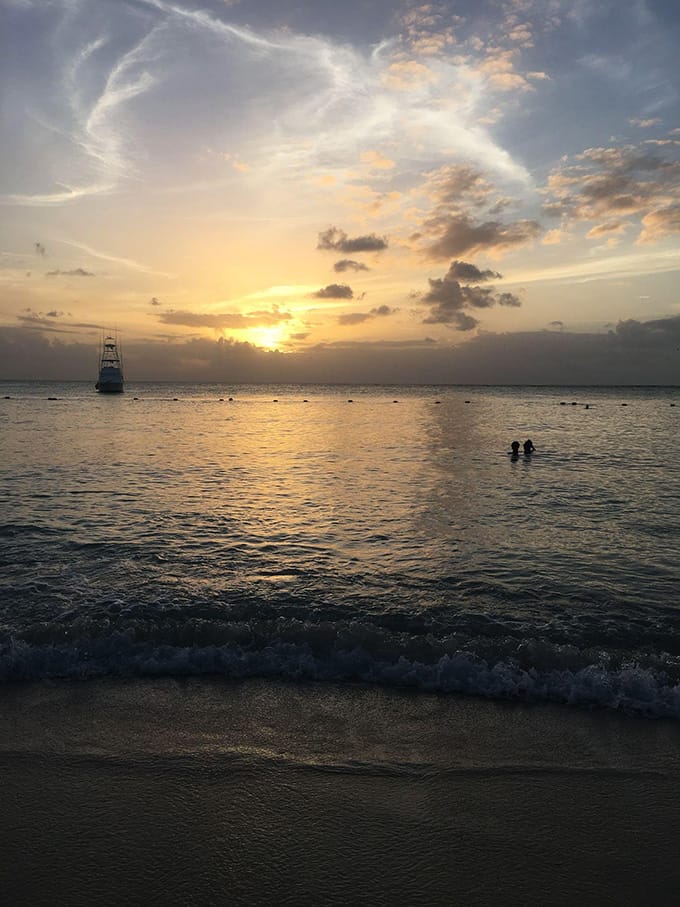 Hello, friends!
I'm so glad to finally share some photos from my trip to Tobago with you. If you were following my Instagram stories, I hope you enjoyed them as much as I did!
If you weren't following along (ahem, you can follow me here b-t-dubs) and you have no idea what I'm talking about, Jay and I went to Tobago with some friends! I had lots of photos to sort through for this post and it was tough to decide which ones to actually use. I ended up going with the "why not post more?" option, which means I'll be sharing photos and stories across a couple of posts, and I'll be including recipes in some of them too! I'm sharing a mixture of photos that were taken by all of us on the trip.
Because everything is better with food, yeah? I knew you would agree.
This post, however, is basically going to be a semi-giant photo dump. So get ready and get hype!
Tobago Dreaming
Jay and I have gone on local trips here and there over the last couple of years but hadn't traveled or been on a "real" vacation since going to Disney World in December 2015.  Some friends of ours planned a trip to Trinidad to see some family and they invited us along with some other friends to meet in Tobago for five days.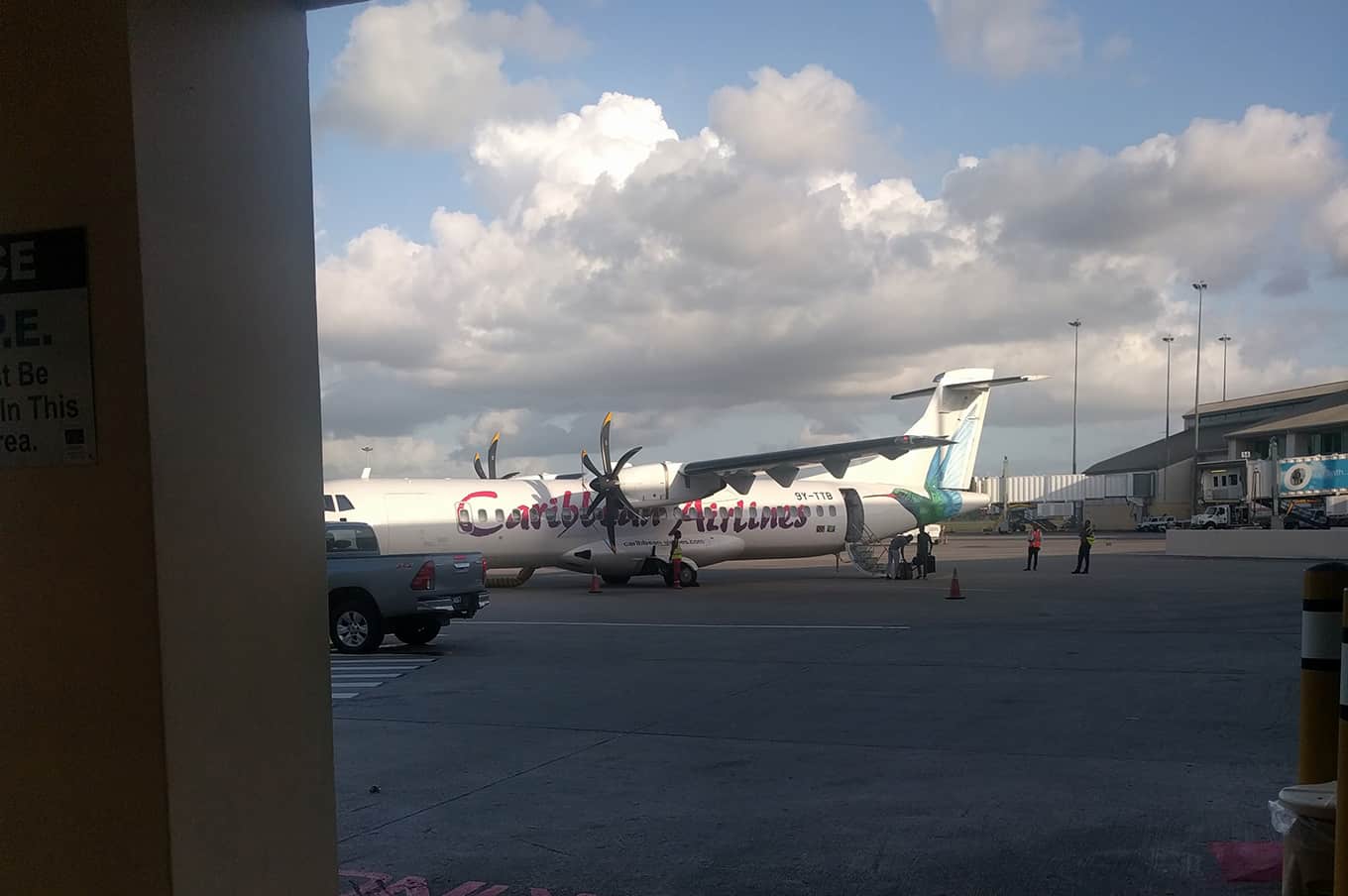 Tobago is about 52 miles away from Trinidad, which is the same distance for flying. If you were to take a ferry, however, it's about 130 miles (and takes 4+ hours to travel that way). There's no direct flight from Boston (or most places for that matter) to Tobago itself. You have to fly into Port of Spain, Trinidad and go from there.
We opted for the 15-minute shuttle plane ride. 🙂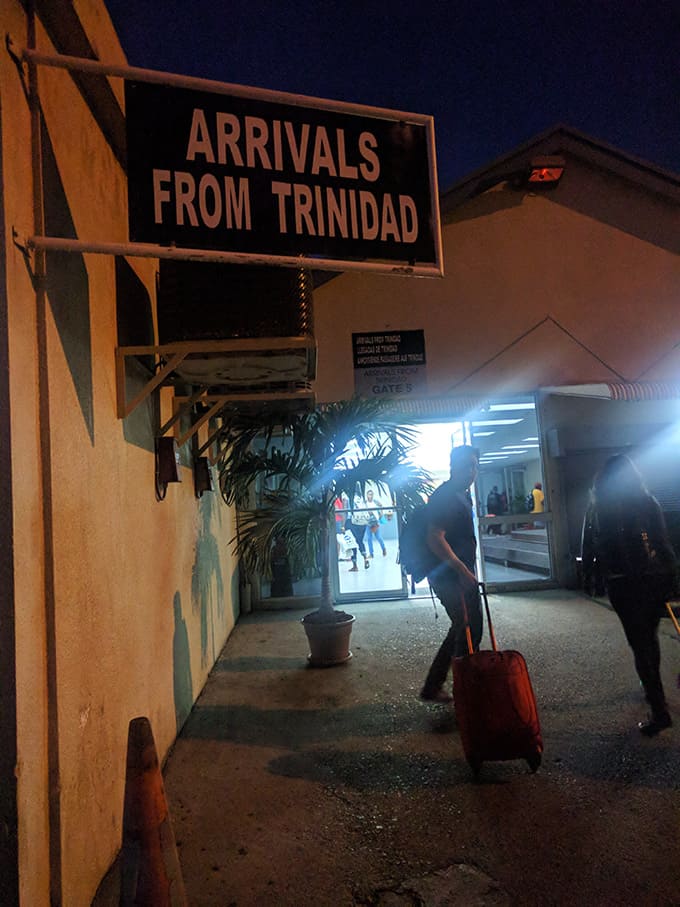 We got up at 5am that morning and headed to Logan airport. We traveled from Boston to New York to Trinidad to Tobago. I believe we were traveling for about 14 hours, total (I slept pretty well that night).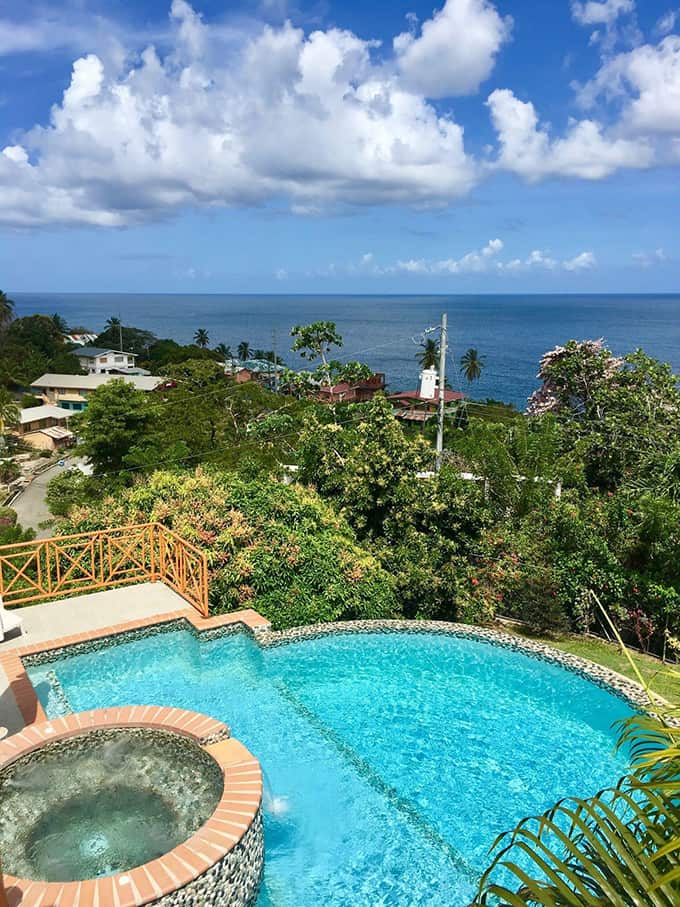 There were eight of us who traveled from the states and we stayed at a gorgeous villa in Black Rock. Pictured above is the amazing view I got to wake up to every day. It was the best. My favorite was making breakfast to enjoy out there.  I could hear the waves crashing and lots of birds chirping (Tobago has lots of birds). I also got some yoga practice out on the patio too, which was super serene.
Can I go back now?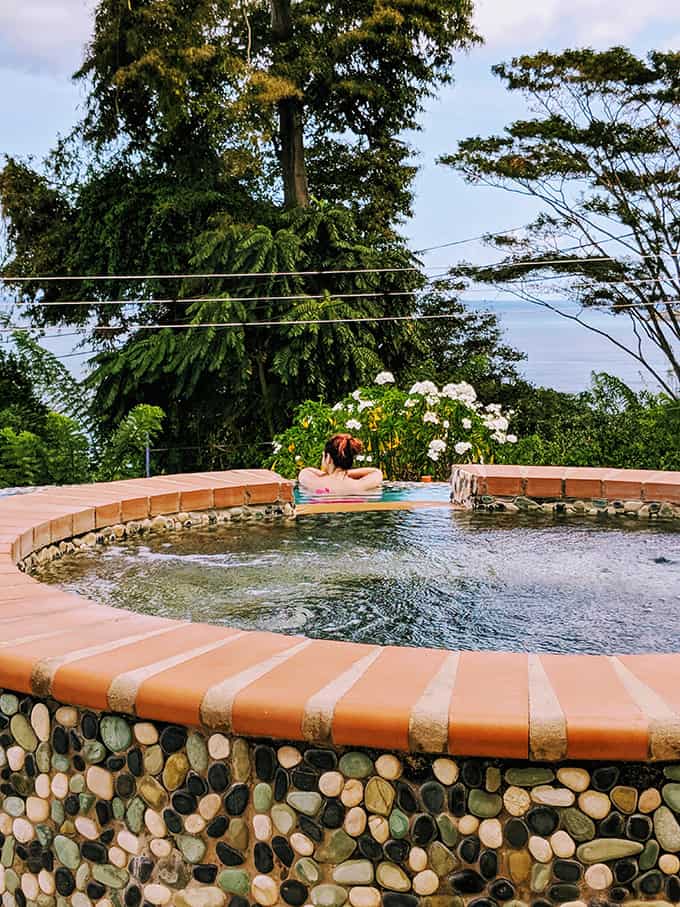 Every morning also involved a daily dip in the pool. Jay snapped this photo of me. I was either just taking in the view or trying to devise a plan so we could just stay forever. Maybe a mixture of both?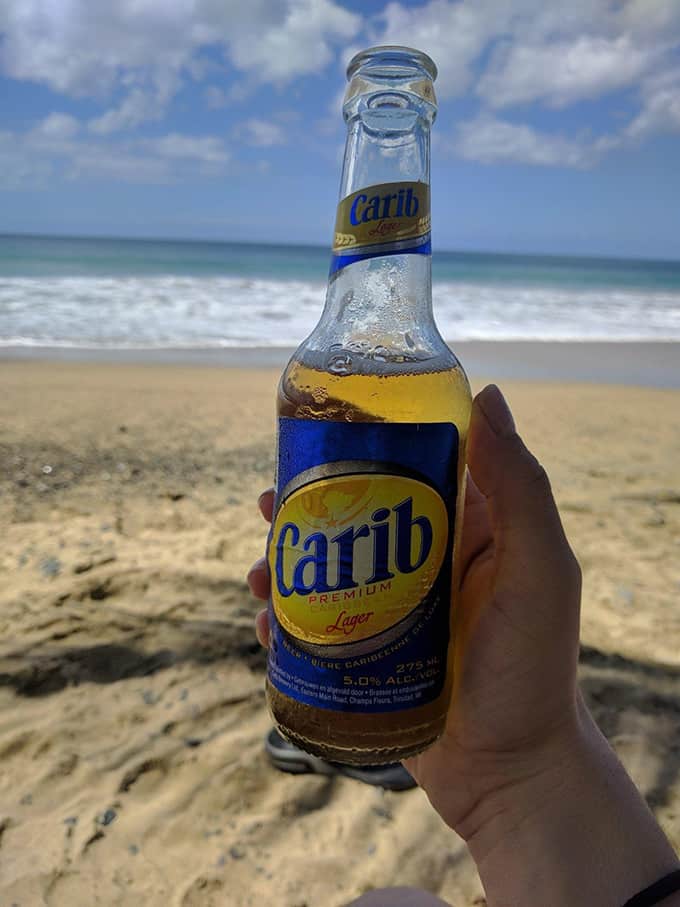 And then there were the beaches! Amazing beaches. Some with super strong currents that actually scared me enough to stay out of the water for the most part (spoiler alert: I'm a pretty weak swimmer), but also others with water that was a little calmer and more my kind of speed. Caribbean lager followed me whichever beach I went to though.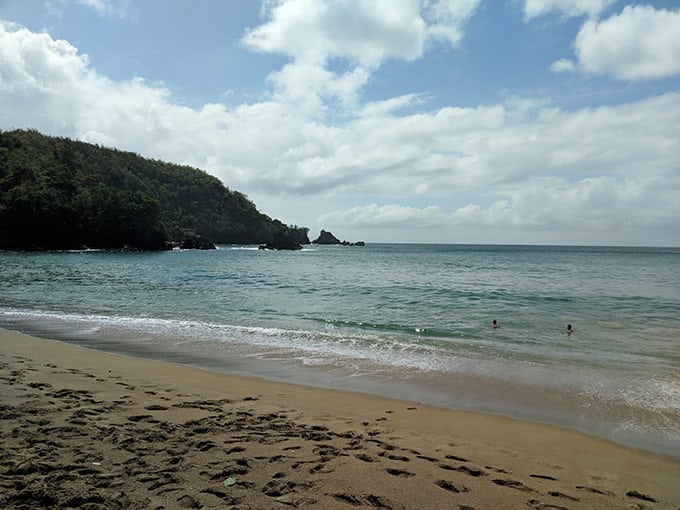 It was pretty amazing to feel how strong the current was under my feet though. Standing at a point where the water was just barely above my feet felt very powerful. The sand was collapsing beneath me as the water tried to pull me in. It was a gentle reminder that any stress or issues I might have been thinking about prior to that just didn't matter. I was just a tiny speck at the edge of this massive ocean.
This is why I love going to the beach. <3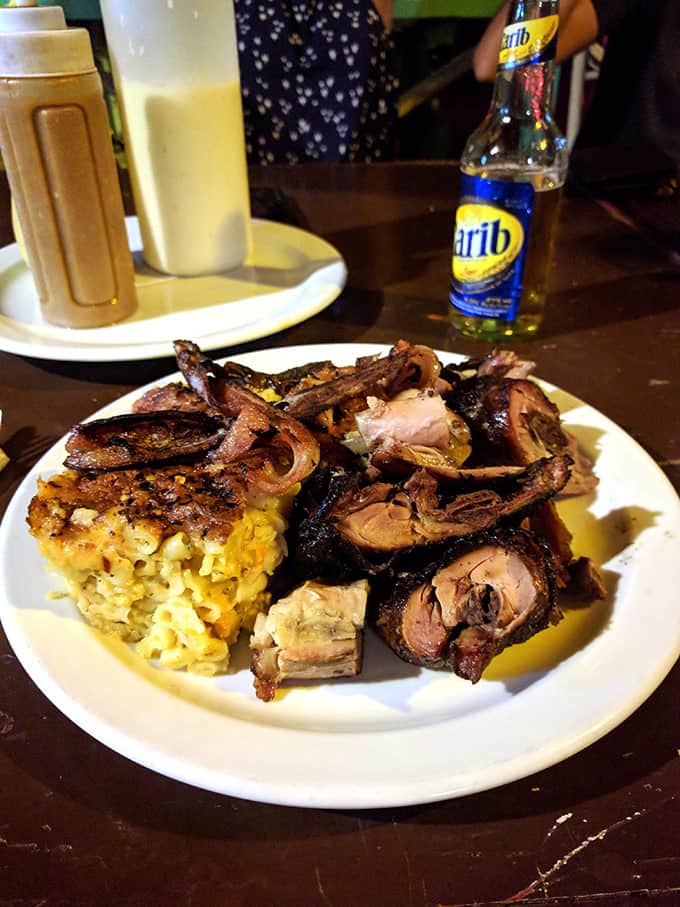 Also, let's talk about the food! I didn't take too many food photos and the ones I did take weren't the greatest, but hot damn was that food delicious. Pictured above is amazing smoked jerk chicken and macaroni pie with scotch bonnet peppers.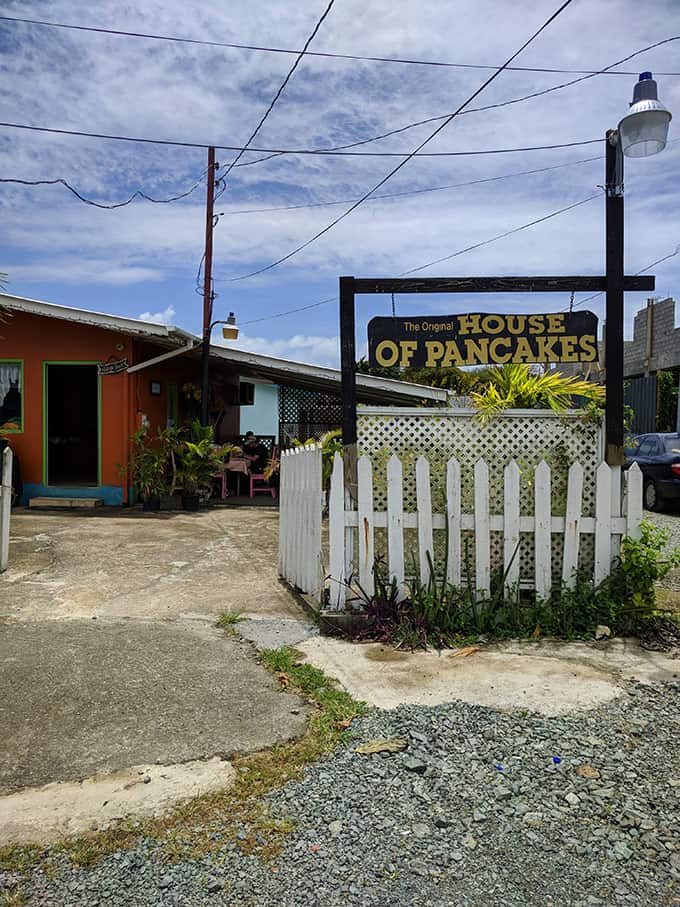 Most mornings we cooked breakfast at the house, but we had one tasty breakfast outing at The Original House of Pancakes.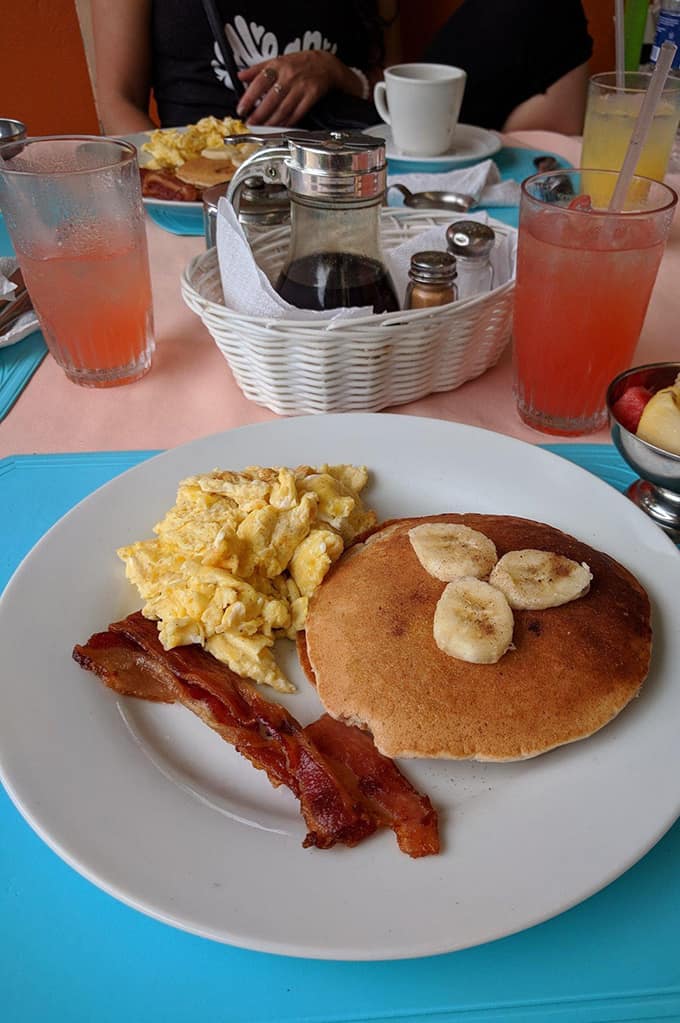 The pancakes were amazing. And I was also all about that guava juice.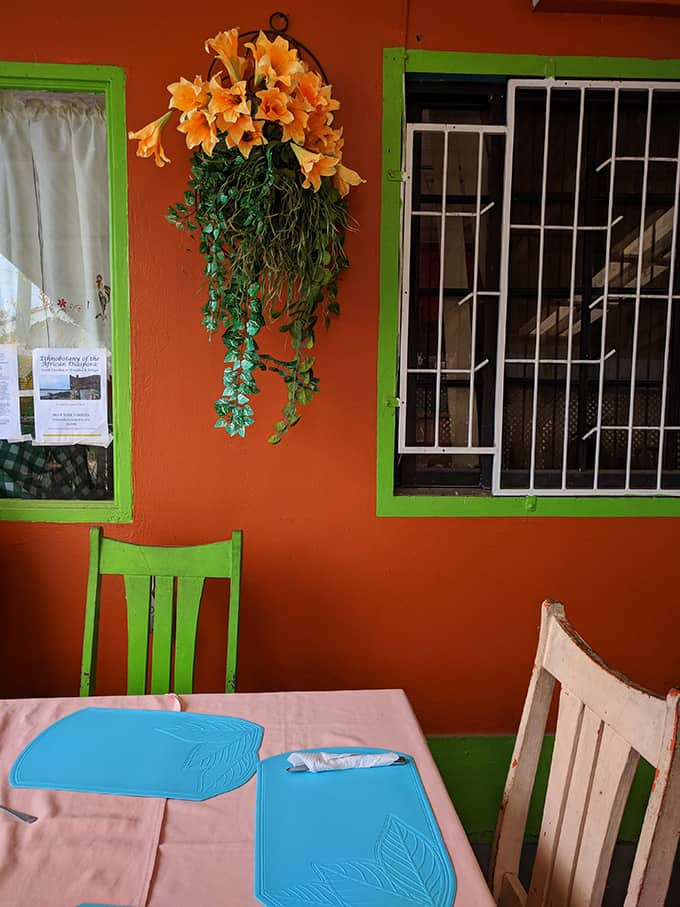 I also loved the bright colors so many buildings had.
One of my favorite parts of the trip was going to the fruit vendor down the road for some fresh coconut. He cut it open using a machete like a boss.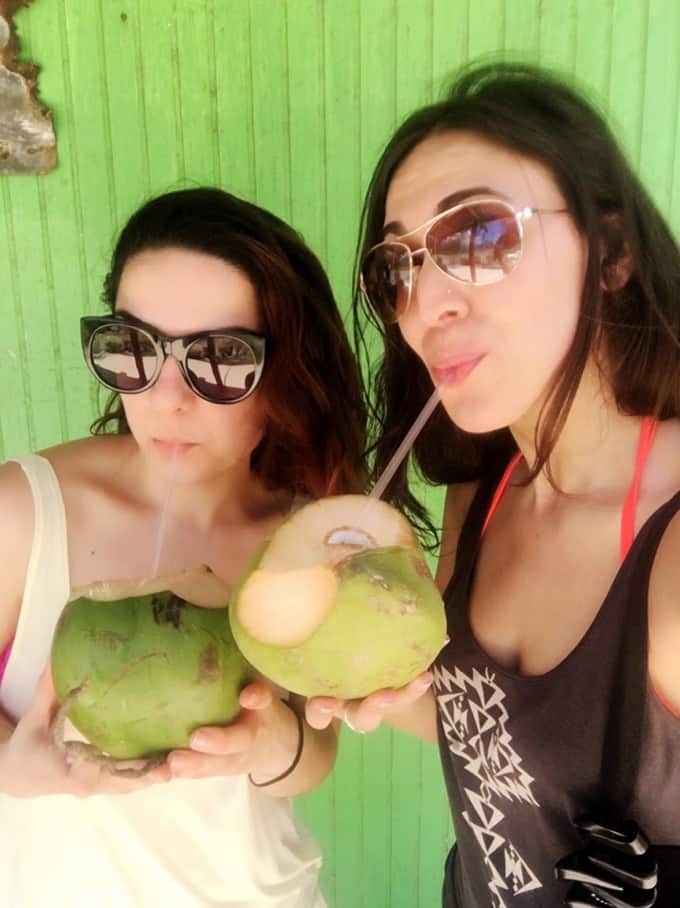 And the coconut water tasted so, so good.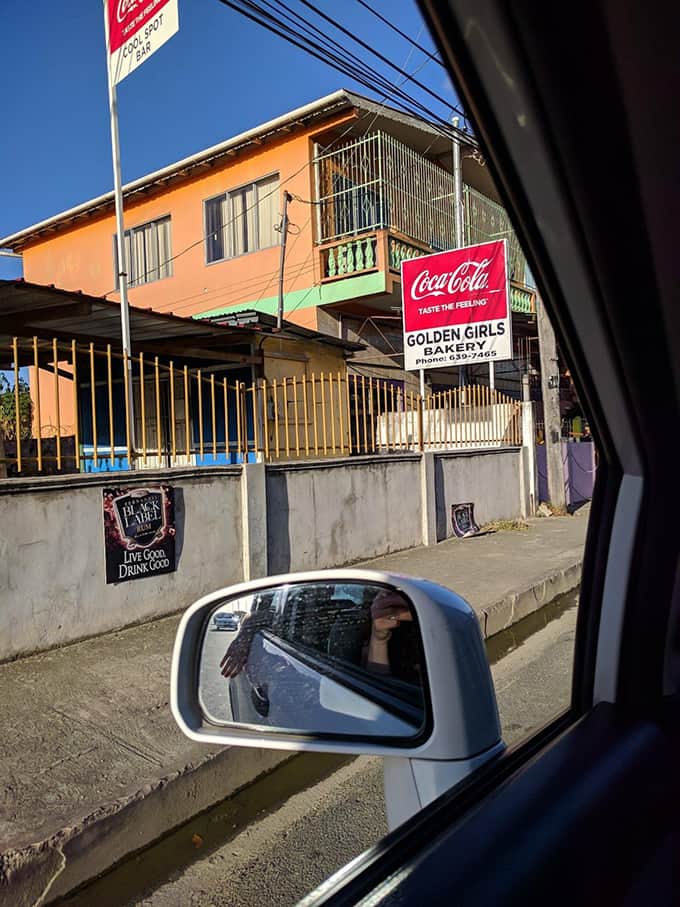 We often drove by this bakery called "Golden Girls Bakery." I never made it inside of there, but I loved the name and had to snap a photo.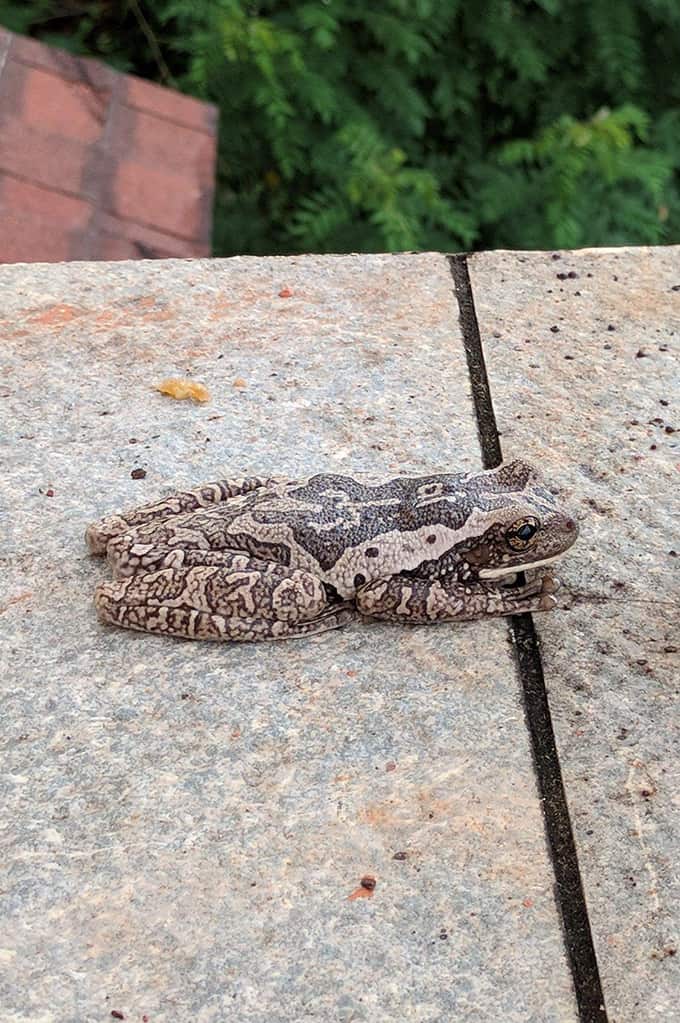 This little guy was hanging outside of the house and I managed to snag a photo of him (he was about four inches long.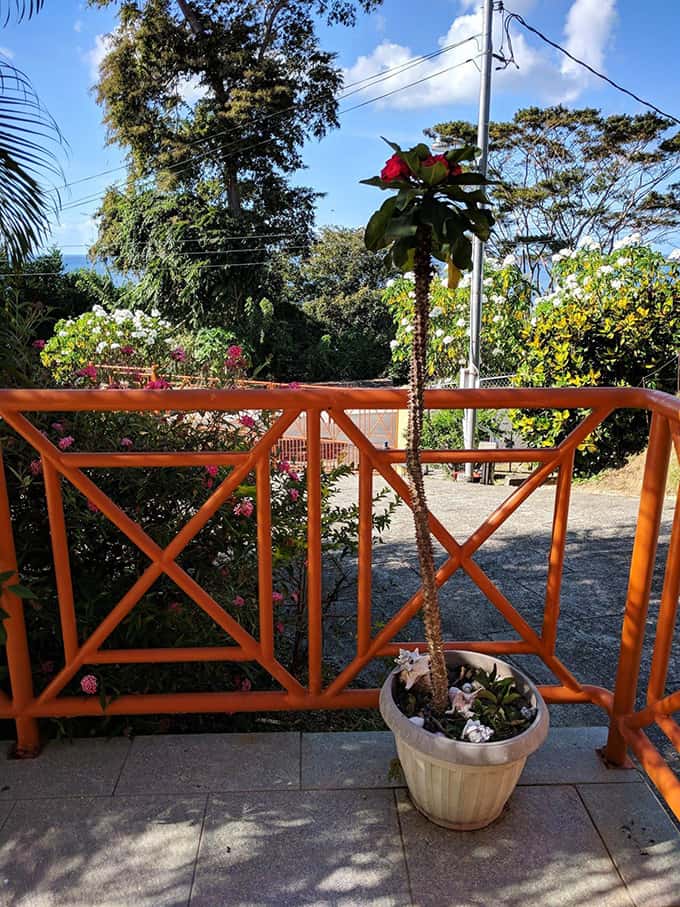 I adored this plant and wish I could have taken it home with me.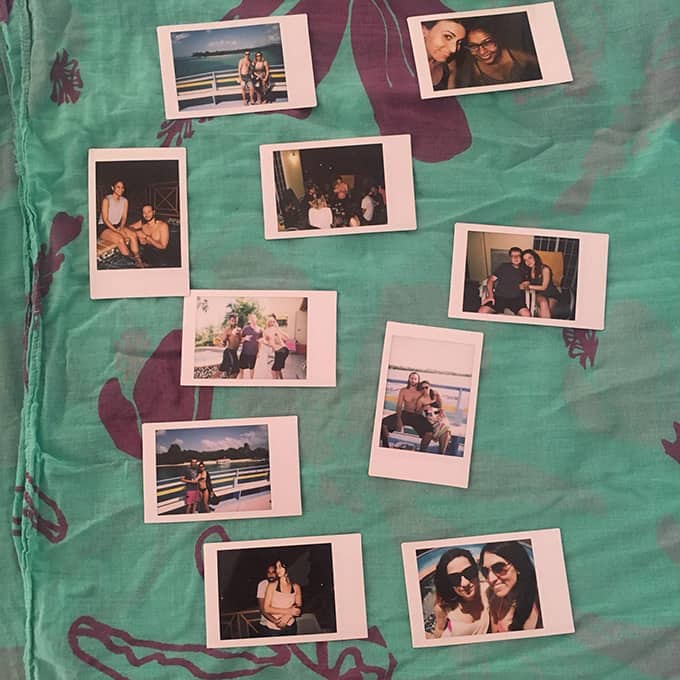 My friend Maya brought her Polaroid camera to capture more awesome memories.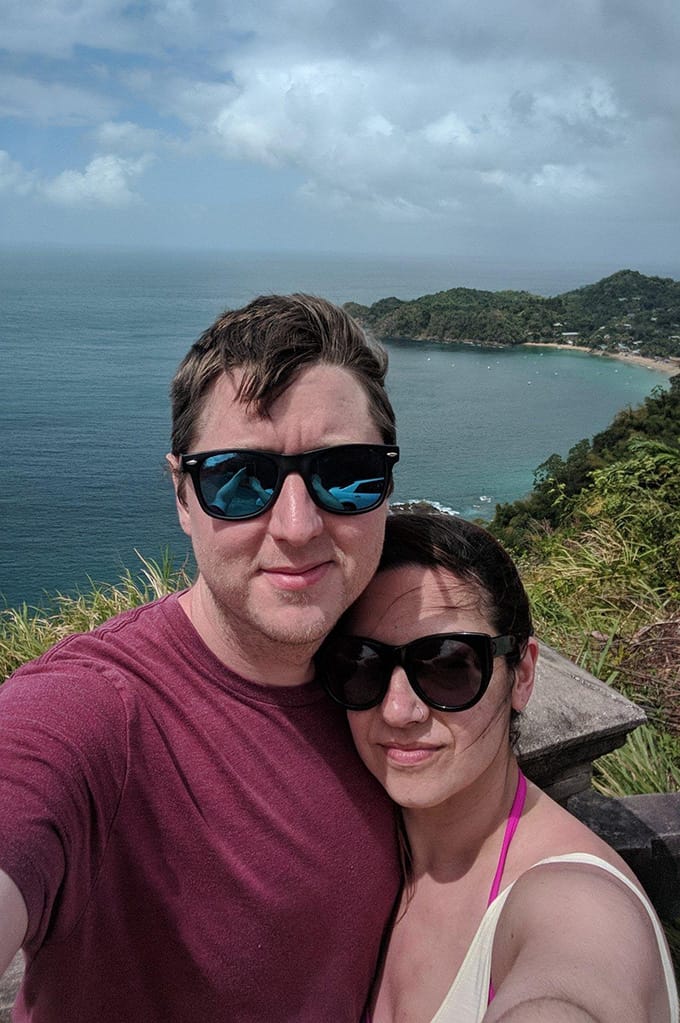 En route to Englishman's Bay, Jay and I stopped for a photo op. I believe that's Castara Bay behind us. One thing I didn't know about Tobago until we were there is how mountainous it is!  It took about an hour to get from Black Rock to Englishman's Bay, which was a trip taken mostly through roads on the mountain.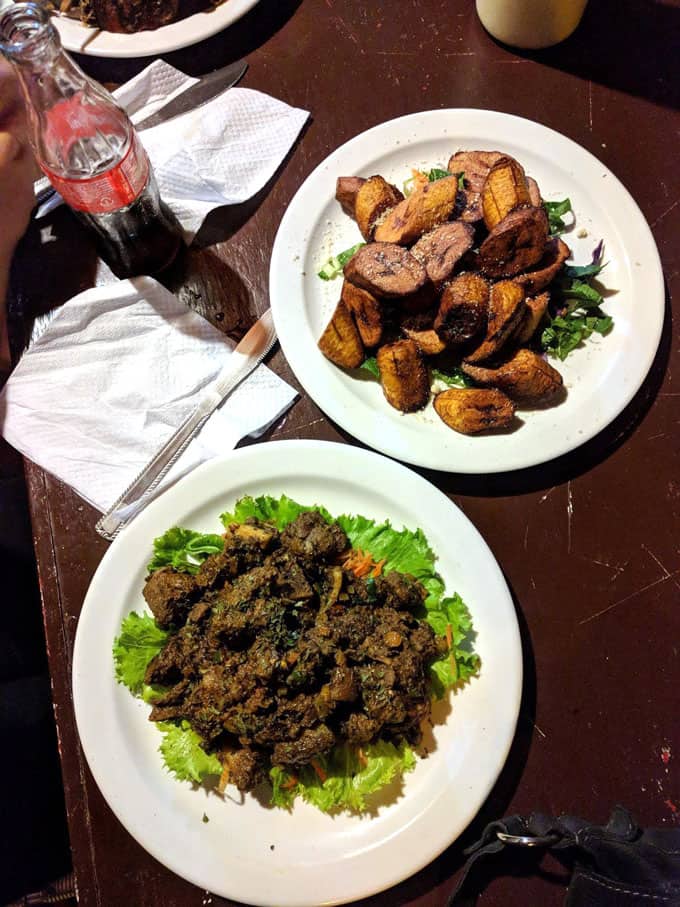 More delicious food (though the photo might say otherwise): geera pork and fried plantains.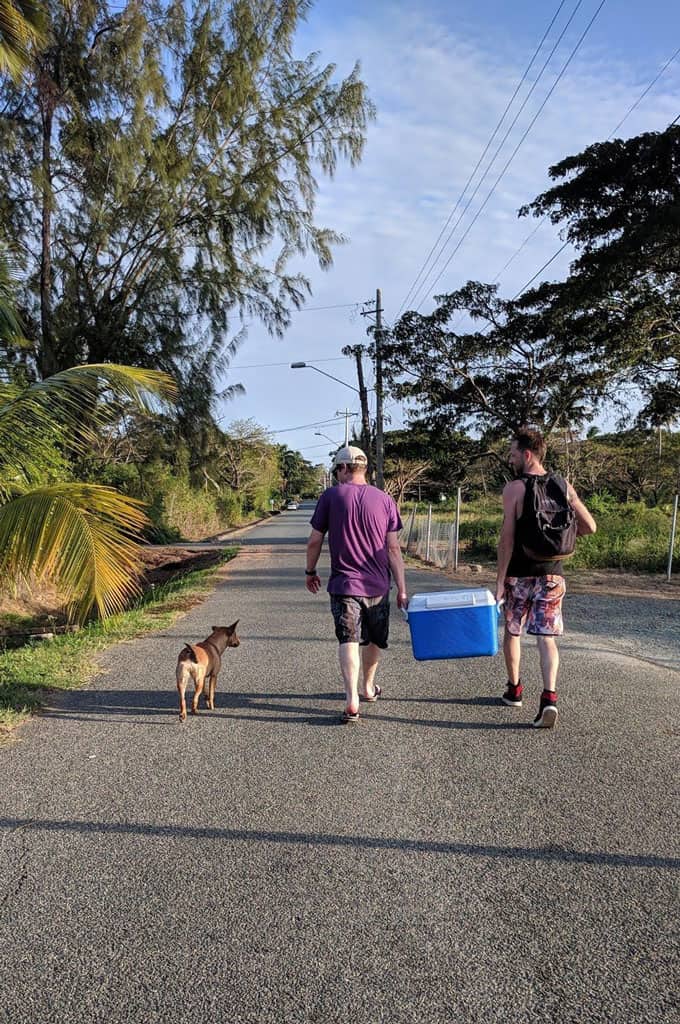 This island doggo walked us back to the car after an awesome boat tour (more on this soon in an upcoming post).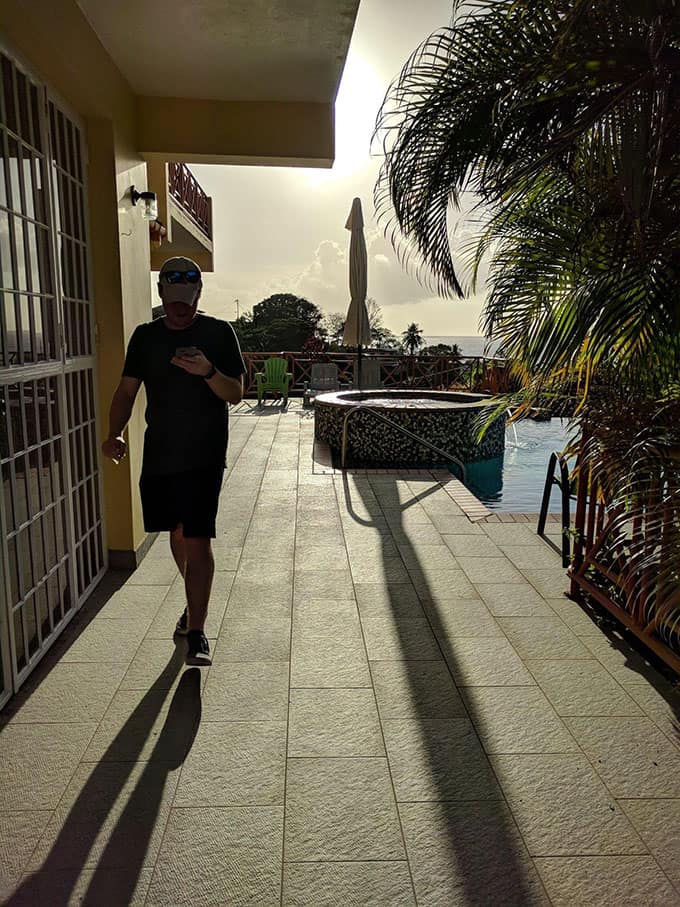 On our last day. I snapped this photo of Jay after locking up and leaving the house for good.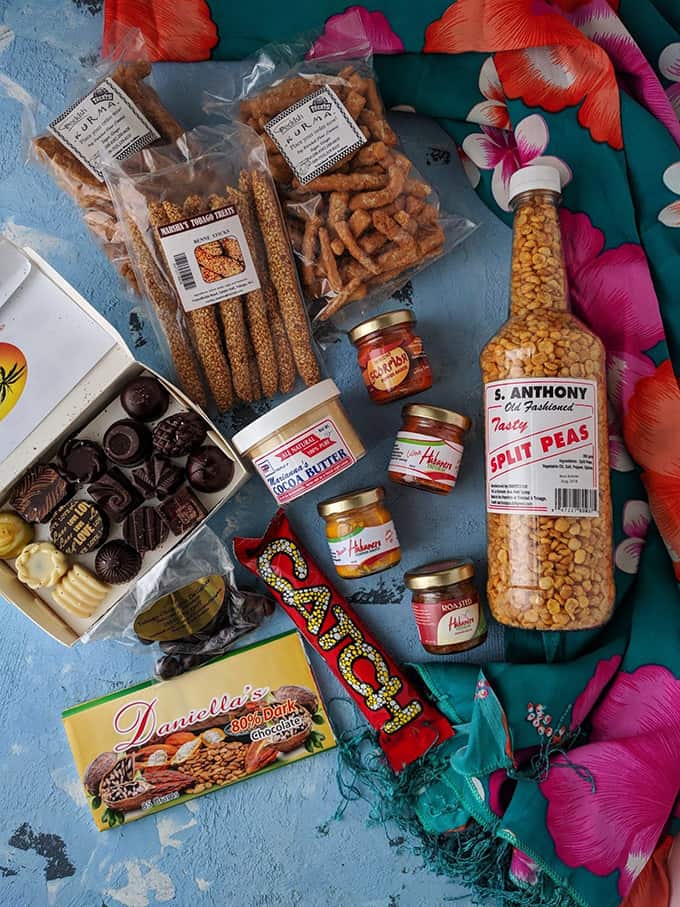 Naturally, I came back with some goodies, but not enough!