I may or may not be stuffing my face with this meal as I type this post.
I love honey and I love butter. Combine the two over some pan-fried chicken and I'm a happy eater. This dish is one of my favorite go-tos because it's tasty and easy; I probably make it every couple weeks.
We used to serve this at my parents' restaurant as a weekly special, except the chicken was breaded with real breadcrumbs and it was deep-fried. Whenever I made it for myself, I quadrupled the amount of honey butter that went on my chicken. I liked to eat things super extra fatty and my sweet tooth was off the chain.
This is my own spin on the dish. Pan-fried instead of deep-fried and I use seasoned almond meal as the breading. I debated quadrupling the honey butter, but I decided to just let 16 year old me enjoy it instead.
This recipe is enough to make four servings (or less if you're really hungry). Serve with whatever sides you'd like! I ate mine with steamed broccoli and apple stuffed buttercup squash. Oh, yes.
📖 Recipe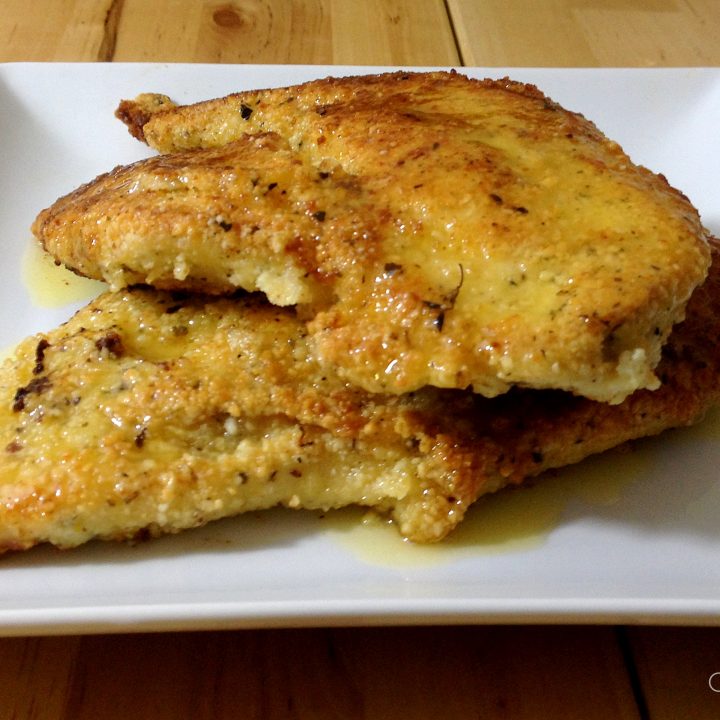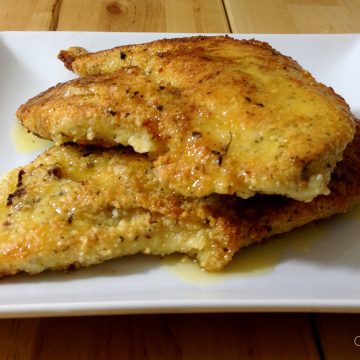 Ingredients
2

boneless chicken breasts

1

egg

,

beaten

1 ½

cups

almond meal

1 ½

tsp

kosher salt

1

tsp

oregano

1

tsp

basil

½

tsp

garlic powder

¼

tsp

onion powder

¼

tsp

freshly ground pepper

2

tbsp

grass fed butter

,

softened

1

tbsp

honey

1

tbsp

light olive oil
Instructions
Butterfly the chicken breasts and cut them each in half to make four pieces.

Coat the chicken with the beaten egg in a bowl and set aside.

In a separate, shallow dish, blend together the almond meal and other dry ingredients.

Dip the chicken in the crumb mixture and press firmly on each side to fully coat.

Heat the tbsp of olive oil in a skillet over medium-high heat.

Cook the chicken about six minutes on each side or until cooked through.

Mix together the honey and butter and spread over chicken.