This tasty puff pastry pizza is made with garlic-infused olive oil, caramelized onions, baby bella mushrooms, freshly shredded mozzarella, and a few dollops of mascarpone. Garnishing with fresh thyme adds a nice finish.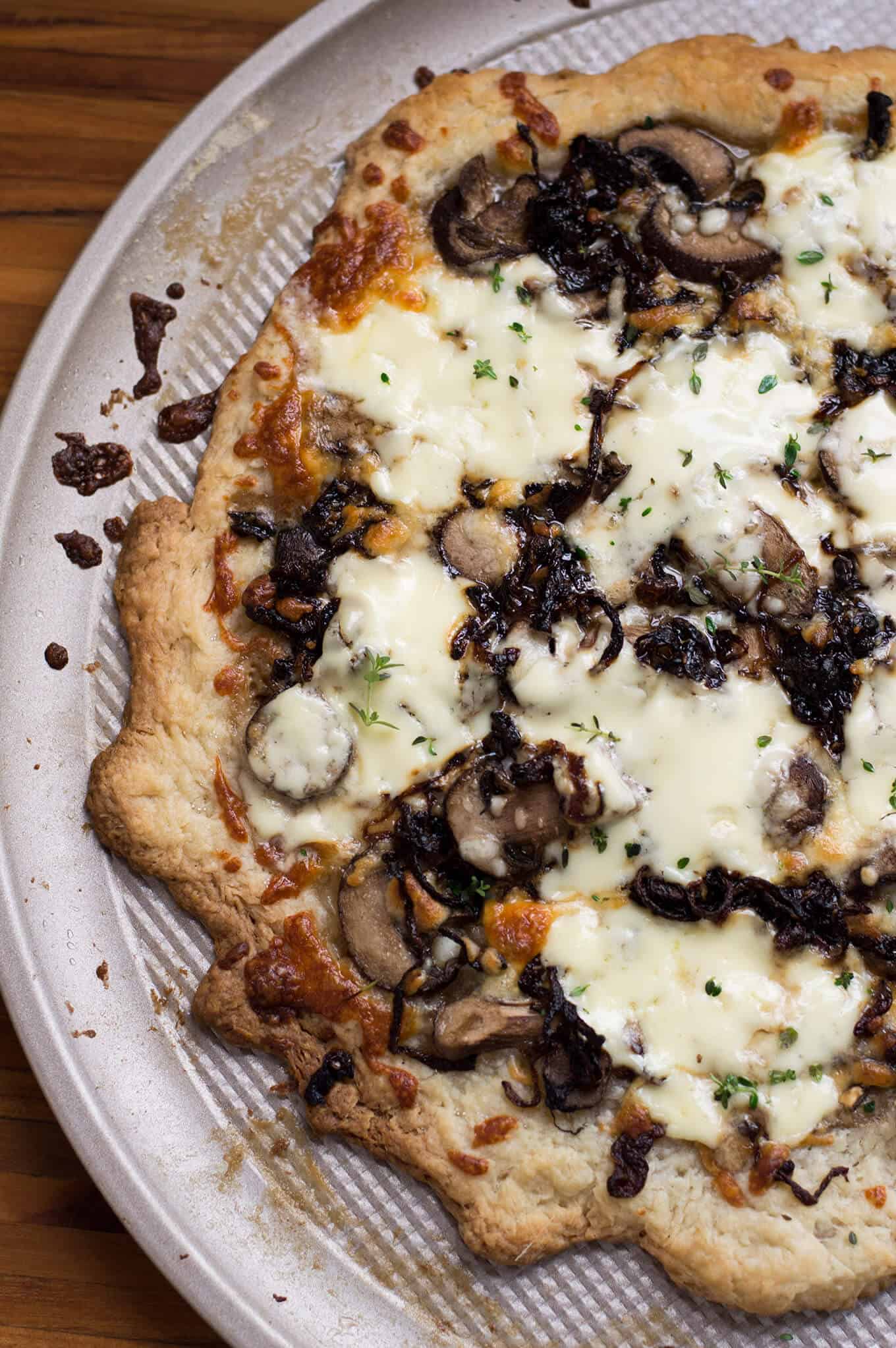 Happy, happy Monday to youuuu.
How's it going, friends? It's been a little while! Every time I thought life was calming down, it decided to get a little crazy instead. The last several weeks have been a bit of an emotional roller coaster to say the least. I haven't really had a chance to tell you what's been going on in the last couple of blog posts, so I'll give you a quick lowdown now!
I'll start with the bad things first to get that out of the way.
March, for the most part, was not a great month. My uncle had passed away and my mom was handling all of the funeral arrangements. My sister and I helped. It was all emotionally draining. I hadn't seen or spoken to my uncle in a while and it made me just really sad. It didn't hit me until the day before the funeral. We used to be close when I was growing up.
On top of that stress, Jason was laid off from his job. I'm pretty sure the timing could not have been worse on that. Especially because I was still without a full-time job myself. I wonder how many new gray hairs grew in during that month. ????
In the midst of all that craziness, there was a sign of something good; I was interviewing for a job! When I said "emotional roller coaster" up there, I wasn't really joking. The company I had applied for had responded to my application the same week of my uncle's funeral and it was a multi-step interview process. Right after completing the third step (which involved submitting a written exercise), Jason texted me to let me know he had lost his job. I literally sent the email,  grabbed my coat to head out to my part-time job, and Jason sent me the text.
What a day that was!
Fast forward a couple of weeks to early-ish April: I got a job offer! It was a very happy ending to an insane several weeks. I promise to spill more details about the job soon. I will say it's a job that involves food and tech and I am ecstatic. I got to meet a lot of people I'll be working with and they're all amazing. I start the job on May 9th (that's next week!) and I absolutely cannot wait.
I'm really excited to tell you more about the job, but there are other exciting things going on too!
Tomorrow, I'm headed to Salt Lake City! There's a food blogger conference happening out there (Everything Food) and I'm going to network, learn, and rejuvenate myself a bit. I plan to write a post about it after I'm back and I'll definitely be talking about it on social media while I'm out there, so if you want to be in on the adventure, be sure to follow me! I'll be chatting about it on twitter, instagram, and facebook.
I imagine there will be plenty of food pics.
With all of the good and bad excitement that has been going on all of these weeks, motivation to cook has been, um, challenging. We may have been relying on take-out more than I'd like to admit.
But you know, life gets that way sometimes. And it's okay. We accepted that we needed to just chill out for a minute.
And then we realized that ordering take-out as often as we were was irresponsible on both of our wallets, so we got our act together. But we did order healthy-ish food (sometimes).
There's a local pizza place called Max and Leo's that makes super delicious artisan coal-fired pizza and they have one in particular that's one of our personal favorites: "The Brooksy."
It's a white olive oil pizza with caramelized onions, wild mushrooms, grilled chicken, mozzarella, and mascarpone. And it's friggen amazing. So amazing that we definitely ordered it more than once in a short time period.
I've been craving the pizza like mad lately and we've been good about not going crazy on the take-out thing, so I decided making it myself would be fun. I then took it a step further by using puff pastry as the pizza dough; mainly because I had some in my freezer that I needed to use soon, but also because puff pastry is deeeeee-licious.
I also opted to make my version vegetarian-friendly, but if you'd like, you can totally add some grilled chicken to yours. It's good with the chicken.
With the help of a few awesome OXO tools (seriously, I am pretty obsessed with their products), making this pizza was a breeze.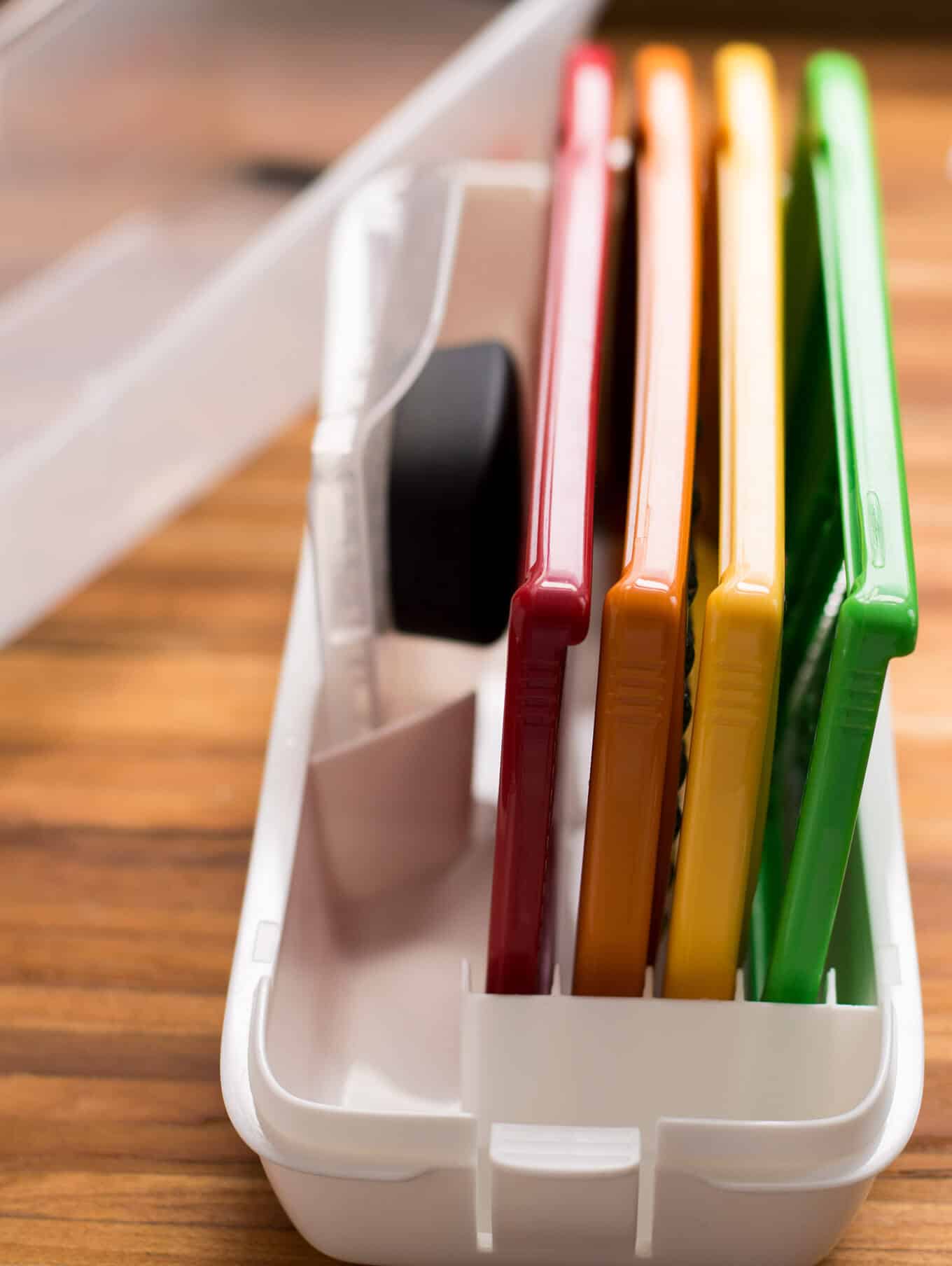 My favorite tool to use in the kitchen right now might by my new grate and slice set. The set includes coarse and medium grating and straight and julienne slicing surfaces (it also comes with a guard for your hand) . You can use them easily over plates and bowls or you can placed on top of the lid, which doubles up as a container for collecting and measuring your ingredients.
I especially loved it for slicing the onions.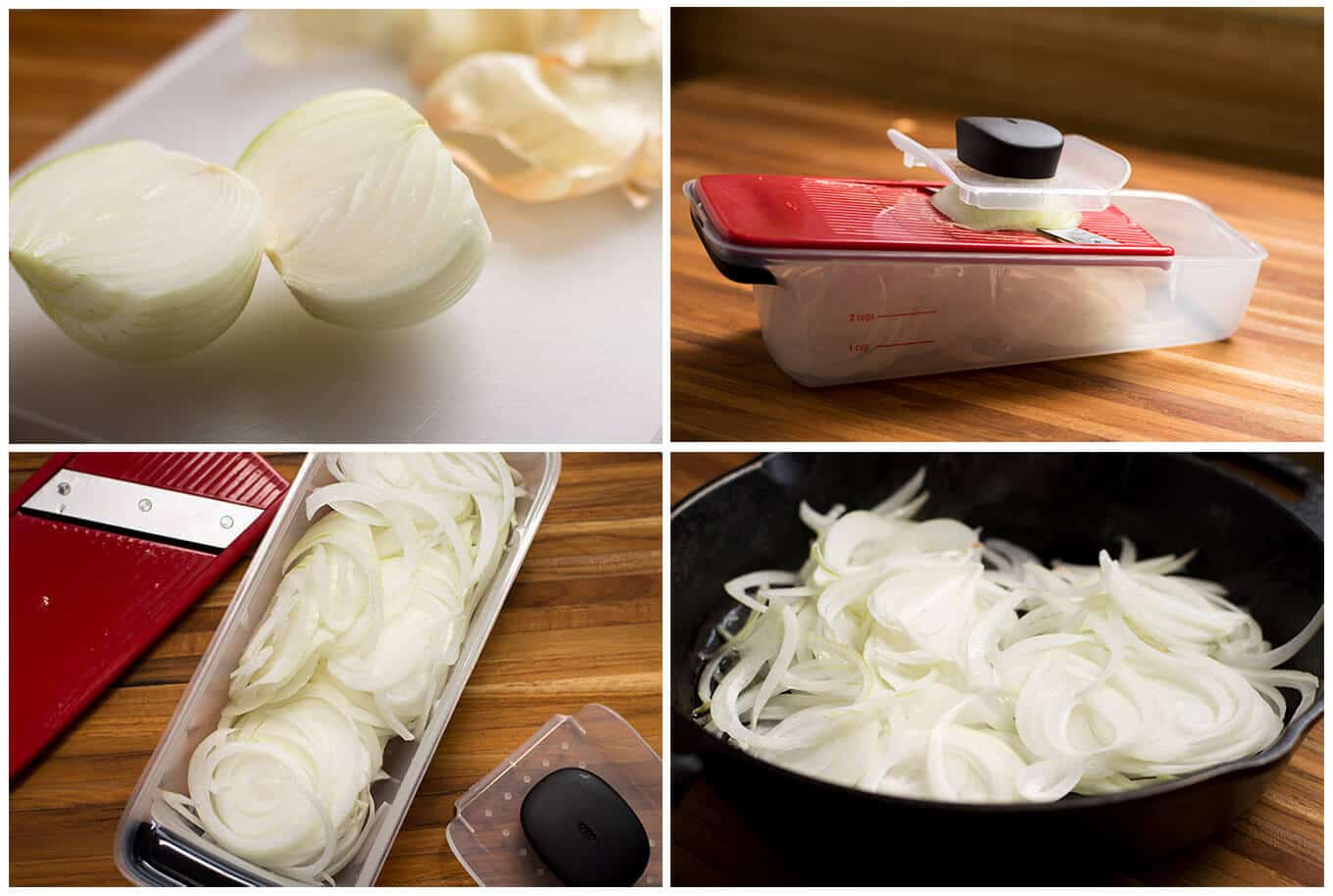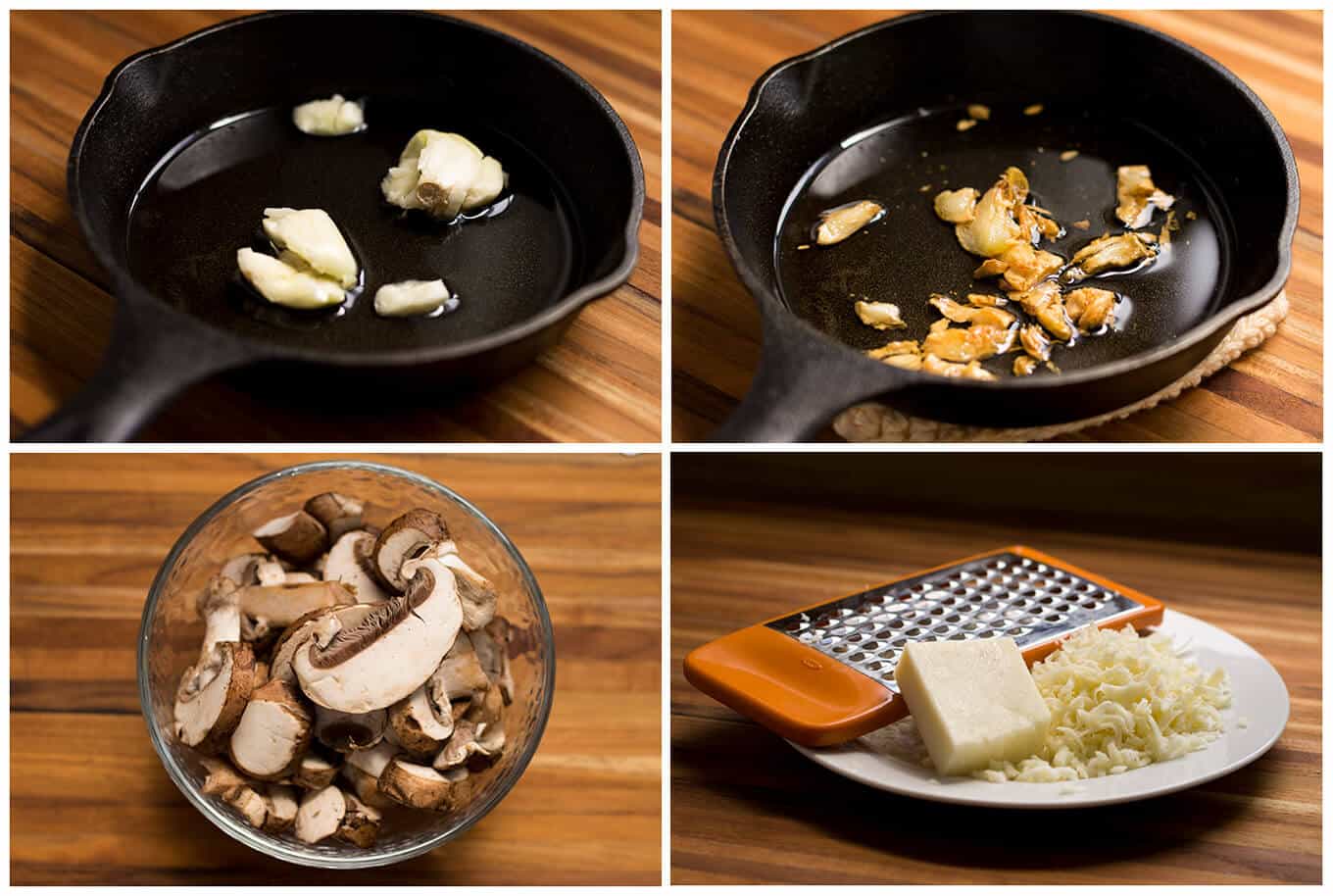 For making this tasty pizza, I also used OXO's non-stick pro pizza pan. It has a micro-textured pattern to help with airflow for even baking. The pan is also heavy, strong, and durable. We were in need of a good pizza pan to replace our old, warped, and sad one (and I don't mean the mystery pan we found under our oven).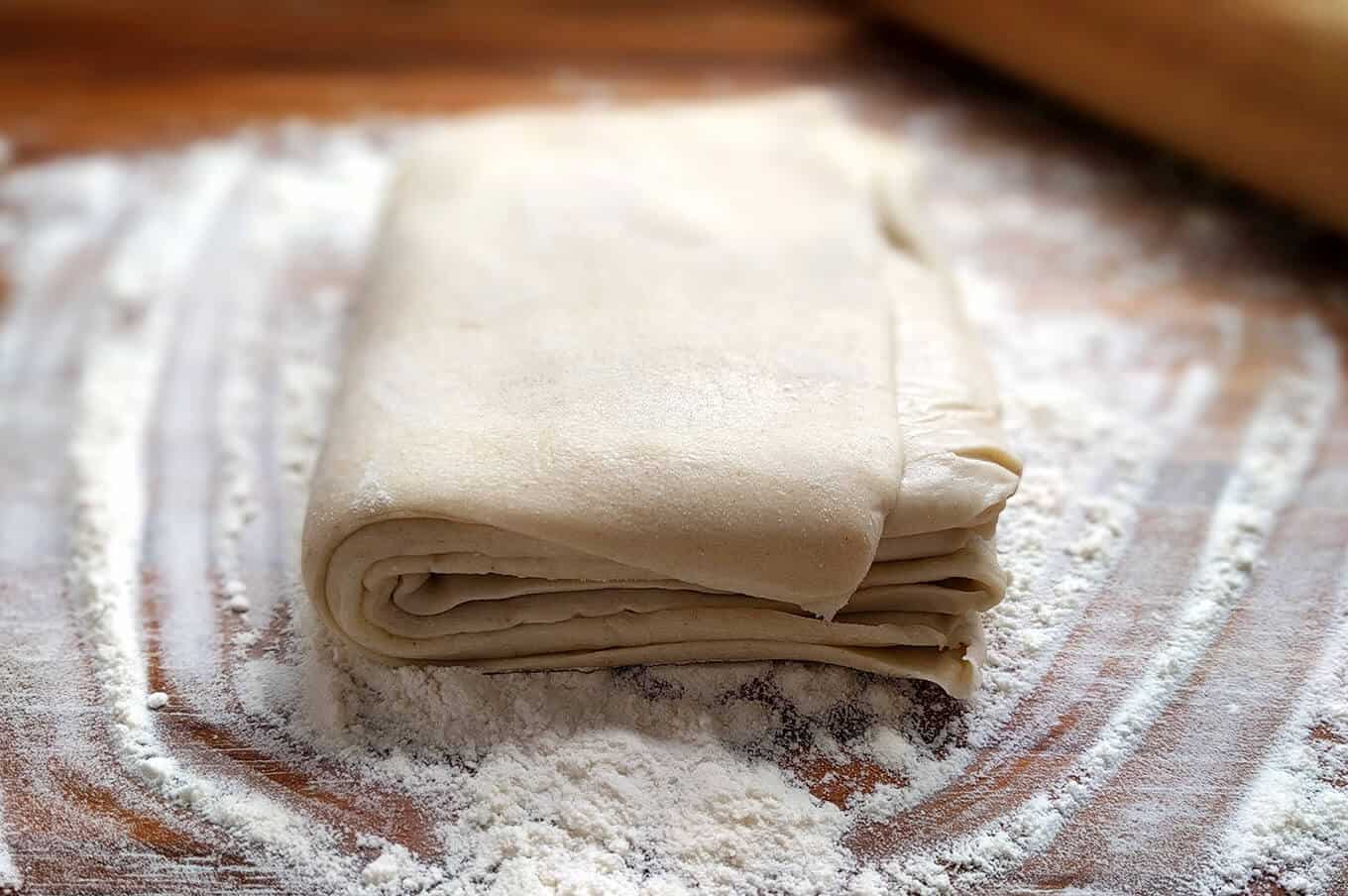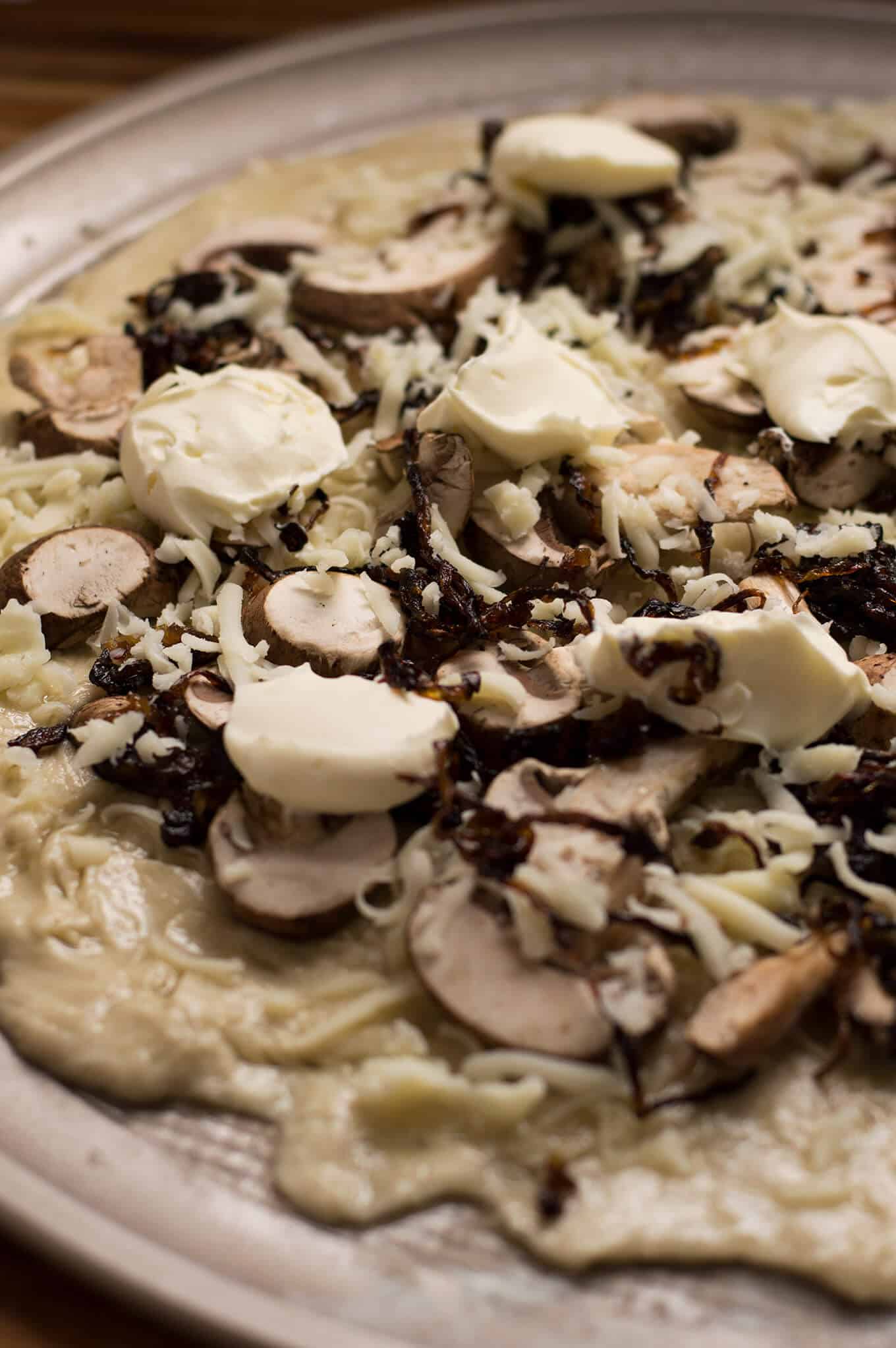 For cutting the pizza, I used this pizza wheel made for non-stick pans. It has a clear plastic wheel that won't damage your non-stick pans, and the slick surface prevents cheese from sticking to it. It works like a charm.
Jason and I were both very happy with the end result of this pizza and I definitely plan on making it again and again and again. Puff pastry is an obvious choice, but I also want to try other non-conventional pizza doughs as well as a traditional one.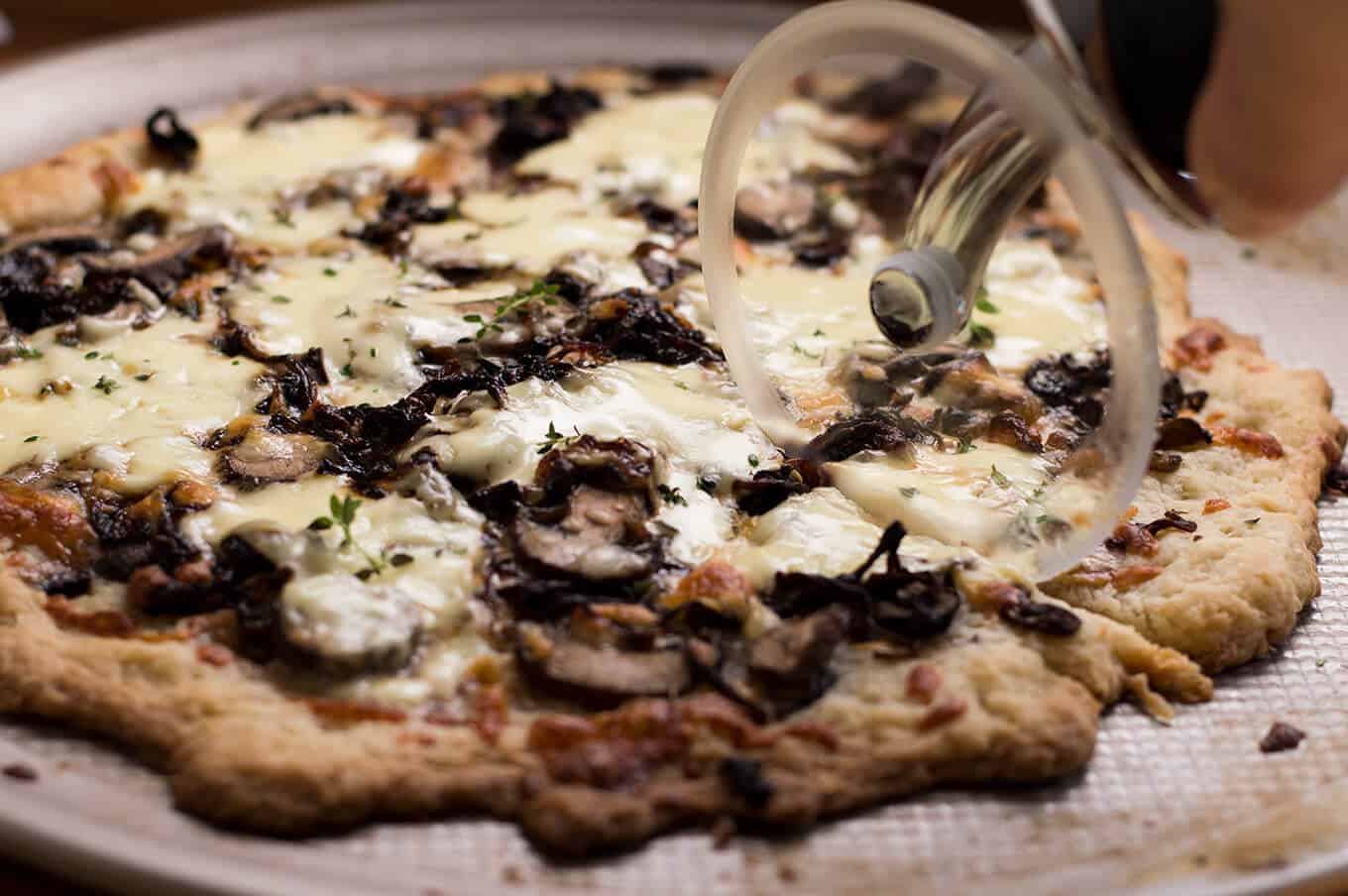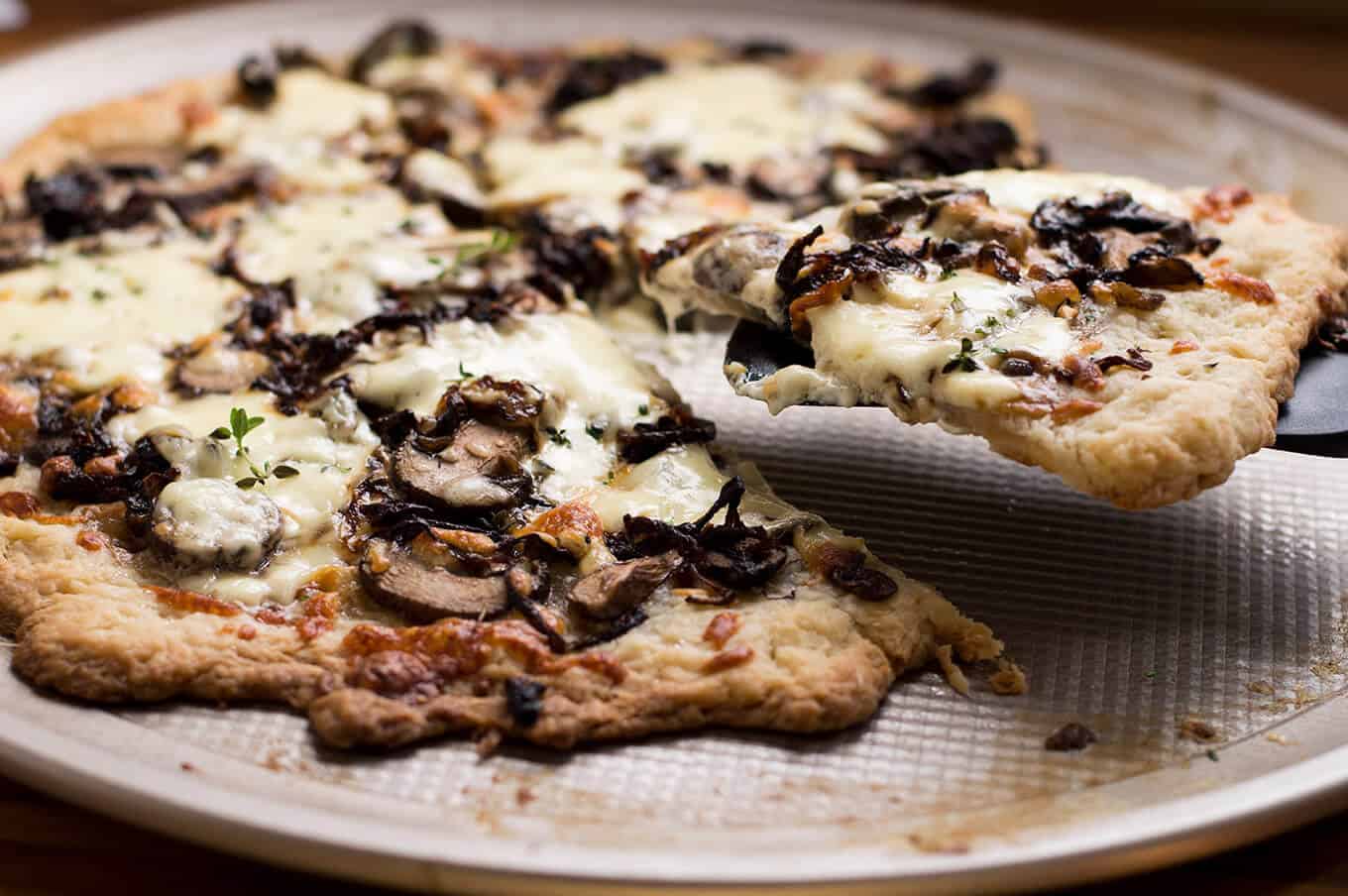 📖 Recipe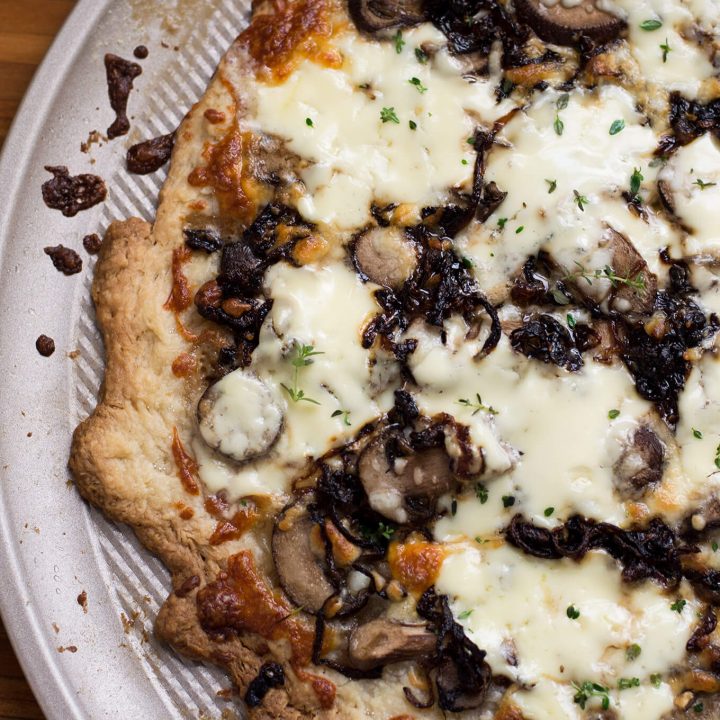 Puff Pastry Pizza with Caramelized Onions, Mushrooms, and Mascarpone
Print
Pin
Rate
Ingredients
For the Caramelized Onions
1

medium sweet onion

,

sliced (about 2 cups)

2

teaspoons

extra light olive oil

½

teaspoon

kosher salt
For the Garlic-Infused Olive Oil
2

garlic cloves

,

peeled and smashed

¼

cup

extra light olive oil
Pizza Assembly
1 14-

ounce

package puff pastry

,

thawed*

4

ounces

baby bella mushrooms

,

sliced

2-3

ounces

part-skim mozzarella

,

freshly shredded

2-3

ounces

mascarpone cheese*

garlic-infused olive oil

,

recipe below

caramelized onions

,

recipe below

fresh thyme for garnish
Instructions
For the Caramelized Onions
In a medium sized cast iron skillet, heat the olive oil over medium-high heat. Add in the onions and stir to coat evenly with the oil.

Cook for five minutes, stirring occasionally.

Add salt, and cook for another five minutes, stirring occasionally.

Reduce heat to medium-low and continue to cook for 25-30 minutes, stirring every five minutes or so, until the onions are a deep golden brown and caramelized.

Remove from heat and set aside to cool.
For the Garlic-Infused Olive Oil
Add the smashed garlic and ¼ cup olive oil to a small 6-inch skillet.

Put over low heat and let cook for 10-15 minutes, stirring the garlic every two to three minutes. Be sure to keep a close eye on it, making sure the garlic doesn't burn. The end result should have the garlic be lightly golden and toasted.

Remove from heat and let cool. Strain the oil into a small bowl. Store the fried garlic in the fridge for another use or save it as a pizza topping for a more intense garlic flavor.
Pizza Assembly
Preheat the oven to 400 degrees Fahrenheit. Lightly brush the pizza pan with a little bit of light olive oil and set aside.

Remove the puff pastry from packaging and unfold it.

Place the puff pastry onto a floured surface and lightly sprinkle the top with a little more flour.

Shape the pastry into a 14-15 inch circle. You can do this by a combination of folding in the corners, using a rolling pin, and stretching by hand.

Gently place the puff pastry onto the greased pizza pan and brush with the garlic-infused oil.

Top with half of the shredded mozzarella, then add the caramelized onions and mushrooms. Top with the remaining shredded mozzarella or to taste.

Top with a handful of small dollops of mascarpone.

Place onto the center rack in the oven and bake for 15-20 minutes, until the bottom is golden brown.

Remove from the oven and let sit for five minutes.

Garnish with some fresh thyme. For a more intense garlic flavor, top with the fried garlic from the garlic-infused oil recipe.

Slice, serve, and enjoy!
Notes
Defrost your frozen puff pastry in the refrigerator overnight and be sure it's completely thawed before using. Leave in the refrigerator until you are ready to roll it into a pizza, as letting the dough get too warm will make it more difficult to shape (especially if you're using an all-butter puff pastry, like Dufour).
Add mascarpone to taste; I found using less than half of an 8-ounce container is a good amount. Adding more could make the pizza a little rich.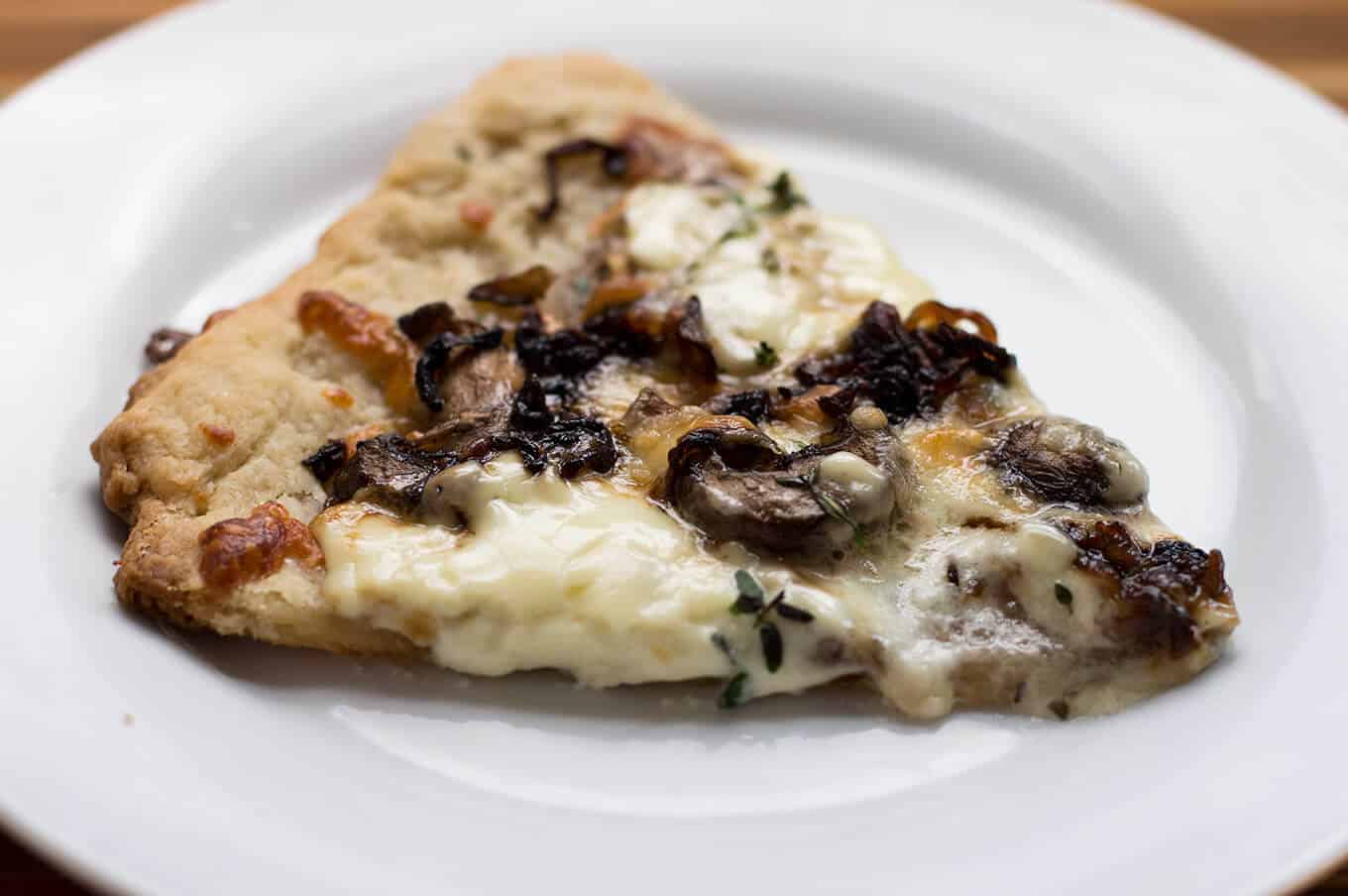 Disclosure: OXO provided me with free products to use in this blog post. All opinions are strictly my own.