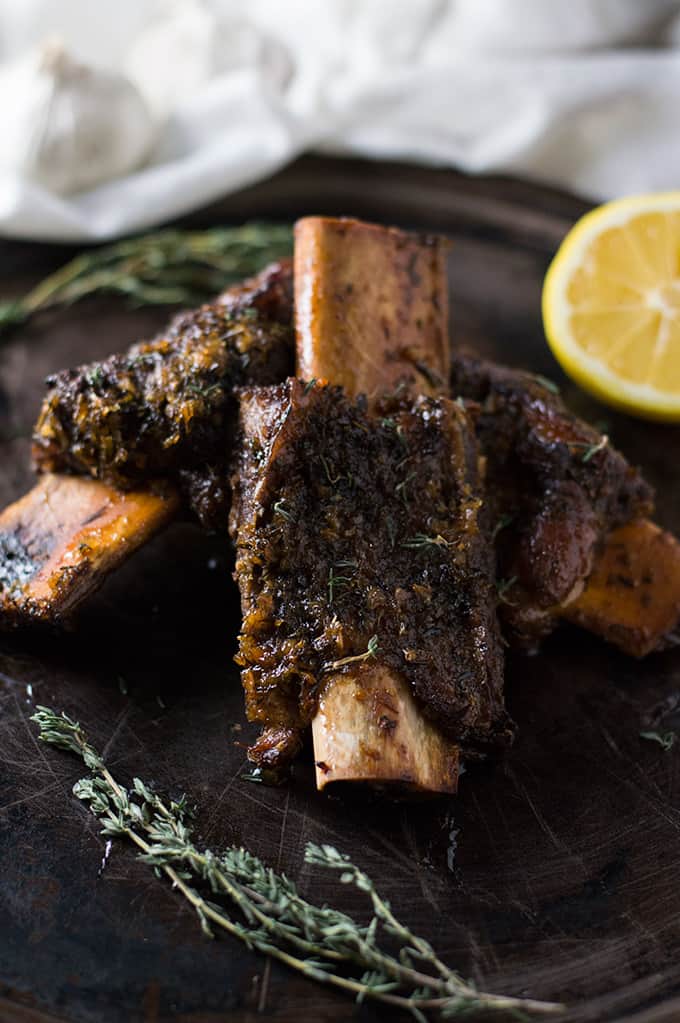 Beef ribs, beef ribs! Beef ribs for you and beef ribs for me!  Errbody be ribbin'. What? I don't know. Just go with it.
One of the last deliveries I got from Walden Local Meat before I put my account on hold (the downside of funemployment - gotta watch those expenses!) included a three and a half pound package of glorious, local, grass fed beef ribs. I kept them in the freezer until I was feeling a treat-yo-self day coming along and thus came the idea to write this blog post for roasted Greek-style beef ribs. Because I care to share awesome things with you. 
For this recipe, I wanted to incorporate some of my favorite flavors in Greek and Mediterranean cuisines. We've got olive oil, lemons, Greek oregano (shocker), thyme, rosemary, and honey! And we've got tasty sweet onion and garlic to add to that too! To be honest, the rosemary was a last minute thought and I only added a little because it can be a pretty overpowering herb, so I'll leave that as an optional ingredient for you. Either way, it will taste good. Finger-lickin' good. Unless you're using a fork, then fork-lickin' good? Anyway.
To get maximum flavor, you'll be using both the juice and zest from one large lemon, you'll crush the garlic, and you'll grate or mince the onion. I prefer grating for this recipe because that onion will coat the beef real nicely and don't you dare forget to include any water left behind from the onion too! Maximum. Flavor.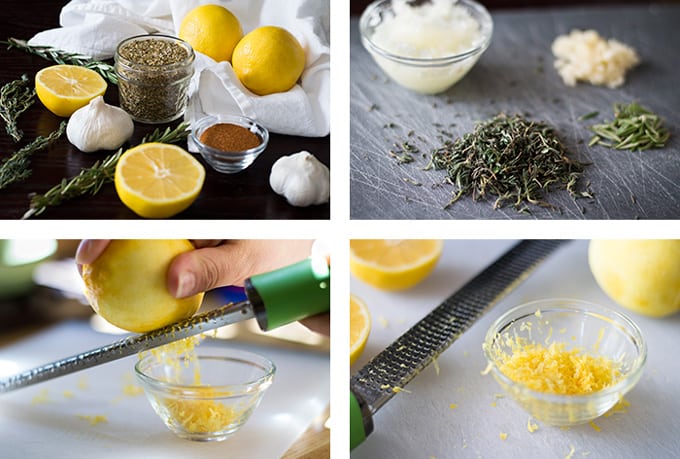 The next step is preparing the beef ribs! If you've never cooked with ribs before, it's easy peasy. Trim off any excess fat if necessary (your butcher may have done that for you) and be sure to remove the membrane. You can do that by taking a knife and inserting it between the bone and membrane in a corner to separate them a little, then use a paper towel to grasp onto the membrane and peel it all off. You may need to use the knife throughout the process, but usually it will peel back easily. This step is important because the membrane would prevent your tasty seasonings from coating the ribs! At this point, you can leave the rack whole or cut them into individual ribs. I thought I didn't have a baking pan large enough to hold the whole rack until I remembered I got a set of these for my birthday! By that point, I had already cut them up.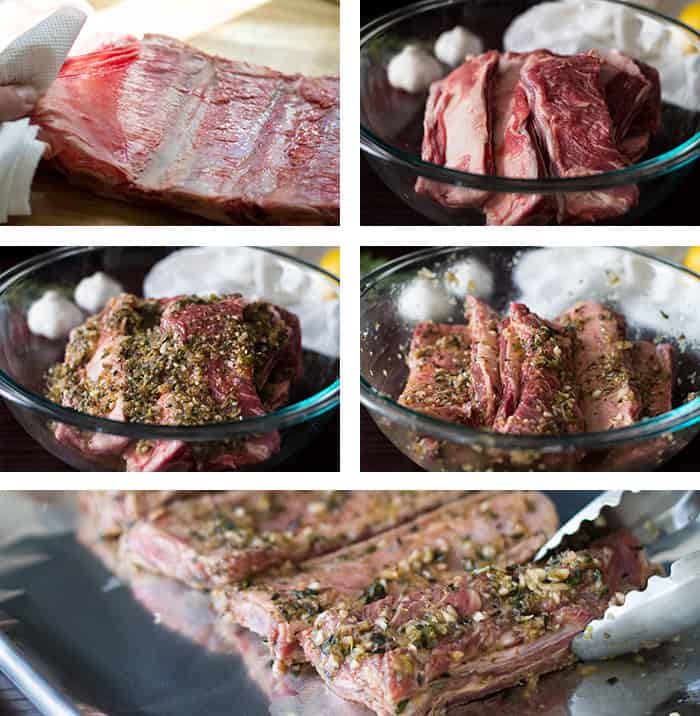 Mix everything together in a large bowl, cover it, and let it sit on the counter for an hour to come to room temperature. This will also allow the meat to marinate for a little while. Score!
When you're ready to roast, set the oven to 275 degrees Fahrenheit. Loosely line a sheet of foil large enough to hold the ribs that can be folded over slightly. Place the ribs in a single layer, meat-side down and fold in each side of the foil. Then top with another piece of foil to completely cover the ribs and create a pouch. Place the ribs on the center rack of the oven and let cook for three and a half hours. When they're about ready to come out, you'll make a tasty glaze of honey and lemon juice and brush it all over the ribs! The last optional, but encouraged, step is to then broil the ribs on high for three minutes.
After that? You dig in!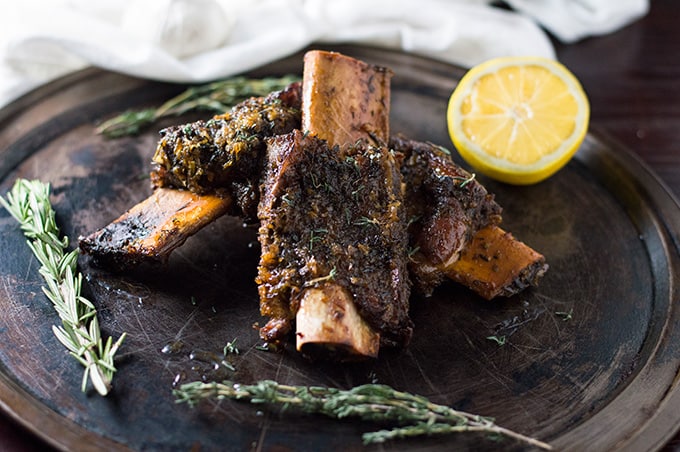 Kitchen Tools Used:
📖 Recipe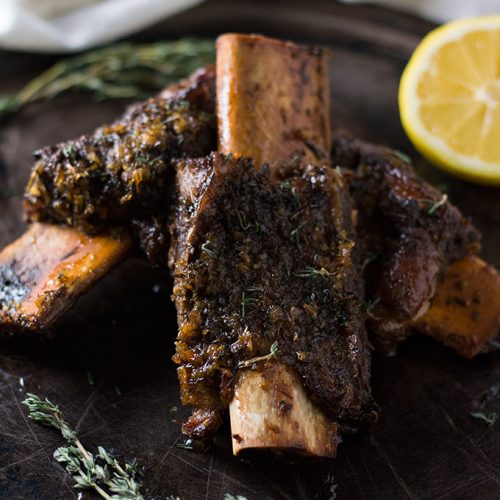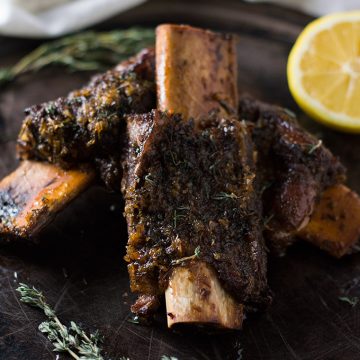 Ingredients
For The Ribs
3 ½

pounds

beef back ribs

¼

cup

olive oil

2

tablespoons

honey

zest and juice from 1 large lemon

⅓

cup

sweet onion

,

minced or grated

5-6

garlic cloves

,

crushed

2

tablespoons

fresh thyme

,

chopped

½

tablespoon

dried Greek oregano

1

teaspoon

fresh rosemary

,

chopped (optional)

1

teaspoon

kosher salt

freshly ground black pepper

½

teaspoon

Hungarian hot paprika

,

optional
Honey Glaze
¼

cup

honey

1

tablespoon

lemon juice
Instructions
In a small bowl, whisk together the olive oil, honey, lemon zest, lemon juice, onion, cloves, thyme, oregano, rosemary, salt, and pepper. Set aside.

Trim off any excess fat from the ribs.

Take a pairing knife and insert it in the corner of the ribs, between the membrane and the bone. Use your fingers to separate the membrane slightly, then use a paper towel to grasp onto the membrane and peel it off.

Slice the rack into individual ribs and place in a

large bowl

. Cover with dressing and massage into the meat. Cover and let sit on the counter for one hour to come to room temperature.

When the hour is up, preheat oven to 275 degrees.

Place the ribs on a foil-lined baking sheet in a single layer. Fold the sides of the foil up.

Cover with another sheet of foil and fold over to create a pouch.

Place pan on the center rack of the oven for three and a half hours.

When the ribs are almost done, make the honey glaze by combining the honey and lemon juice in a small bowl and whisk together.

Remove ribs from oven.

Brush ribs with honey glaze.

Optional step: Broil the ribs on high for three minutes after glazing.
Disclaimer: This post may contain Amazon affiliate links, which means I make a small commission if you make a purchase through them. By purchasing through these links, you are helping support this site! I only recommend items I personally own and love.