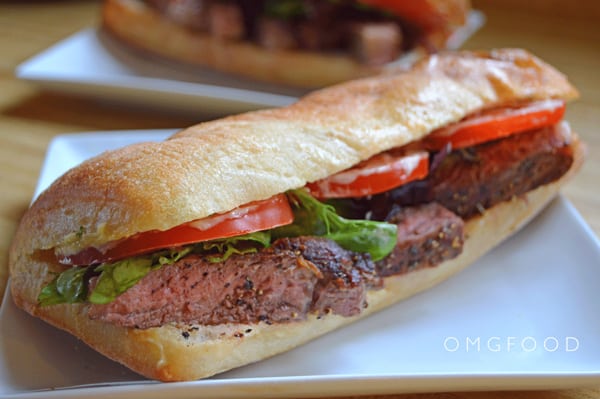 Hell yeah.
What do you get when you take a ciabatta sub roll, fill it with steak, tomatoes, spring mix, and lemon basil mayo? A damn good sandwich.
I love recreating food I've had when dining out. This sandwich is from one of my favorite spots in Boston called Silvertone. They have super delicious food and cocktails and your wallet won't be sobbing at the end of the night. Seriously, I haven't tried a single thing from there I didn't like. Definitely check it out if you're in the area!
This steak might be one of my favorites because of the lemon basil mayo. It has the right balance of both flavors. I don't think I could ever get sick of eating this.
The restaurant makes the sandwich with watercress, but I had spring mix at home when I was prepping this for photos (and eating, obviously). You can use either. It'll be delicious either way. Promise.
I prefer my steaks medium rare, but I sometimes forget to set a timer when I'm cooking and will either eyeball it or take the instant-read thermometer out. I recommend doing the latter. If you don't own a quick-read thermometer, this one works great! There's always the option I don't recommend, which is cutting into the steak as it's cooking, but then you're allowing the delicious juices to escape and that's just terrible. Don't do that.
Now, go make yourself a tasty sandwich. You deserve it. (P.S. Boston people: I get my ciabatta rolls from Iggy's Bread, which can be found at Whole Foods in the area!)
📖 Recipe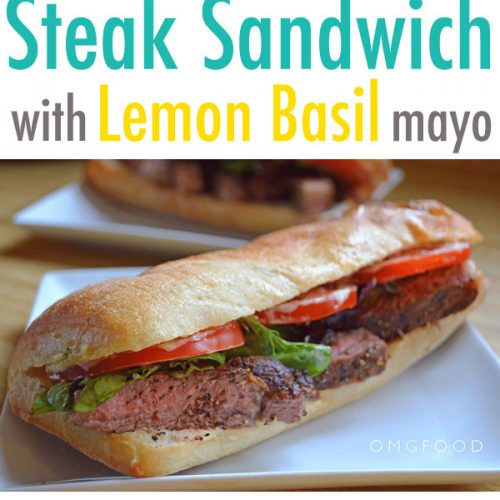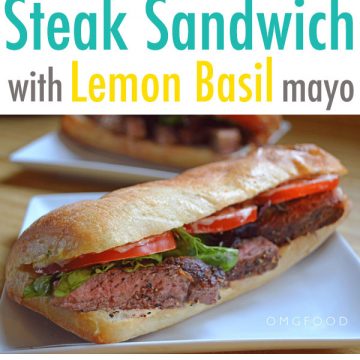 Ingredients
1

tablespoon

olive oil

1 16

oz

steak

,

about 1-inch thick

kosher salt

freshly ground black pepper

1

vine tomato

,

sliced

small handful spring mix or watercress

2

ciabatta sub rolls

¼

cup

mayo

1

teaspoon

lemon zest

½

tablespoon

minced basil leaves
Instructions
In a small bowl, combine the mayo, lemon zest, and minced basil. Set aside.

Add olive oil to a preheated cast iron skillet over medium-high meat.

Blot the steak with a paper towel. Season both sides with salt.

Add steak to the hot skillet and leave it to cook for six minutes, untouched. This will allow the steak to get a good sear.

After six minutes, flip the steak and top generously with freshly ground black pepper. Cook for 5-6 minutes for medium rare, or a couple minutes longer for medium.

Once cooked, move steak to a plate and cover with aluminum foil. Let rest for five minutes.

While the steak is resting, prep your rolls with the other ingredients!

After resting, slice the steak and add it to the rolls. Delicious sandwiches assembled.