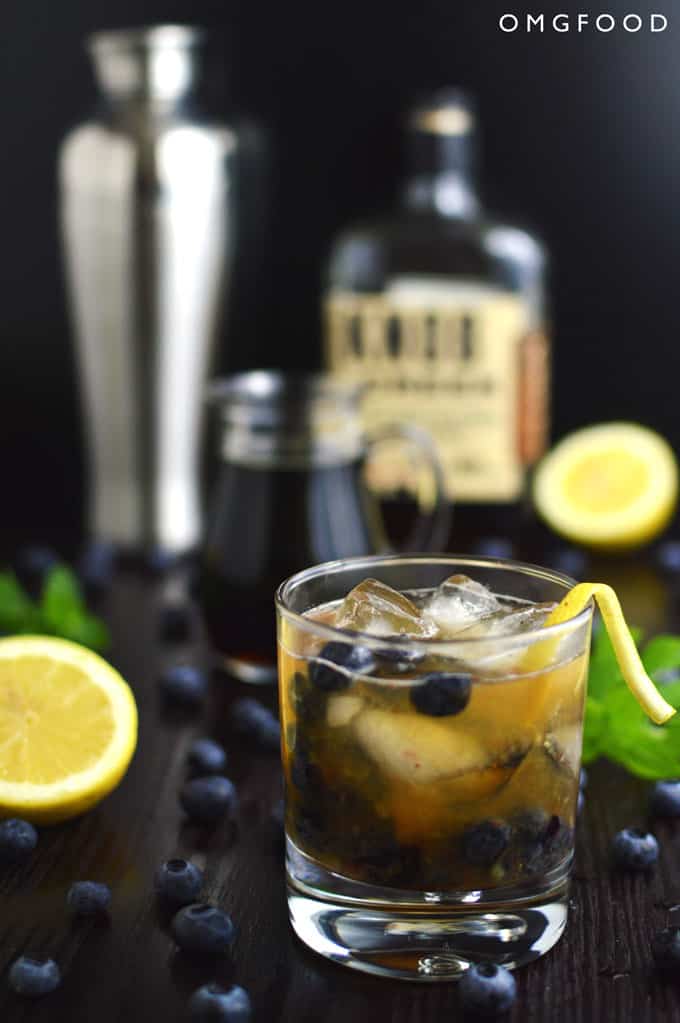 I love bourbon. I do. <3
I recently went on a cocktail-making shopping spree on Amazon and it was the best decision I've made in forever, I'm pretty sure! I've been wanting to make more cocktails at home for a while now. Especially when I have one I really enjoyed at a bar somewhere, but I just didn't have the proper tools and I almost always made a mess using two drinking glasses as my cocktail shaker.
Well, no more messes! And yes to more delicious cocktails! My recent obsession? The one you see here today: blueberry basil bourbon smash.
You might say I've been on a huge blueberry kick lately, between the blueberry oatmeal smoothie I shared with you a couple weeks back and the blueberry mascarpone pie just last week, I just can't help it. I love blueberries! So why not continue making delicious things with these blueberries, right!?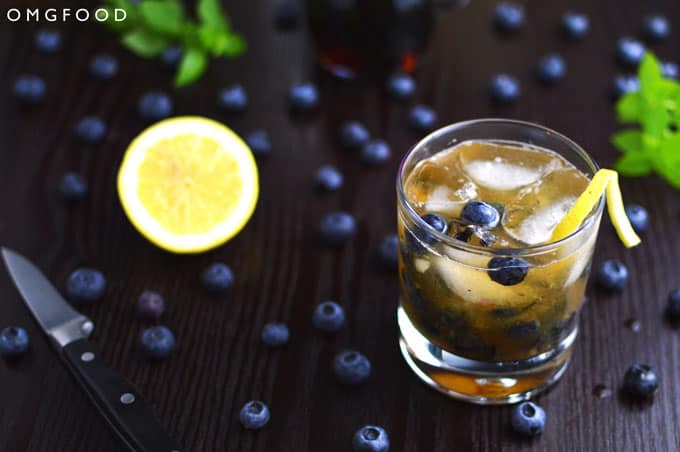 I got my shipment from Amazon a few weeks back and in that order was a cocktail shaker, a muddler and mixing spoon set, and a double jigger. And they are all faaaaantastic. The Oggi shaker is especially great because it stays shut when you're shaking it, so you don't have to worry about it leaking. I love it.
I thought the first cocktail I wanted to make with this was a maple leaf because it's one of my favorite go-tos when I frequent some of my favorite bars (Green Street and Brick & Mortar do an amazing job), but I wanted to have more fun with ingredients and blueberries were the only fruit I had on hand, so I went from maple leaf to a blueberry bourbon smash instead! But that wasn't enough because I wanted to muddle all of the things. I thought about which herbs I was growing this season and the only one I think would work well in a cocktail like this was basil – and I had two types to choose from!
I've made this drink a few times now and have gone back and forth between sweet basil and Greek basil because I have them both on my windowsill anyway. Either will work great and it adds a nice clean taste to the cocktail! I also tinkered with the amount of maple syrup each time because I made it too sweet at first, but I think it's at a good spot now. Jason really enjoyed the drink too! Also, the combination of the basil, blueberries, lemon and maple makes this drink kind of dangerous because it doesn't really taste like booze is even in there! I think that's a good thing?
It is Thursday, so you know, maybe a cocktail is something you should have tonight? Make it a blueberry basil bourbon smash and let me know how you liked it. <3
Ingredients
1-2

fresh basil leaves

I used Greek basil, but sweet basil works perfectly too

1/4

cup

fresh blueberries

1/2

ounce

maple syrup

juice from half a lemon

2

ounces

bourbon

5-6

ice cubes

1

lemon twist for garnish

optional
Instructions
Add basil, blueberries, and maple syrup to a shaker and muddle to release juices from the basil and blueberries.

Add in lemon juice, bourbon, and ice cubes.

Top shaker with lid and shake, shake, shake!

Pour into glass, add your lemon twist, and enjoy that smash.*
Notes
*Alternately, you can strain the cocktail into your glass to leave the basil and blueberries behind, but then it wouldn't be so much of a smash. It's tasty either way, though!