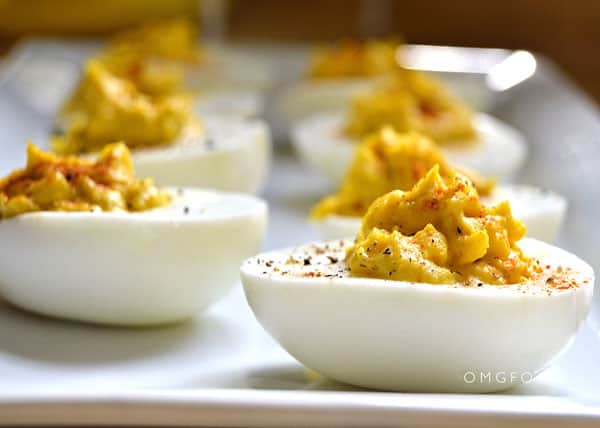 Updated 1-11-15: The content in this post was intended for a Whole30 program in May 2014. I was blogging daily about my challenges. Due to technical issues with the site at the time, I was unable to continue my daily blogging about the challenge. 
Happy Monday!
This morning was not very fun. I had a personal training session at my new gym and getting out of bed is still a bit of a challenge. It doesn't seem to be as bad as the last few days, but still, I wanted to throw a fit and stay in bed foreverrrrr.
But I didn't. This is a problem I've been facing for a long time and I am trying to live a healthier life; being active plays a huge part! So I got out of bed and soldiered on. Being at the gym isn't a problem, but getting myself there sure is! And still feeling some lingering effects of the sugar hangover from the last week certainly doesn't help.
But I made it and I had my second and last session with a trainer named Matt. He kicked my butt - I'm super sore right now! Signing up for the gym, I was given a complimentary training session and after our first one, he offered to give me one more for free because I have awful knees and he wanted to learn more about it and help me out. Turns out I have weak glutes! Which is not at all a surprise because I don't remember the last time I was in an active routine. I've gone through phases over the last couple years of trying to get back into it, but nothing would stick because I'd give into laziness too easily.
The sessions helped big time and I would continue them if I could, but they were pretty expensive and I just can't swing it with my budget, so I have to rely on myself to stay motivated and keep going. I'm hoping that because I'm tackling the food
Here's What I Ate Today:
Breakfast
- Hard-boiled egg and two chicken meatballs (not really a breakfast, but I needed some fuel for the gym!)
Lunch
- Eggplant Strata
Snacks
- Trail mix
- A banana
Dinner
- We went out for our friend's birthday at a delicious Trinidadian restaurant and I ate some salmon with a side of bodhi (curry string beans). It was delicious and yes - it was Whole30 compliant!
Recipe Time!
Deviled eggs! Whenever I hit up a BBQ and someone has made these, I basically inhale them. The standard is usually with mayo, mustard, the cooked yolks, salt, pepper, and paprika (which is what the recipe below is for), but there are different ways you can make these delicious appetizers.
You can combine bacon grease and mayo to make a baconnaise and top with crisp bacon pieces!  Another tasty, fun way is using avocado instead of mayo (or you can try using both). You can also just experiment with the standard recipe by adding in garlic or shallot, hot sauce, herbs, etc. I plan to experiment at some point and I'll post the good stuff to share with you once I do. 🙂
For Whole30, I like to have these for midday emergency protein when I need a break from just eating a piece of chicken or regular hard-boiled eggs. If you're Whole30ing, make sure to find dijon mustard that's compliant (a lot of brands have white wine as an ingredient).
📖 Recipe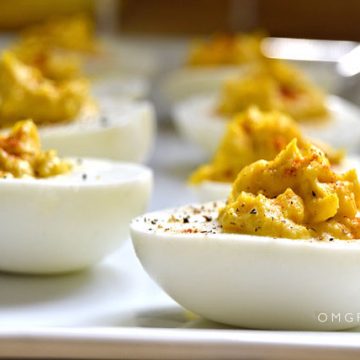 Ingredients
6

hard-boiled eggs

,

peeled

¼

cup

mayo

1-2

teaspoons

dijon mustard

sea salt

freshly ground black pepper

paprika
Instructions
Slice the eggs in half, lengthwise and with a spoon, gently scoop the yolk into a small mixing bowl.

Mash up the yolk with a fork and add in the mayo, mustard, and salt and pepper to taste.

Spoon the mixture into the egg halves and sprinkle with paprika.