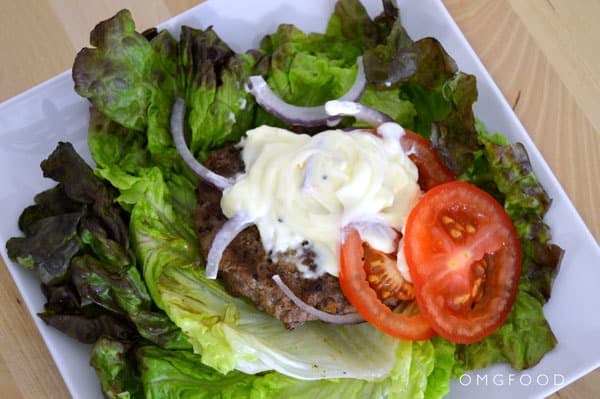 Updated 11-26-14: This post was originally written for a Whole30 program I was unable to complete on the blog due to technical issues that prevented me from making new posts. 
Day 6 has come to a close. Today was a pretty good day! Still having a hard time getting out of bed in the morning, but I managed to feel all right all day, though once 11pm hit, the exhaustion hit me like a brick.
But I'm not cranky! I will take the tired over the bad mood any day.
I have a free trial over at BJ's, so Jason and I have been taking advantage of using it up before it expires in a couple weeks, so we went shopping today! Growing up, my parents had memberships at Sam's Club, Costco, and BJ's (we had a restaurant; it made sense to shop all three!), though I never really shopped for myself personally until this last month and I gotta say, wholesale is awesome! We've already saved a bit of money on meats, paper products, and pantry items. We bought a 3-liter jug of Filippo Berio® light olive oil for $17 - are you kidding me!? It normally costs about $8 for 23oz. Bring on the mayo!
I love saving money.
We will probably continue the membership, though we also have a Costco nearby, so we might scope that out first and see which we like better. I imagine it won't be all that different, but I'm curious which has more paleo-friendly goods. I've also heard Costco's storebrand, Kirkland, is good stuff. We shall see! As far as paper products go, BJ's storebrand hasn't let us down; I haven't tried their brand of food yet.
We were planning on going to the movies tonight, but I started to feel rundown around dinner-time, so we stayed in and I planned the next week's menu while Jason played some Assassin's Creed IV. It  was all in all a good night.
Here's What I Ate Today:
Breakfast
Fried eggs with leftover taco meat from the plantain nachos mixed together with sauteed kale. Noms!
Lunch
Chicken non-parm
Snacks
- Raw broccoli
- Prosciutto again! Jason doesn't eat it, so there's more for me to take care of.
Dinner
- Lettuce-wrapped burgers (recipe below!) and baked sweet potato fries.
Recipe Time!
Ahh, burgers. Definitely on my top 5 list of delicious foods. Though - I probably say that about a lot of food, but whatever. Burgers are friggen good!
There's no right or wrong way to eat a burger in my book. The toppings that go on it depend greatly on my mood. In no particular order, here are some of the various ways Marissa will eat a burger:
- Mushrooms, bacon, and swiss with mayo.
- American cheese, mustard, and ketchup only. This depends greatly on the type of roll the burger is served on. In order for me to order a burger this way, the bread has to be a plain, white bun with no sesame seeds on it and it's the kind that looks like it was dusted with flour on top? Very important; this is the only type of burger I'm particular about my bread (and OMG, yes - I said bread! Calm down).
- Lettuce, mushrooms, tomatoes, red onions, mayo, and sometimes BBQ sauce and/or cheddar! Bacon is optional on this one. I usually prefer to snack on the bacon on the side when it comes to burgers with a lot of toppings, though I'm certainly not opposed to bacon + lots of toppings because, uh, bacon. Also: pickles, but I prefer them to be on the side, too!
- Umami style - I'll have a recipe posted sometime this month!
- On a salad, sans buns -  like my lunch from Four Burgers the other day that I posted on my facebook page. Sometimes with a fried egg on top, sometimes guacamole! Almost always chipotle mayo.
- Lettuce-wrapped! You can use whichever lettuce you'd like, though I find red leaf or green leaf lettuce works best. The leaves never break on me when it comes to the bending/wrapping part, plus they are good tasting lettuce types!
📖 Recipe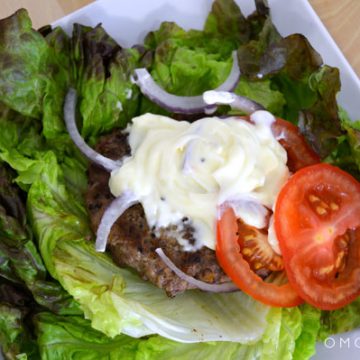 Ingredients
1 ½

lbs

grass-fed ground beef

kosher salt

freshly ground black pepper

8-12

red leaf lettuce leaves

,

depending on size (usually 2-3 leaves per burger), rinsed and patted dry.

burger toppings of your choice!

,

paleo mayo, tomatoes, red onion, avocado, mushrooms, etc
Instructions
Using your hands, form four even-sized patties with the ground beef; 6oz each. Season with salt and pepper and press the middle of each patty with your finger (they say indenting the burger meat will prevent it from shrinking when cooking; I think it works!)

Heat up a cast iron skillet over medium-high heat. Add your burgers and let cook, undisturbed, for 6 minutes. Flip and cook for 6 minutes more for medium to medium-rare. If adding cheese, top it over the burger after you flip it (but not if you're Whole30ing, silly!)

Prepare your lettuce leaves for each serving. I use 2-3 leaves depending on the size. If the leaves are big, 2 should suffice. What I usually do is create a wide lettuce bed by slightly overlapping the lettuce. Place the burger in the center and add your toppings. Wrap and fold the leaves around the burger and enjoy!