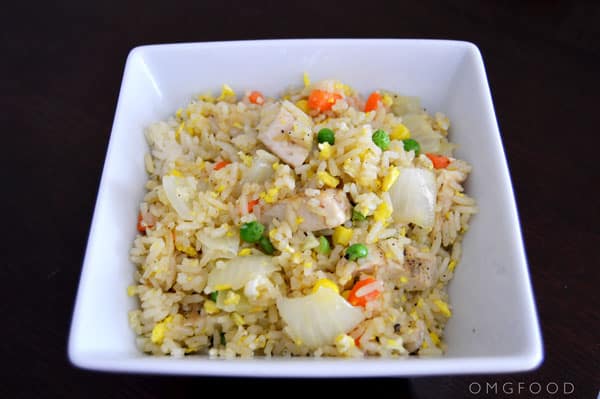 I'm really into bringing my own lunch to work because I always know what's going into my food and it helps to save some money; take-out every day gets expensive! I need a break every so often, though. While I love cooking, I don't always enjoy spending every weeknight making dinner and lunch for the next day as well. Most times, I have my food planned ahead for the week which makes things way easier, but it also doesn't take much to let that slip (that's a post for another day, though).
On days I don't bring lunch, I like to hit up some friends from work and go eat somewhere tasty. Being in Cambridge, there are tons of options. Le's in Harvard Square is one of my favorite spots to go to for Vietnamese cuisine because the food is good and it's fast. I always go for the pho. Every time. I say I'll order something different the next time I go; that never happens. Though sometimes I'll order a side of shrimp toast (shh, don't tell anyone).
A couple weeks back, a few of us made our way back to Le's after not going for a few months. I ordered pho (obviously). Both Jason and our friend, Arthur, ordered the fried rice. It looked really good, so I snagged a bite off of Jason's plate and I was really into it. So much that I finished off what he couldn't after I stuffed my own face with the pho.
We started talking about how the rice was made. The rice had a very light caramel-like color with some egg, meat, corn, peas, carrots, and onion. If it had soy sauce, there was very little. Noah suggested maybe the rice was made in a stock to give more flavor and a touch of color. Once he said that, it was like a light switched on in my head. I have always used chicken stock when making rice pilaf in the oven (also a post for another day), but never have I used it to simply cook rice over the stove; I always used water. That thought was pure brilliance to me and I had to try making this dish myself.
There are a couple things I've learned when trying to experiment making stir-fry:
1. It's best to use cold leftover rice. Using freshly made rice may result in a mushy dish. If you don't have any leftover in the fridge, I recommend making the rice a couple hours beforehand and refrigerating it.
2. Use a big wok or skillet. It will make stir-frying easy and not so messy.
I don't use soy products much these days, so for most recipes that would normally call for soy sauce, I replace with coconut aminos. It's a super tasty seasoning sauce that's a healthy replacement to soy sauce. I use it in lots of recipes.
For this recipe, I made the rice ahead of time like I suggested above. I used two parts chicken stock and one part jasmine rice. I also had leftover chicken, but you can use any cooked meat. If you need to cook the meat fresh, I recommend chicken breast seasoned with salt, pepper, and ground ginger or you can throw in some shrimp!
Speaking of recipes, let's get to it.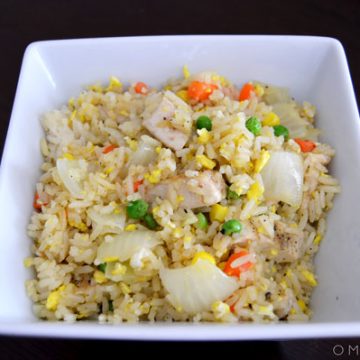 Ingredients
1

tablespoon

+ 1 tablespoon olive oil

1

teaspoon

+ 1 teaspoon toasted sesame oil

½

sweet onion

,

chopped

1

carrot

,

peeled and diced

2

garlic cloves

,

minced

2

eggs

¼

cup

corn

¼

cup

petite peas

,

defrosted if frozen

leftover meat of your choice

,

sliced (I used chicken)

3

cups

cold

,

cooked white rice

1

tablespoon

coconut aminos

salt to taste

freshly ground black pepper
Instructions
Heat 1 tbsp olive oil and 1 tsp sesame oil in a wok or large skillet over medium-high heat. Add the onion and carrot and saute about seven minutes or until the carrots are tender.

Add in the garlic and saute until fragrant; about thirty seconds to one minute.

Push the veggies to the side and add the eggs to the pan. Stir and scramble until they're mostly cooked; about a minute.

Add in the chicken, corn, and peas and mix together. Make a well in the center and add in 1 tbsp olive oil and 1 tsp sesame oil. Stir.

Add in the rice and mix in with the other ingredients. Make another well in the center, now add in the coconut aminos.

Stir until the rice has heated up. Season with salt and pepper to your liking and serve.
Notes
1. I use measurements for this recipe to give you an idea of how much you can add of each ingredient, but the beauty of stir-fry is you can add whatever you want! I usually eyeball it. Just keep in mind to not put too much sauce, otherwise your stir-fry can and will turn to mush.
2. Don't be afraid to really season this dish with salt!