A delightfully flavorful and easy-to-prepare meal, Vietnamese fried rice calls for simple ingredients and can be ready to eat in less than 30 minutes.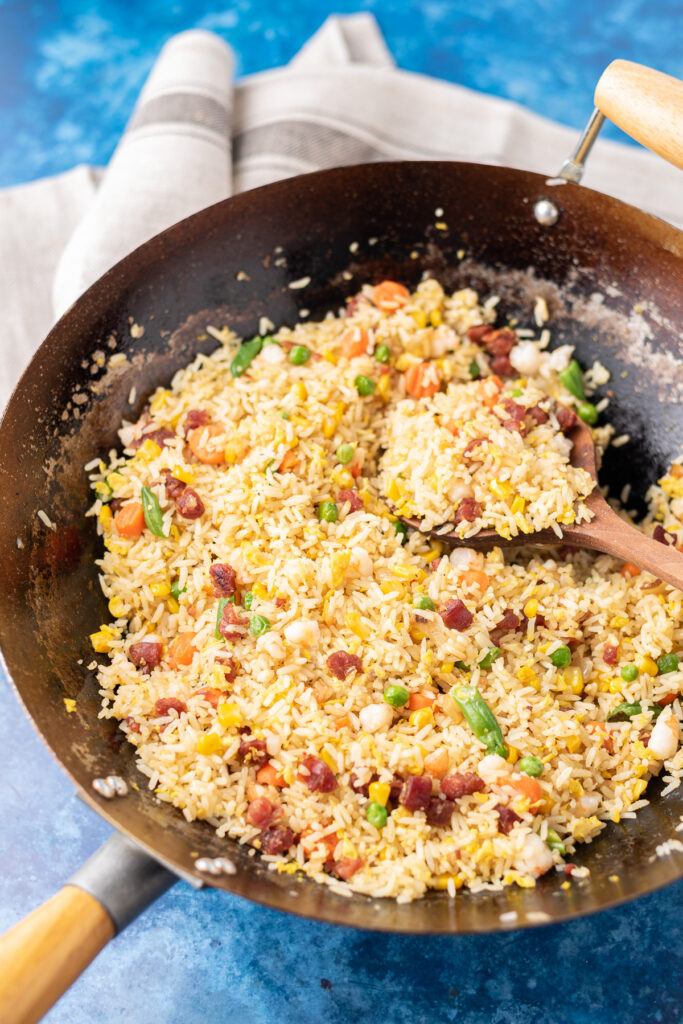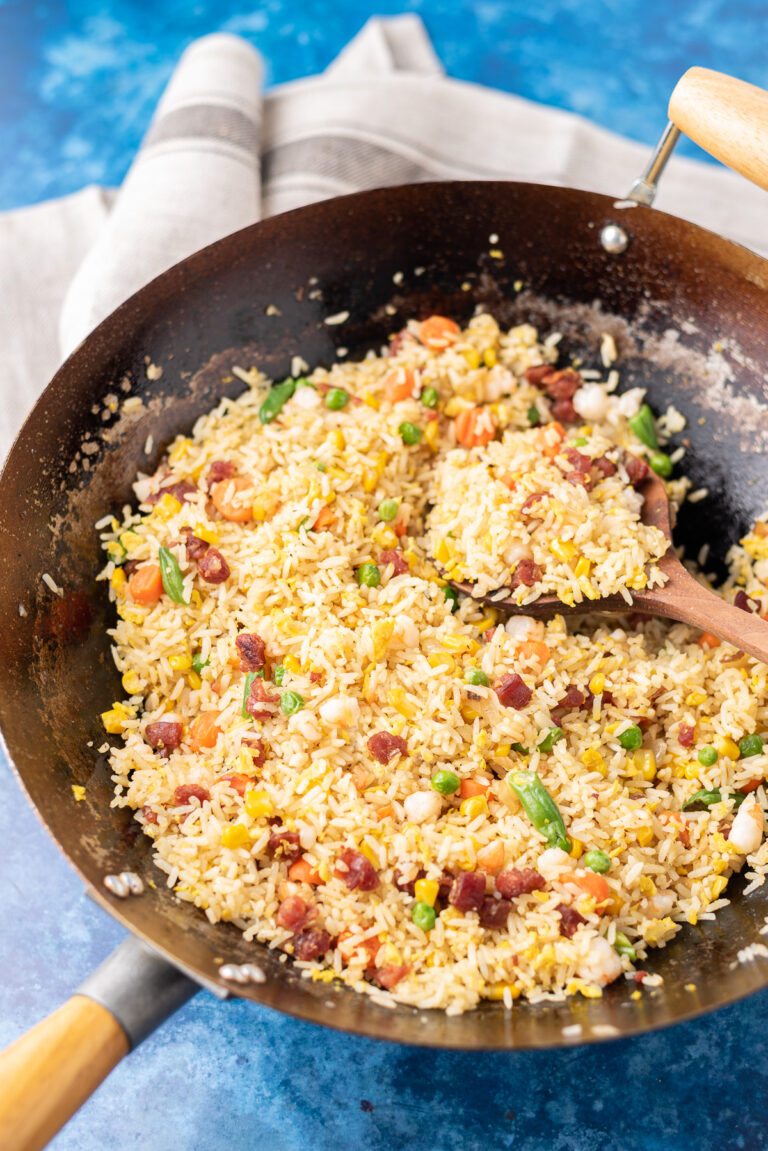 Updated on May 8th, 2022: New written content, recipe instructions, and photography. Yay! See more details below the recipe, including the original photo for this post!
Originally published on .
---
Who doesn't love a delicious meal that's also easy and fast to make? Stir-fries of any kind are some of my favorites for this very reason. It's a great way to get lunch or dinner ready in a short amount of time and use up some ingredients you might have hanging around in your kitchen.
I first fell in love with Vietnamese fried rice at Le's Restaurant in Cambridge, back when I worked in the area and would go there for lunch often. I'd alternate between their pho and rice, depending on my mood, and I always left feeling full and happy.
I loved the rice so much, I wanted to try making it myself, and I shared a version I was more or less happy with back in March 2014, except it tasted nothing like a restaurant quality fried rice, especially because I was on an 80/20 paleo diet at the time!
Over the years, I experimented with various recipes for this dish and decided it was finally time to give this post the content refresh it deserves!
Jump to:
🍲 Finding Chinese sausage (lap cheong)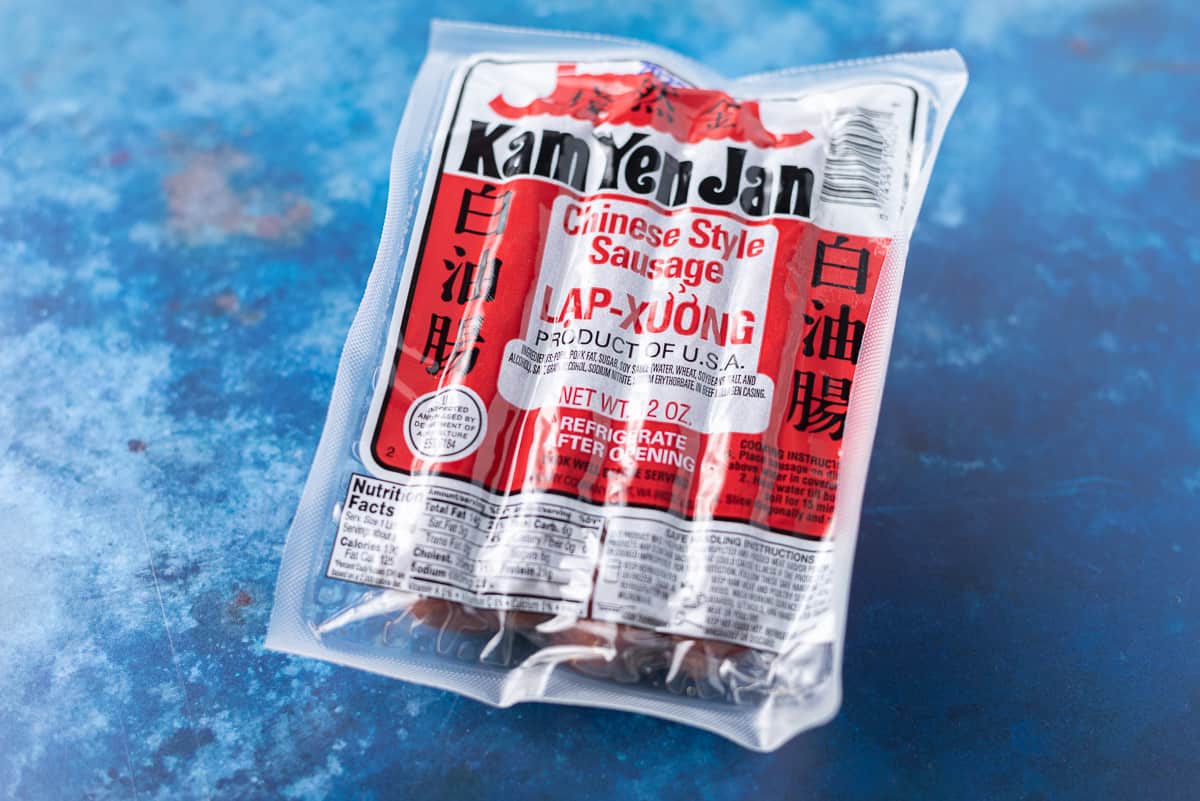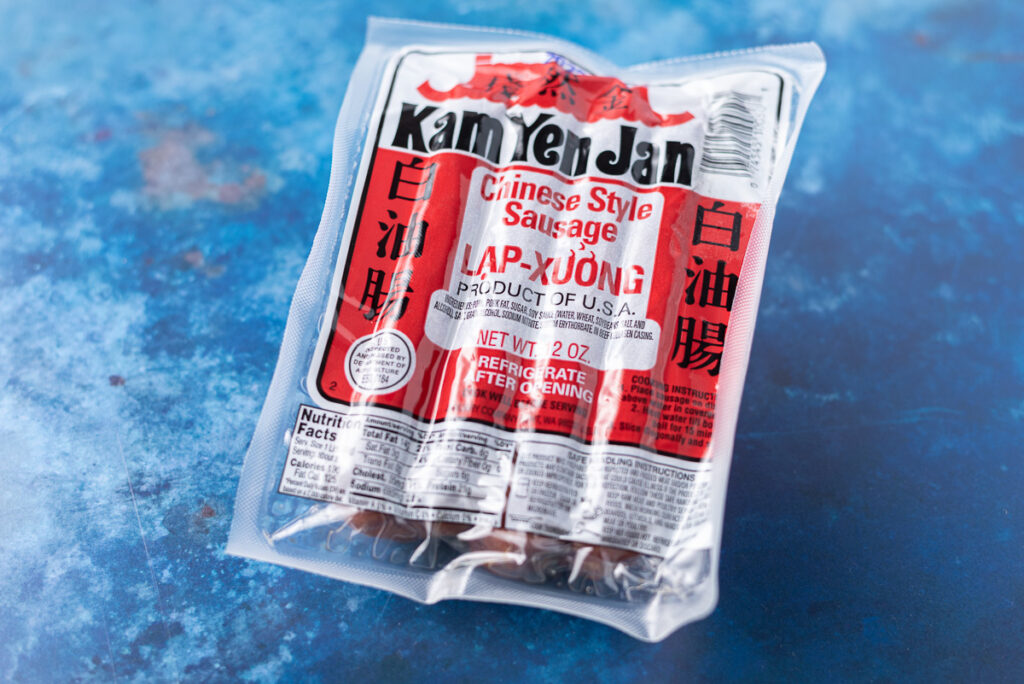 There are two types of Chinese sausage. The one used in this recipe is both sweet and savory with hints of smokiness. It's most commonly made with pork and pork fat, which is what I use for this recipe, but there are versions that include chicken and liver as well. Another type of Chinese sausage is a spicy one made with chilies.
Its flavor is unique and a staple in Vietnamese fried rice. If you have an Asian grocery store near you, you'll more than likely find the sausage there. If not, you can also buy it from Amazon. I highly recommend not leaving this ingredient out when you make this rice. It's just too good!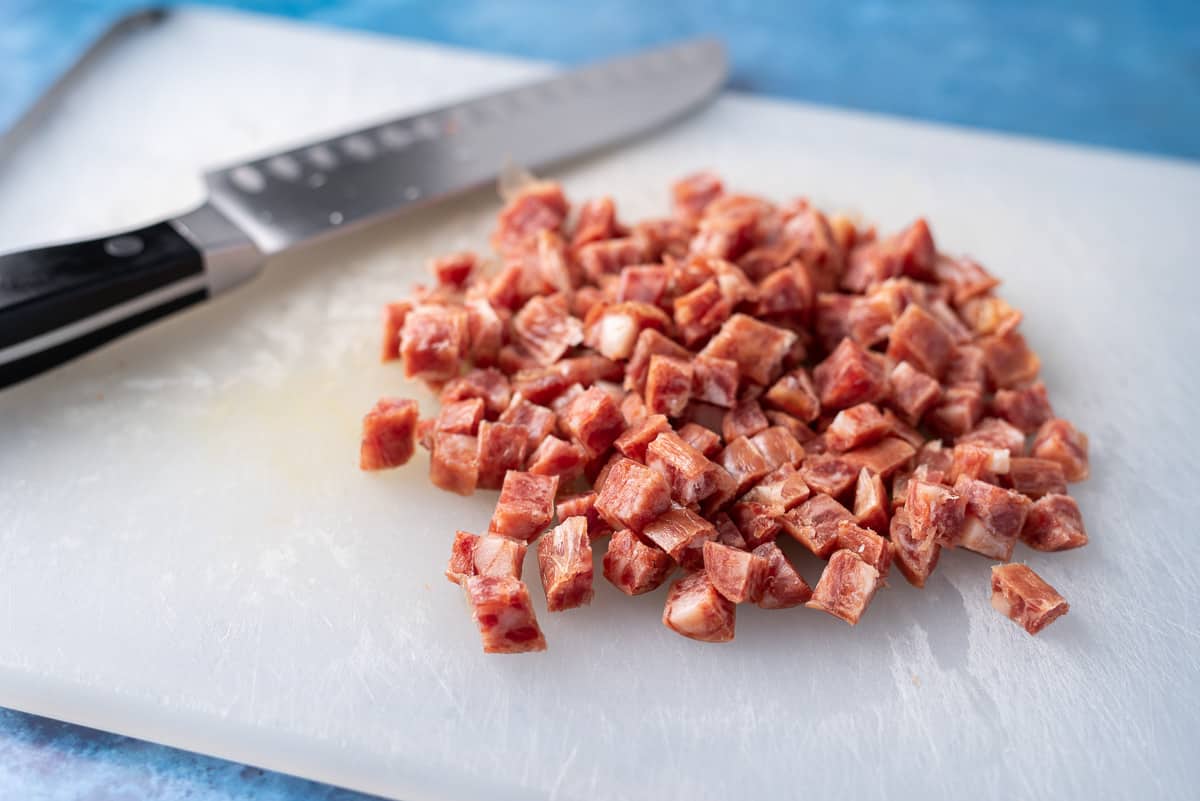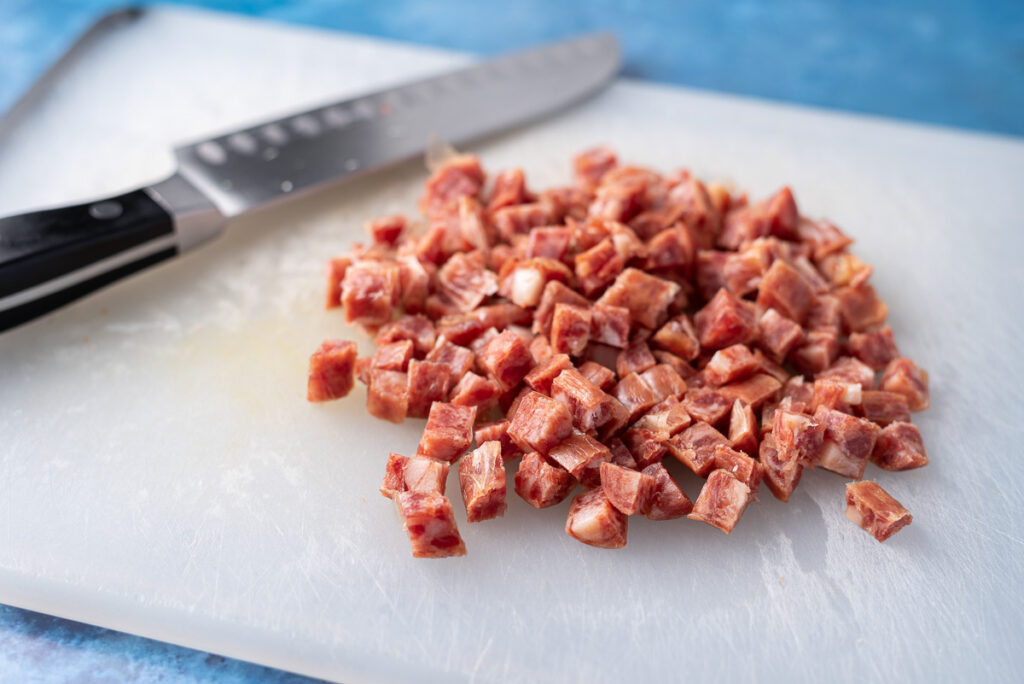 🧅 Simple ingredients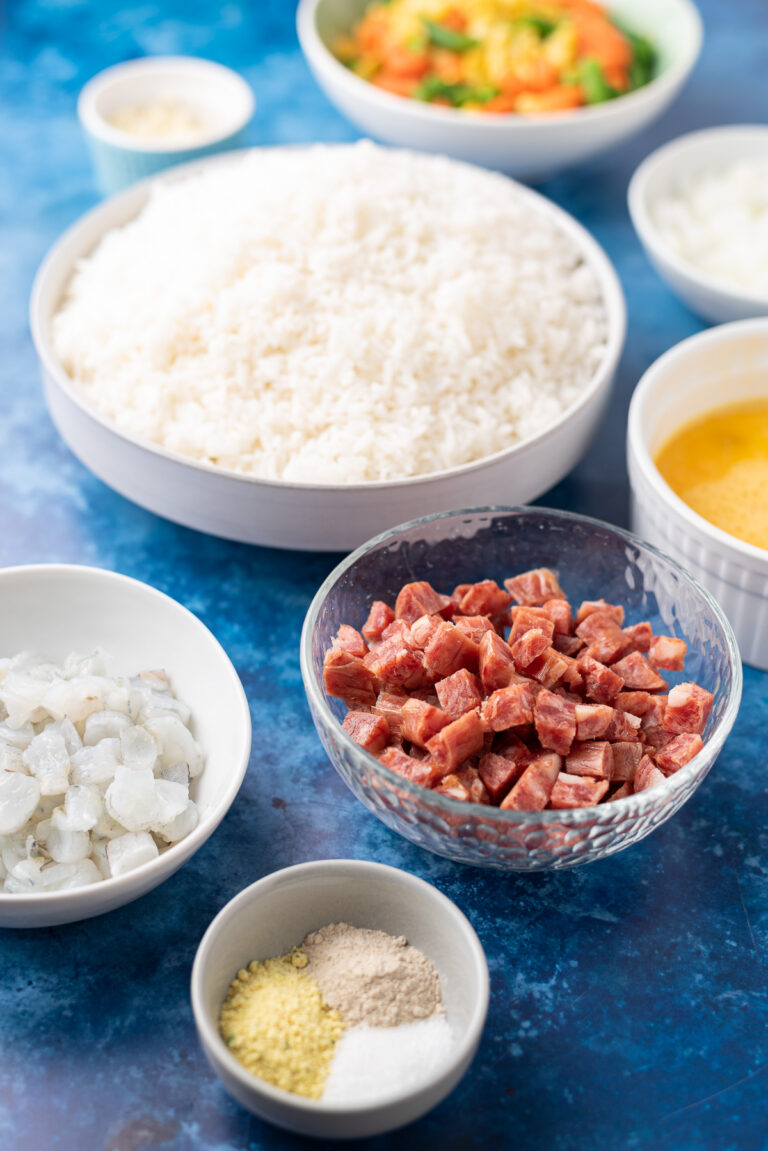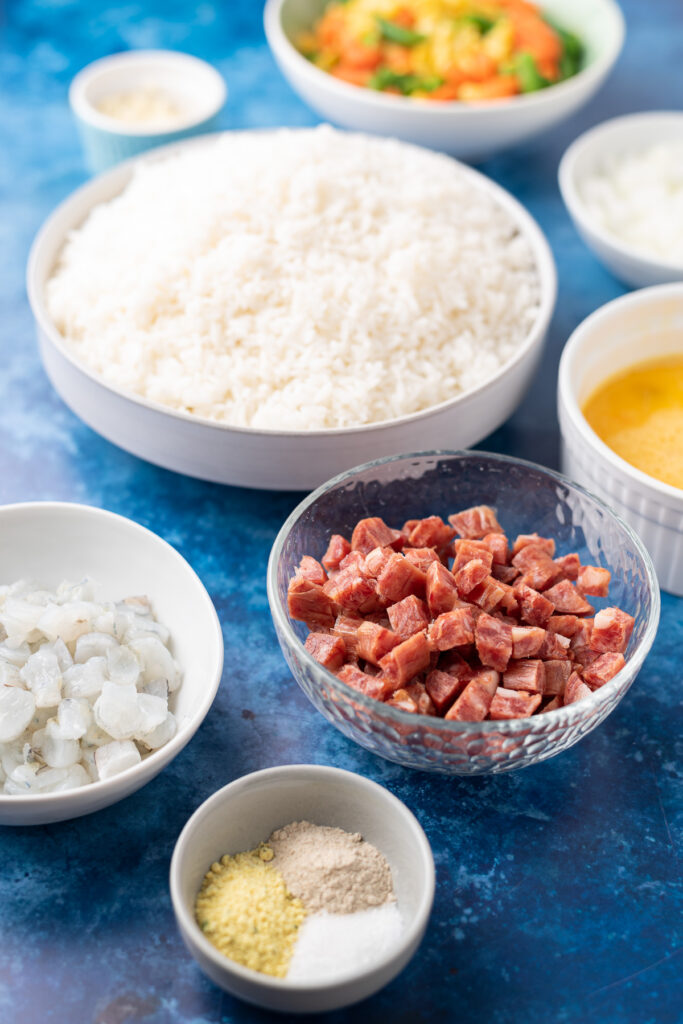 Most of the ingredients will likely be in your fridge and/or freezer already, making this a very easy dish to prepare. My recipe calls for shrimp, but you can always swap it out for chicken, pork, or another protein of your choosing. If you're using frozen shrimp, you'll want to add about 15 minutes to your prep to allow for defrosting time.
I find a bag of frozen mixed veggies comes in very handy when making this rice. When I ordered it from Le's back then, and other restaurants since, they always included corn, peas, and carrots (a common trio in a frozen bag). Some brands of the mixed veggies will also include green beans.
Lastly, chicken powder and ground white pepper may or may not be pantry staples in your household. They're both great additions here. They both add a ton of flavor. The chicken powder also adds a bit of golden color (in addition to the eggs). You could use black pepper in place of white if you really wanted to, though the flavor profile will be different (white pepper is more earthy, while black pepper is more floral). If you do decide to go with black pepper, I would add to taste and not follow the suggestion for half a tablespoon like the white pepper.
🍚 Using day-old and cold rice vs freshly made rice
Fried rice is best when made with cold, day-old rice because it will be drier, giving the finished dish that perfect texture. Using freshly made rice will only result a mushy and soggy texture and is not recommended.
If you really want to make this and don't have any rice prepped ahead of time, a quick cooking hack can help in a pinch. Cook your white or brown rice as usual and spread it out evenly onto a parchment-lined half sheet. Let it rest for 15-20 minutes. You can also try placing a small fan next to the rice to help speed up the process.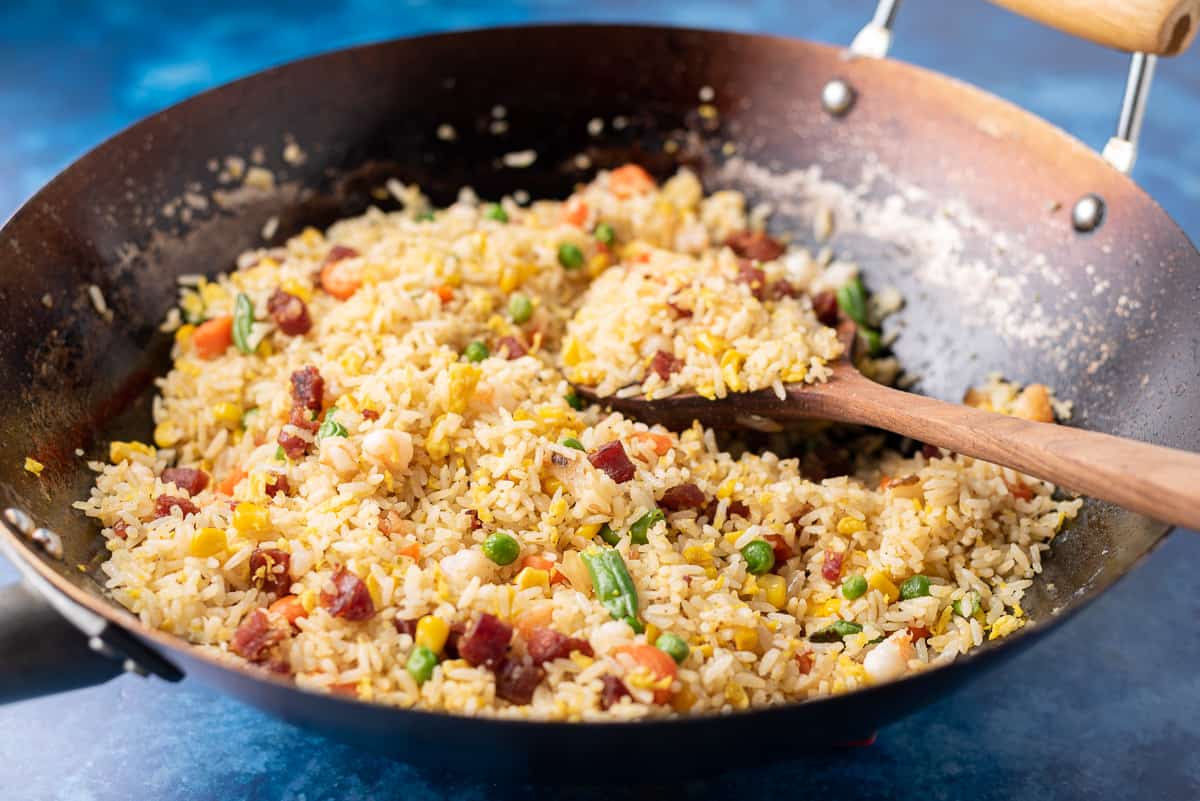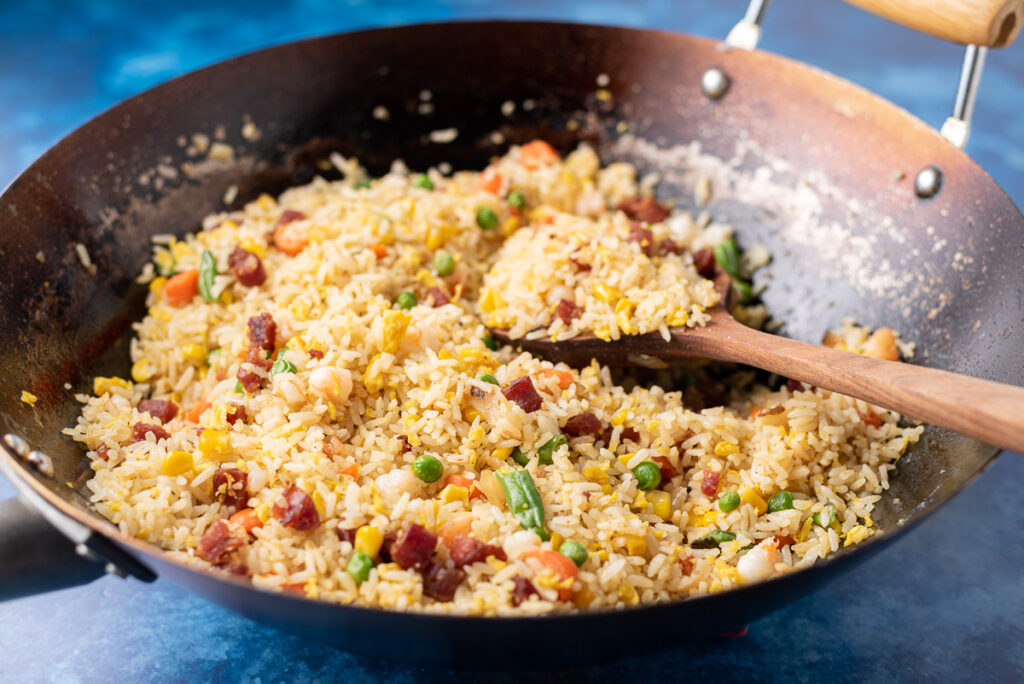 💭 Tips
Here are some quick tips for your delicious Vietnamese fried rice cooking and eating adventure!
Play around with meat and seafood options. Or make it vegetarian
Com chien translates to "fried rice." This version with shrimp is known as com chien tom. You can also make this with beef (com chien bo), chicken (com chien ga), or play around with other seafood like crab or scallops! Not into meat or seafood? Add more veggies or tofu and omit the chicken powder (you could substitute with mushroom powder instead).
Use a wok if you've got one
A no-brainer if you own a wok. It's perfect for fast and high-heat cooking like this. If you don't own one, use a large deep skillet or saute pan (nonstick is likely the way to go here).
Cook with chopsticks
Scrambling the eggs alone is a single perfect reason to cook with chopsticks. They make the job way easier than using a spatula. You have more control of where and how to scramble. They're also great for the stir-frying part. You can use eating chopsticks if you'd like, though I recommend investing in a pair of cooking ones if you don't own a set.
Interested in other rice dishes?
Check out some other tasty foods made with rice!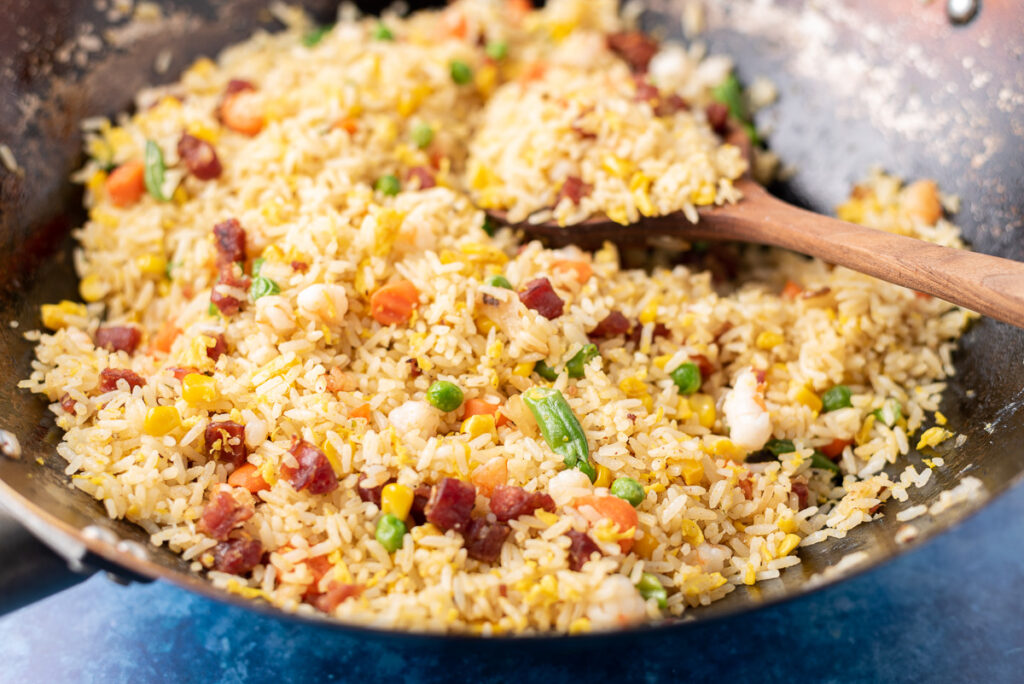 📖 Recipe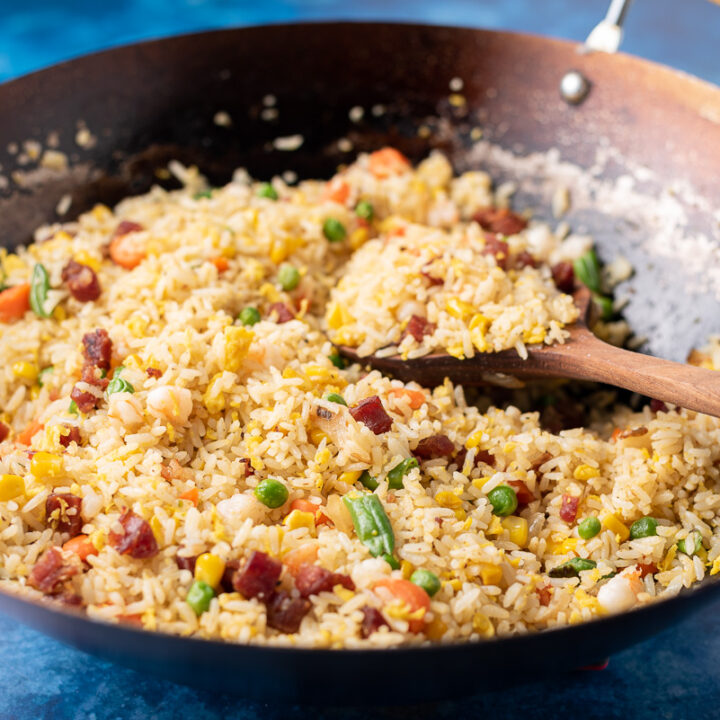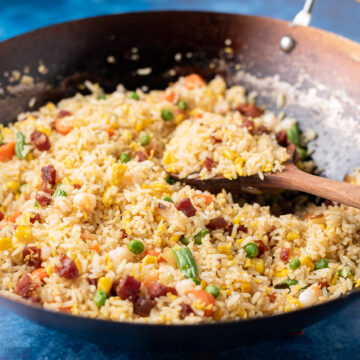 Vietnamese Fried Rice (Com Chien)
A delightfully flavorful and easy-to-prepare meal, Vietnamese fried rice calls for simple ingredients and can be ready to eat in less than 30 minutes. Serves four as a main and six as a side.
Print
Pin
Rate
Ingredients
2

tablespoons

neutral cooking oil

,

divided

8-10

medium-sized shrimp (150 grams)

,

peeled, deveined, tail removed, and chopped

1

small yellow or sweet onion (110 grams)

,

chopped

3

Chinese sausages (lap cheong),

diced

3-4

garlic cloves

,

minced

2

cups

(300 grams) frozen mixed vegetables

,

defrosted and drained is best, but frozen will work

½

teaspoon

sea salt

½

tablespoon

granulated sugar

½

tablespoon

chicken powder

½

tablespoon

white pepper

6

cups

cooked white rice (850 grams)

,

see notes*

4

eggs

1-2

teaspoons

fish sauce

,

optional, but recommended!
Instructions
Heat a wok over medium-high heat and add in one tablespoon of oil.

Add shrimp, stirring one to three minutes or until cooked through. Remove from wok and set aside. Increase heat to high.

Add onion and cook for one minute.

Add sausage. Cook and stir for three minutes.

Add garlic and cook for one minute.

Add veggies and cook for two minutes (if still frozen, three to four minutes to cook off excess water)

Add the rice and mix with the veggies. Continue mixing until rice is broken down with no lumps.

Add shrimp back in and season with salt, sugar, chicken powder, and white pepper. Mix together well.

Push rice to the side and add in the remaining tablespoon of oil. Add the eggs. Stir them until they're half cooked (they should still be mostly liquid with bits of cooked egg), then quickly stir in the rest of the food. Continue to stir for a minute, the egg will continue to cook as it's coating the rice mixture.

Remove from heat and stir in the fish sauce, if using. Taste and add extra seasoning if necessary.

Enjoy!
Notes
Cold, leftover rice works best. Don't use freshly cooked rice.
Nutrition
Calories:
639
kcal
|
Carbohydrates:
83
g
|
Protein:
26
g
|
Fat:
22
g
|
Saturated Fat:
6
g
|
Polyunsaturated Fat:
3
g
|
Monounsaturated Fat:
11
g
|
Trans Fat:
1
g
|
Cholesterol:
236
mg
|
Sodium:
1094
mg
|
Potassium:
488
mg
|
Fiber:
5
g
|
Sugar:
3
g
|
Vitamin A:
4141
IU
|
Vitamin C:
11
mg
|
Calcium:
105
mg
|
Iron:
3
mg
Update Notes: This post was originally published on and was republished on May 8th, 2022 with new and improved written content, recipe instructions, photography, and tips. Here's an original photo for this post!