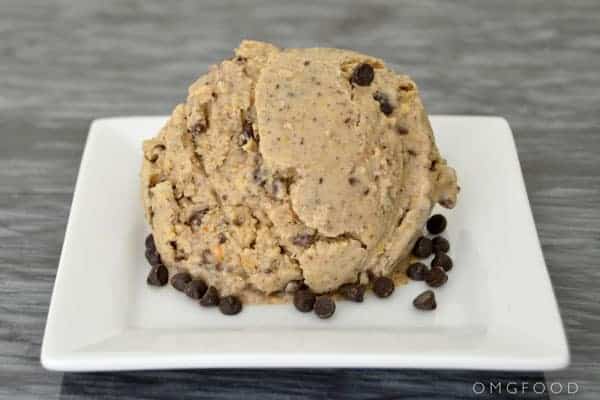 It's Cheat Day Friday and omgfood has been live for one week. To celebrate both events, we're having paleo ice cream!
Did you know you can turn just frozen bananas into ice cream? I had no clue until a few months back when my friend, Emily, gave me the scoop. See what I did there? I'm not going to apologize for that joke. I'm owning it.
She told me to just throw some frozen bananas in the food processor and magic will happen. Around that same time, I discovered The Kitchn's: One Ingredient Ice Cream. You can probably guess what that ingredient might be.  Suddenly, this banana ice cream was known about everywhere and I had to try it out. I made it and it was awesome.  It comes out kind of like soft serve; it's so creamy. I immediately started thinking of other ingredients to add after the first bite and here we are with chocolate chip banana hazelnut ice cream! If none of these extra ingredients excite you, you can omit them. I've made this particular recipe without the chocolate and it's just as good.
As long as you have a food processor, you can make this ice cream. This recipe is a great reason to let your bananas over-ripen. The bananas take about an hour to freeze, but I usually have some on hand and ready to go. I slice the bananas up, put them on a baking sheet, freeze for an hour, then place them in a ziplock bag. It's necessary to not skip ahead and put fresh banana in the ziplock to freeze or you'll end up with one big brick of banana! (Pro tip: frozen bananas are also a great addition to smoothies.)
For this recipe, I also add in full fat coconut milk, separated. Chill a can of coconut milk upside down in the fridge overnight. The water will separate from the coconut fat and having the can upside down means the water will be at the top of the can in the end, so you can just pour it out.  Neat, huh?  You can discard the water or keep it around for smoothies. I recommend you do the latter. Also, do not use light coconut milk for this.  Light just means more water than coconut and you don't want that.
And now, it's recipe time.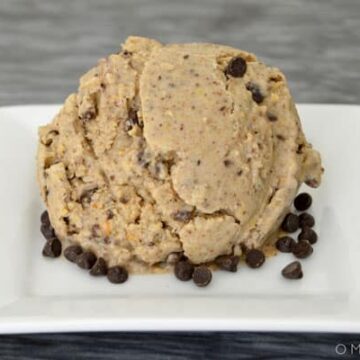 Ingredients
2

ripe bananas

,

chopped and frozen

¼

cup

coconut cream

,

separated from chilled can of coconut milk

3

tbsp

hazelnuts

,

roasted and unsalted

2

tbsp

mini chocolate chips

,

I use Enjoy Life brand because it's dairy and soy free

1

tsp

vanilla extract
Instructions
Throw the frozen bananas in the food processor and blend for about 30 seconds to a minute until they become creamy.

Scrape down the sides if necessary and add in the remaining ingredients. Blend for another minute, stopping to scrape down the sides some more if needed.

Devour.