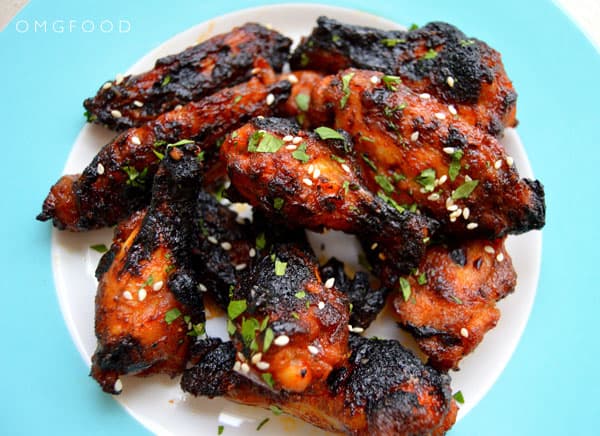 Raise your hand if you love sriracha!
I love this stuff. On lots of things. It's so good. It makes me happy. Like, dance-in-my-seat-as-I-type-this happy.
Honey sriracha chicken wings are my favorite as far as recipes with this tasty hot sauce go. My second favorite is probably pho. Remember that because you'll be quizzed later on.
I'm really into baking my chicken wings these days. I used to be all about frying them, but that involves too much work. Things get messier, oil splatters everywhere, food is greasier, etc., and that to me means more clean-up. I like to keep things simple! You like things simple, too, right? I thought you would!
I like to bake the wings and follow that with a little broiling action after I've added sauce to them. They get a nice crisp to them! Of course, if you're impatient, you can skip the broiling part altogether and just devour the wings after you've sauced them. Your choice.
My favorite thing about these wings is the delicious balance of sweetness and heat in each bite. Heavenly.
I ate these wings up before writing this post (all of them, too, because Jason is not a fan of meat on bones - more for me!) and let me tell you, just talking about them, I want to make more already. They're that good.
Next time you throw or attend a party, make these. Triple, quadruple, or whatever-ruple the recipe to make the amount of servings you want. You'll instantly become everyone's favorite person in the universe. True story.
📖 Recipe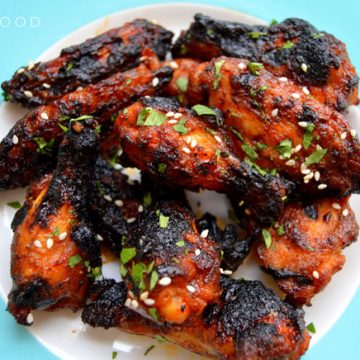 Ingredients
Wings

1

pound

chicken wings

,

tips removed

1

tablespoon

extra light olive oil

1

teaspoon

kosher salt

½

teaspoon

garlic powder

½

teaspoon

hot paprika

freshly ground black pepper

Sauce

1

tablespoon

unsalted grass fed butter

2

tablespoons

honey

¼

cup

sriracha

½

tablespoon

coconut aminos

juice from half a lime

sesame seeds for garnish

,

optional

chopped cilantro for garnish

,

optional
Instructions
Preheat the oven to 400 degrees and line a baking sheet with aluminum foil. Set aside.

Place chicken wings in a large bowl and add the olive oil. Toss to coat evenly. Sprinkle salt, garlic powder, hot paprika, and black pepper over the chicken. Toss to coat again.

Move chicken to the baking sheet and bake in the oven for 40 minutes, turning the wings over halfway through.

While the chicken is in the oven, it's time to make the sriracha sauce!

In a small saucepan, melt the butter over low-medium heat. Add in the honey, sriracha, coconut aminos, and lime juice. Stir until all the ingredients have melted and blended together. Set aside.

Take the chicken out of the oven and move to a large bowl. Change the oven settings to broil on high.

Add the sriracha sauce to the bowl and gently toss the chicken to coat evenly with the sauce.

Broil the chicken wings 1-2 minutes per side. Keep a close eye on them so they don't burn! (I prefer my wings to be a little extra crisp.)

If you desire, garnish wings with sesame seeds and cilantro.

Devour.
Notes
Want to make these on the grill instead? Make the honey sriracha sauce and set it aside. Preheat your grill on medium-high heat. Season the chicken with the oil and spices and place on the grill, turning every few minutes until cooked through; about twenty minutes or so (be sure to keep an eye on them so they don't burn or overcook). Brush the sauce onto the wings the last couple minutes of cooking and serve!