These lamb burgers are flavored with hints of lemon zest and Greek oregano and topped with kasseri cheese and creamy tzatziki. They make a great lunch or dinner and will be ready in less than thirty minutes!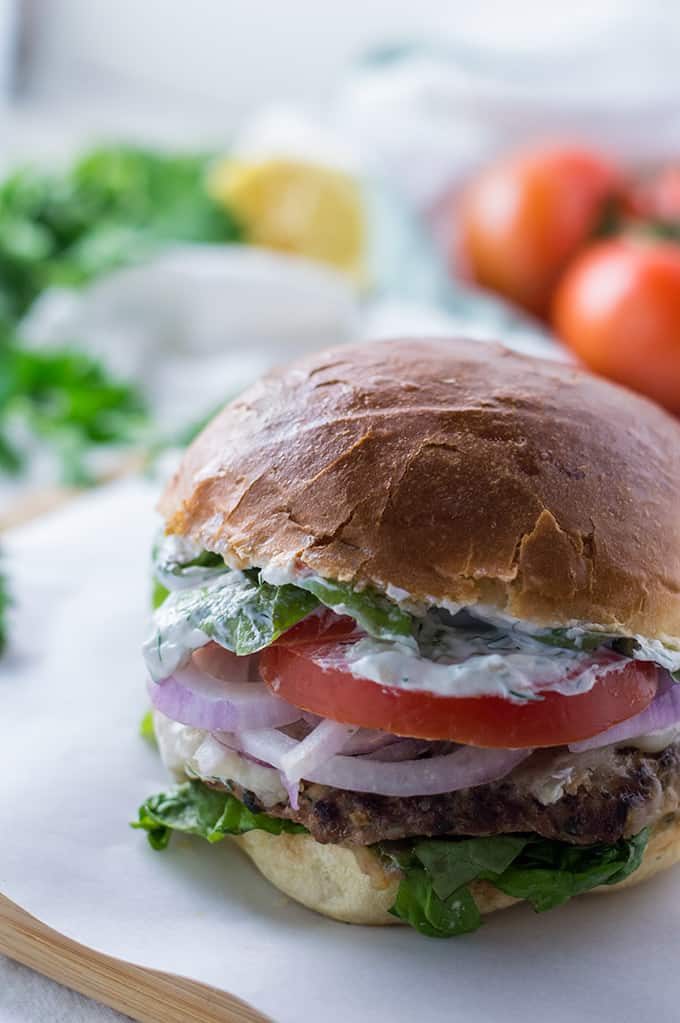 OMG HI.
What a crazy last couple of weeks! Not so much on the blog, but outside of internet land (aka IRL), life was full of this household being ridiculously sick with a flu-like plague and having emergency surgeries. Okay, not multiple surgeries. Just one. And not me. Jason. He's fine and is recovering like a mother f*cking champ.
That, in a nutshell, is why I haven't posted anything since April 7th. That week, Jason was at home from work with what we assumed was a strain of the flu the shot didn't cover and I was working on an upcoming post (this one). Within a few days, he passed the plague onto me and we were both down for the count for days and days. It was pretty much the worst, but also hilarious because we were both a miserable mess.
Then, we were on the mend! Jason was a few days ahead of me on the recovery front and went back to work. I was slowly working on blog planning to get back into the groove. All was well until I got a text message from Jason ten days ago while at an appointment with his ophthalmologist saying, "I need to have surgery next week."
He's been having weird symptoms with one of his eyes these last few months and has been seeing a specialist about it. As of a couple months ago, things seemed normal and they set up a follow-up appointment for later this spring to keep track of the issue. But eleven days ago, his symptoms suddenly got worse and he moved his appointment to the following day. Turns out, his retina had detached and they needed to fix it as soon as they could.
And so he had his surgery early last week and I've been on caretaker duty since. The first few days of recovery were rough; he was in a lot of pain and all I could do to help alleviate that was fluff some pillows and give him his medication. He slowly started to feel better over the weekend and isn't spending all of his time in bed now, so I'd say he's recovering smoothly.
Now that Jason is able to do some things on his own, it's allowed me to get back to work, and I can finally share the recipe for these lamb burgers with you!
How to make lamb burgers with kasseri cheese
If you've made burgers by preparing the patties yourself using ground meat and other ingredients, you already know a few things:
They're pretty quick and easy to prepare.
They taste amazing because of the flavors you use to mix and infuse the meat with.
You can size the burgers depending on personal preference (this recipe makes four ¼ pound patties, but you can alternate the ratios as you wish).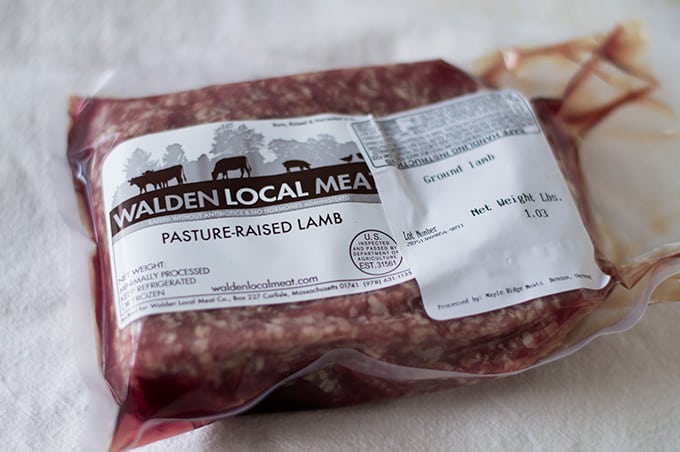 I had a package of local, pastured lamb in my freezer from my favorite and trusty meat source, Walden Local Meat, and I was specifically saving it for when I was ready to blog about these lamb burgers. For those of you who keep up with my blog posts, you know that Jason doesn't care for lamb, so I usually only make it for guests or myself. On the one hand, more for me! On the other, I wish he'd realize what he's missing. 😉
As much as I love lamb, I don't love huge lamb burgers, so I use one pound to make four patties. There's something about ground lamb specifically that ends up being too rich for my taste when eating a lot of it. That said, I find a quarter-pound patty is perfect to make a lamb burger. If you prefer your burgers to be larger, then definitely have fun with pound-to-serving ratios! Not everyone is weird like me when it comes to "richness of ground lamb," I'm sure. Or something.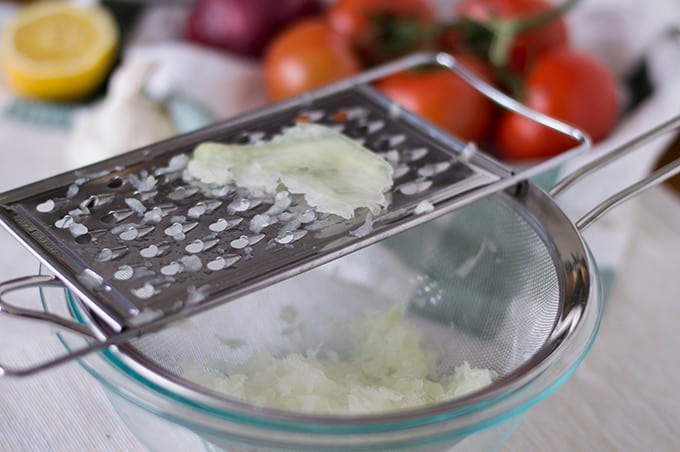 These burgers are really good topped with tzatziki and I highly recommend you make it before starting on the burgers. It can be made days in advance and will keep for well over a week. Alternately, you can make it the day of. Tzatziki only takes ~20 minutes to prepare, however, allowing it to chill in the fridge for at least a couple of hours will allow the flavors to meld.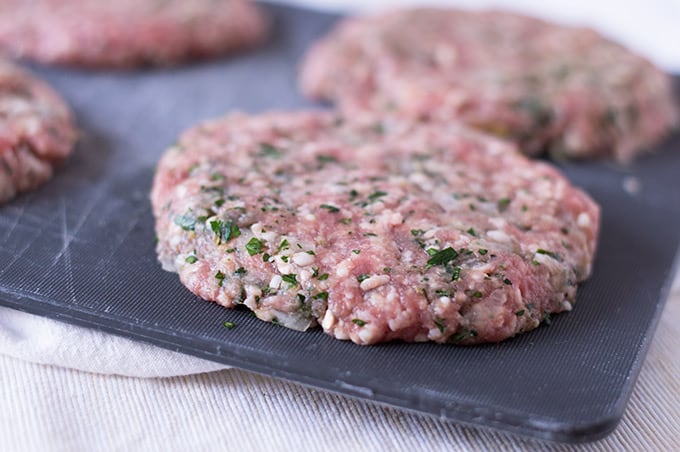 What also makes these burgers great is the seasoning that goes into them! I use Greek oregano, lemon zest, grated sweet onion, garlic, salt, pepper, and fresh parsley. And then? AND THEN. You top each burger with delicious kasseri cheese when cooking.
Kasseri is a traditional cheese in Greece and Turkey that's usually made with sheep milk and sometimes a little goat's milk. It's mild, chewy, and salty with a pleasant and faintly sweet aftertaste. There's also a version made with cow's milk, which is more than likely the version you will find at your grocery store. It makes a great table cheese served with bread, olives, and if in season, fresh tomatoes. It's also damn good as a sandwich cheese. Another popular and super delicious way to eat kasseri is in saganaki, which is fried cheese. Yup.
You won't find this cheese already sliced anywhere, so have that sharp knife handy.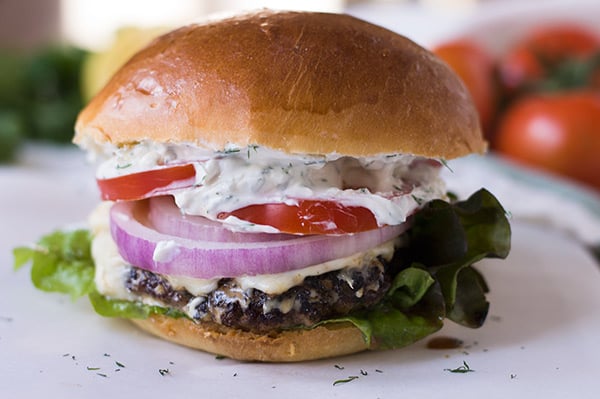 Kitchen Tools Used:
📖 Recipe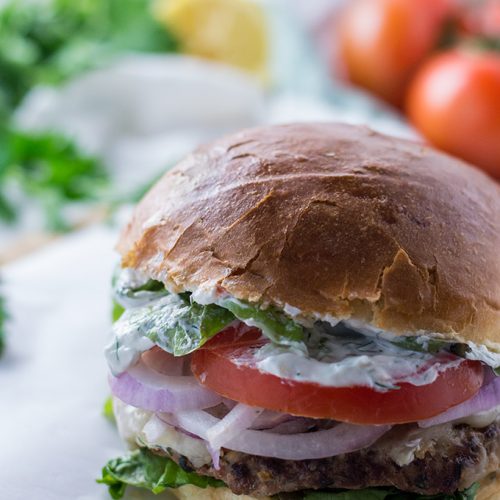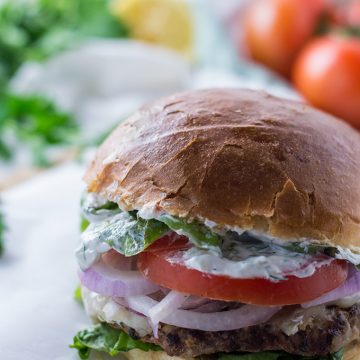 Ingredients
For The Lamb Burgers
½

tablespoon

extra light olive oil or butter

1

pound

ground lamb

⅓

cup

grated onion

1

garlic clove

,

crushed

½

teaspoon

Greek oregano

1

teaspoon

kosher salt

freshly ground black pepper

2

tablespoons

minced parsley

1

teaspoon

lemon zest

kasseri cheese

,

sliced

4

brioche buns*
Burger Toppings
½

cup

tzatziki*

Sliced tomatoes

Sliced red onions

Lettuce
Instructions
In a medium sized bowl, add in the ground lamb, onion, garlic, oregano, salt, pepper, parsley, and lemon zest. Use your hands to mix until just combined.

Break the lamb mixture into four, equal sized chunks and shape them into rounded patties. Aim to make the patties slightly larger than your burger buns; they will shrink a little when cooking. Press the center of each patty gently with your finger to create a little dimple. Set aside.

Set your skillet on the stove over medium-high heat and add in the oil or butter.

Once the pan is sizzling hot, add in your burgers, making sure to leave a little space between each one. If using a smaller skillet, cook the burgers in batches.

Cook for four minutes, undisturbed and flip. Cook an additional three minutes, then reduce the heat to medium. Add the sliced kasseri and cover with a lid to allow the steam to melt the cheese for one minute.

Remove the burgers from heat and assemble with toppings!
Notes
1. An optional step is to lightly toast the brioche buns in another skillet over medium heat with a pat of butter.
2. Tzatziki can be prepared days in advance and tastes best when at least chilled for two hours in the fridge to allow the flavors to meld.